Key points:
ECR Minerals share price rallied 5.83% on mining licenses award in Australia.
The company's shares have fallen 66.9% in 12 months and are attractive.
The miner has solid fundamentals and positive long term prospects.
The ECR Minerals PLC (LON: ECR) share price rallied 5.83% after revealing that its subsidiary LUX Exploration Limited had been granted exploration licences over three critical areas in the Lolworth Region of North Queensland, Australia.

The three exploration licenses cover 964 km2  with historical stream sediment sampling, indicating that the area has tungsten, gold and tin prospects.
The company applied for licenses on the EPM27901, EPM27902 and EPM27903 tenements in May 2021 and LUX was granted the licenses on 1 February 2022.
The licenses are valid for five years up to 31 January 2027, after which LUX can apply for their renewal for another five-year term. After that, however, the area available for renewal will be 50% of the current license area.
The rule to reduce the area available for renewal is meant to encourage mining companies to focus their exploration activities on areas with high potential as they might have to give up other areas once their licenses are up for renewal.
Investors cheered the announcement, evidenced by the ECR Minerals share price rally. However, the project still has a long way to go before it can start generating revenues for the company since it is in the pre-exploration stages.
 David Tang, ECR Minerals Chairman, commented: "I am delighted to announce that the Lolworth Range license applications have been granted. Once again, along with our Head Geologist Adam Jones, our former CEO Craig Brown was instrumental in bringing LUX and the Lolworth Range tenements into the ECR Minerals asset portfolio, and all the indications are that Adam and the team could unlock significant additional value from these three new license areas."
ECR Minerals share price has fallen 66.9% in the past 12 months and appear attractive at current prices. As a result, the shares might appeal to long term investors in the mining industry.
The mining company has solid projects such as its 25% shareholding in Cordillera Tiger Gold Resources Inc, a Philippines gold mining and exploration company, which was resolved in December 2021.
ECR has also committed to spending up to AUD$650,000 during the first three years of owning the three tenements, with the funds coming from its cash reserves.
*This is not investment advice. Always do your due diligence before making investment decisions.
ECR Minerals share price.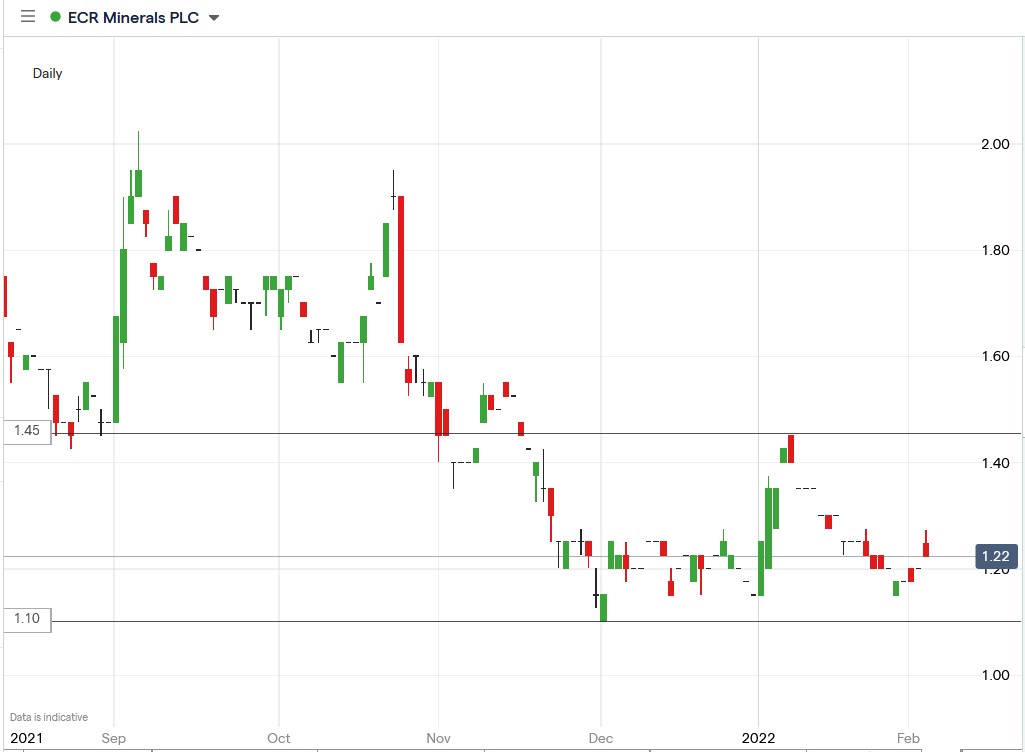 ECR Minerals share price edged 5.83% higher to trade at 1.27p, rising from Wednesday's closing price of 1.20p.