Key points:
The KNC crypto price has soared by 240.5% in 2022. Will it keep rising?
The token has risen due to the Kyber Network's popularity among traders.
The KNC crypto could keep rising in future as more people use the network.
The Kyber Network (KNC) crypto price has soared by 240.5% in 2022, leaving many wondering what comes next for the crypto trading platform and liquidity provider.

The rally in KNC crypto's price far outshines Bitcoin's, which is down 13.43% in 2022. The crypto has surged higher, driven by its growing popularity as a multi-chain crypto trading platform and liquidity pool.
The Kyber Network platform has facilitated trades worth over $7 billion and has seen the total value locked of tokens on its platform rise to $76.81 million. In addition, the platform offers a maximum annual percentage rate (APR) of 292.48% on the token locked.
The platform offers over 20,000 tokens to crypto-traders and has integrations with over 100 DApps, making it the platform of choice for traders and liquidity providers.
The KNC token has been on an uptrend that is likely to continue in the future due to the growing popularity of its trading platform. Therefore, if the uptrend remains in place, investors can buy KNC tokens on significant pullbacks.
However, as you will notice in the KNC crypto daily chart below, the crypto is highly volatile. It constantly breaches past support and resistance levels, making it hard for traders to pinpoint exact support and resistance levels that will hold over time.
KNC crypto has to remain above the $3.7027 support zone for the bullish thesis to hold. A break below it would signal that the bullish trend is losing momentum, but a break below the $3.1179 support level would signal that a bearish trend will begin.
Suppose the KNC crypto price breaks below the $3.1179 support level; the next target is the $2.2924 support level. I would expect this level to hold for a while and could trigger a higher rally.
The KNC token is Kyeber Network's native token. As such, holders of the token can vote on governance issues regarding the KyberDAO by staking the KNC token to vote on governance proposals and earn KNC rewards from trading fees.
*This is not investment advice. Always do your due diligence before making investment decisions.
KNC Crypto price.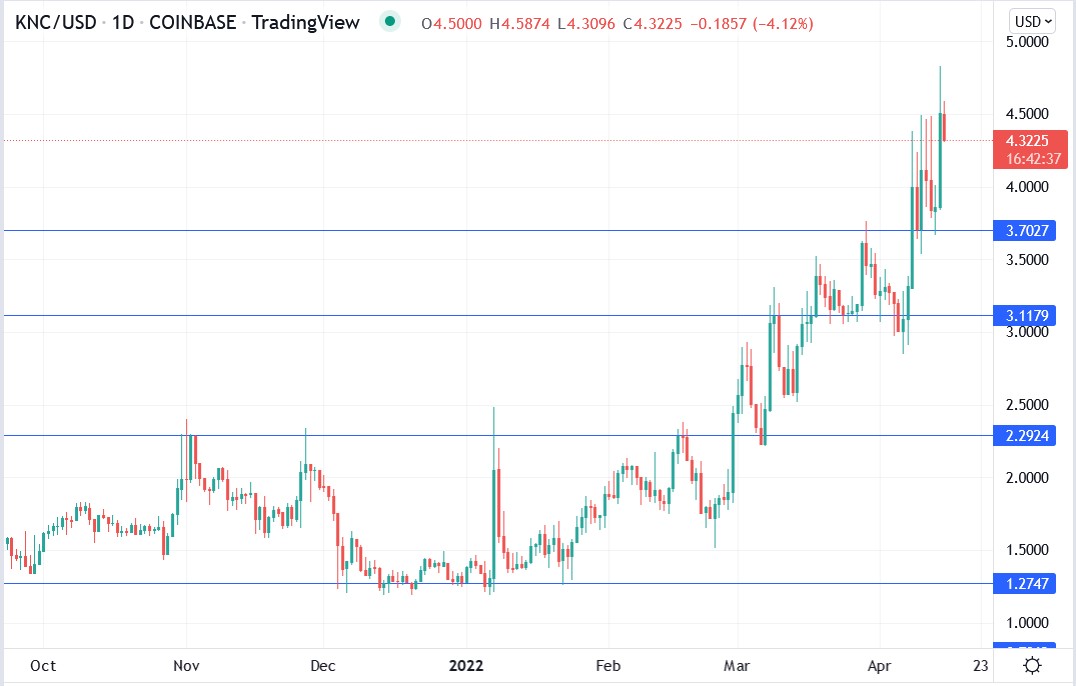 KNC crypto has risen by 240.5% in 2022, and many wonder what's next for the token.