Key points:
The VanEck Gold Miners ETF (GDX) stock price seems ready to rally.
GDX stock is trading at levels seen in December, which led to a gold rally.
So should you buy GDX stock now? Read on to find out.
The VanEck Gold Miners ETF (NYSEARCA: GDX) stock price is trading near its December 2021 lows that triggered a massive rally in gold prices, which lifted the prices of most gold stocks. A similar setup is building, indicating that we could be in for another gold rally in the coming weeks.

As short-term traders, we rely on technical analysis to identify potential trades ahead of time and position ourselves to profit from short to medium-term price swings in the assets we trade. For example, the GDX stock price chart below setup looks like a prelude to a rally in gold stocks.
To trade GDX, we use the mean-reversion principle, which states that an asset cannot stay in oversold or overbought territory for too long without bunding back in the opposite direction. This principle has served us well in the past and continues to work in all market conditions.
For example, traders who bet on a potential decline in the GDX stock price when it was trading above $40 were handsome;y rewarded by the downtrend that followed, which pushed GDX prices to trade at their current lows near $30.
Traders who bought GDX options profited much more on the downward move than those who bought and sold GDX stock. Now, another setup indicates gold prices could be headed higher shortly.
The GDX stock price bounced off the resistance zone at $29-$30 and appears ready to spike higher. The stock has bounced off the support zone twice now and could be headed higher any time now.
However, there are no guarantees that GDx stock will not fall further, given that its December lows are at $28.96, a level we are yet to hit. Still, we will head higher even if we fall back and retest the December 2021 lows.
There are multiple ways to profit from this move: to buy gold and hold until GDX has risen to $35, where there is resistance. Then you could close part of your position and hold the rest for further gains up to $40. Of course, there are no guarantees that we will get such a move. You could also buy GDX call options.
*This is not investment advice. Always do your due diligence before making investment decisions.
VanEck Gold ETF (GDX) stock price.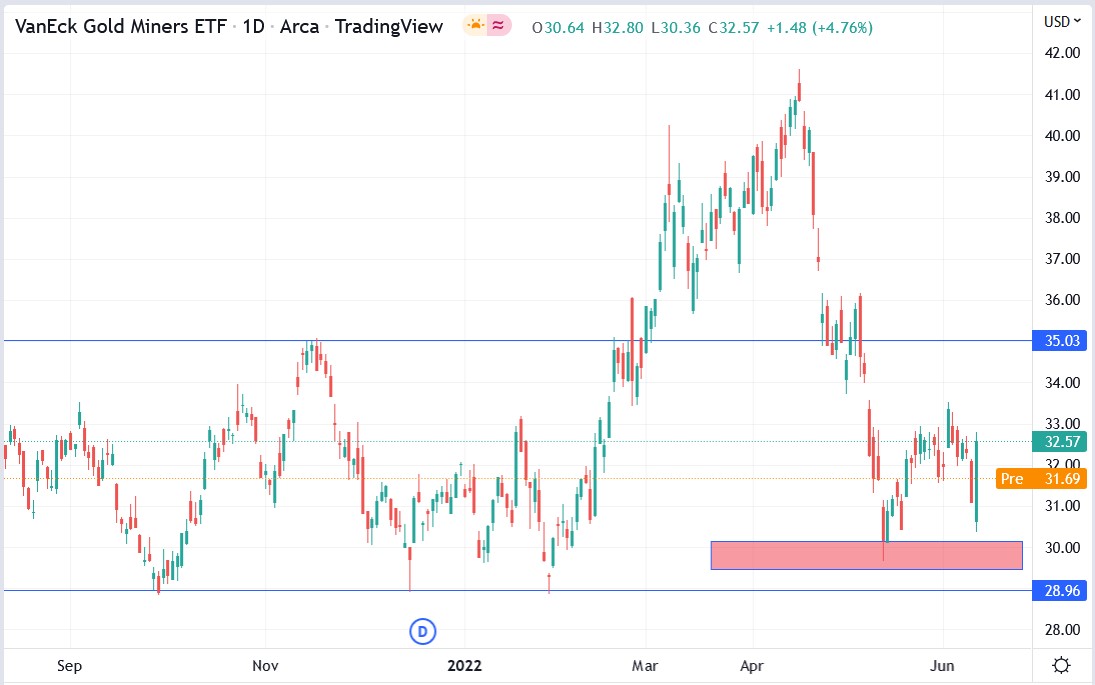 The VanEck Gold ETF (GDX) stock price is trading near its December 2021 lows, triggering a massive rally.