Key points:
The Hut Group, THG, has rejected one takeover offer at 170 pence
Nick Candy is mulling an offer as well
At least some people think THG is worth much more than 150p then
THG (LON: THG) shares, formerly The Hut Group, are doing that unlikely trick of being lower than a cash bid for the company. The explanation as to why is that the bid has been rejected. But it's clear that there's interest in purchasing THG as a whole at or perhaps above current prices – there's also an indication of a bid from Nick Candy.

The difficulty for any bidder is that Matt Moulding still has a significant stake, he's the entrepreneurial guide for the company, and it's not obvious that he wants to sell out. Nor that it would do THG much good if he did. On the other hand, Moulding has stated that he thinks the original float was a mistake. Perhaps THG should have stayed as a private company, or floated in the US, not London.
So trying to estimate THG's future share price is something of a complicated calculation. As we've pointed out before THG has rejected bids before now. There's also that worry that WPP is targeting the core THG business.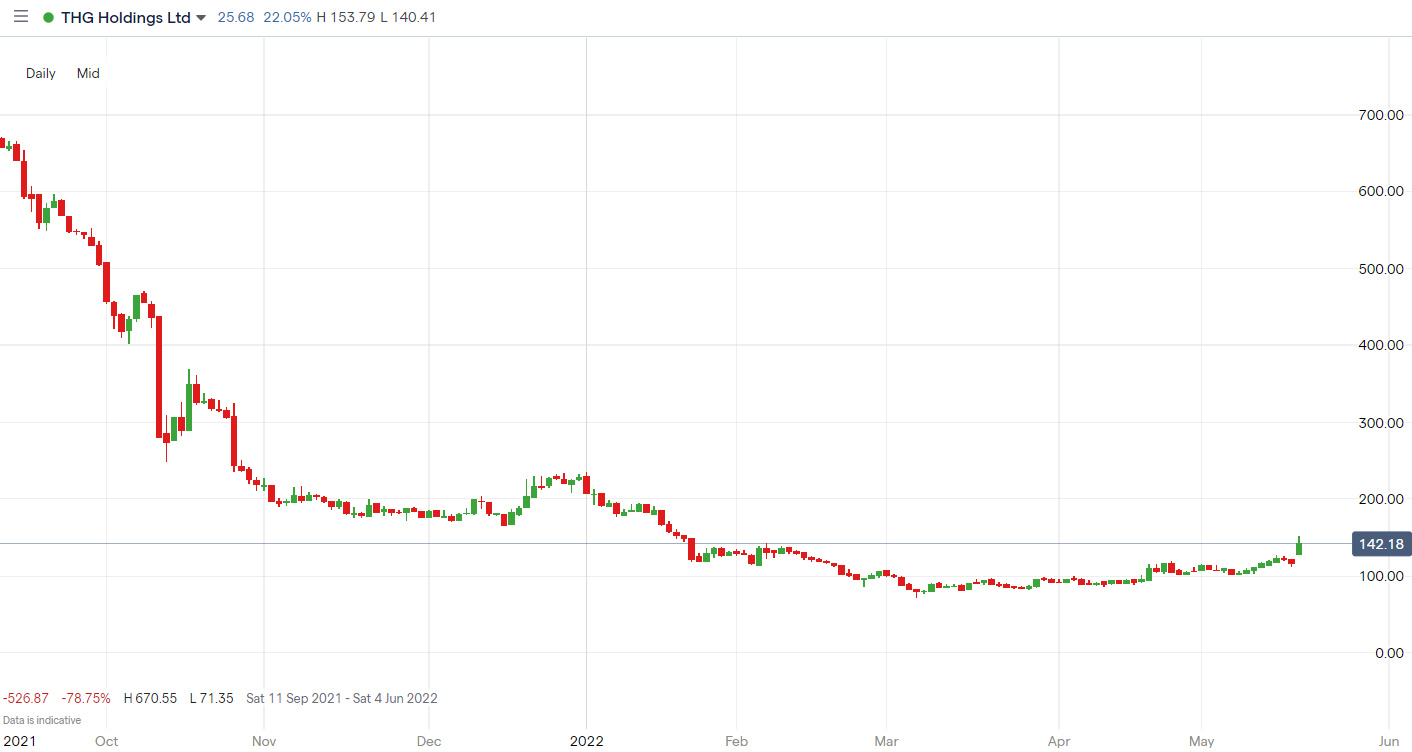 Given the performance of THG shares over the past 12 months, from 600p and change down to yesterday's 116 p close, it's obvious enough that being a public company hasn't been of benefit to THG investors. Part of this is that there are some bits not properly understood within the company. What are the details of the Softbank deal, for example, and does anyone really want to be associated with Softbank right at the moment?
The actual operating business itself seems to be doing OK, better than OK in fact. But there's also that thought that Moulding himself, excellent entrepreneur though he obviously is, might not be quite the right person to be chairman and leader of a public company. Blaming the share price decline on unfair short-selling just isn't quite the right reaction.
So, if the business is OK but it's the public quite that's the problem then clearly there's a value additive proposition in either taking it over inside another public company or taking it private again. Which is where THG finds itself.
As they announced after the close last night "it received a third unsolicited, highly preliminary and indicative non-binding proposal of 170 pence" and then there's the second announcement about Candy "press speculation regarding THG plc ("THG" or the "Company"), Candy Ventures Sarl ("Candy Ventures") confirms that it is in the very early stages of considering a possible offer". It is possible to wonder what a property developer will bring to the table for an online retailer. But still, what we're obviously seeing is a feeling that THG shares are undervalued at the current price.
Quite what is going to happen is of course unknown. But it's highly likely that Moulding doesn't want to leave, nor give up his controlling position. That means that any bid would need to be in combination with him – keeping him on that is – rather than one that takes him out. It's also not really going to be possible for anyone to come in lower than that 170 pence sighting shot. But that the THG price is still well below that 170p shot does mean that there's a possible profit to be had from attempting to stag events. Whether it will work depends, perhaps, on who is willing to make a bid that retains Moulding and at what price?