Key points:
THG shares were largely unmoved by the release of its 2021 annual report.
The eCommerce company has faced significant criticism over its plans.
In addition, THG has lofty expectations that many analysts have questioned.
The THG PLC (LON: THG) share price barely moved today after the company posted its 2021 annual report since there were no surprises there. The firm had released its full-year earnings report on 21 April 2022; hence, there was little to be gleaned from today's report.

One of the key highlights of the full-year report was that THG had received multiple takeover offers but quickly turned them down in the initial stages, saying that they significantly undervalued the company, which is true.
THG is currently worth £1.28 billion but could be worth more given that its share price has fallen over 87% since January 2021. In February, previous media reports indicated that the company had received takeover offers from several private equity firms, including Advent, Apollo, and Leonard Green.
The eCommerce company's share price has fallen heavily due to investor concerns about its plans to spin off its lucrative beauty business. Investors and market analysts have opposed the spinoff of THG Beauty, the firm's leading moneymaker, to focus on its eCommerce platform known as Ingenuity.
Many people do not understand how the platform works and, more importantly, how the company will generate revenues from the platform. THG is building a massive warehouse in Manchester amid plans to spend up to £200 million on capital expenditures.
The company expects a surge in e-commerce orders from its beauty and health businesses and plans to build similar warehouses in New Jersey, USA and Dubai. The Machester warehouse can process over 500,000 items daily and is operated by 256 robots that pick and pack customers' orders.
However, many analysts have questioned whether THG can achieve its ultimate goal of handling over £14 billion in orders annually, given that it handled just over £2 billion in orders last year. As a result, many questions abound about where THG is getting its lofty figures, which is why its share price has fallen and is currently trading sideways.
THG shares look attractive at current prices, but I would wait for a rally up to 150p before buying the shares.
*This is not investment advice. Always do your due diligence before making investment decisions.
THG share price.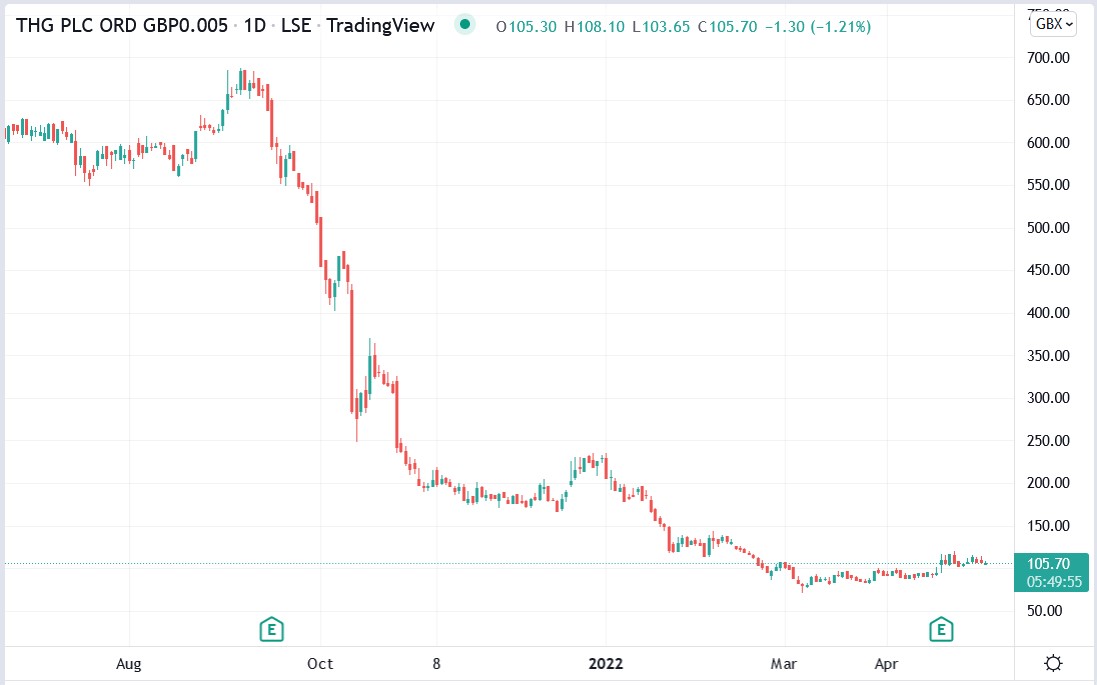 THG's shares price has fallen by 54.22% this year, bringing its losses from its January 2021 high of 838p to 87.4% at its current trading price of 105.70p.