The SP500 futures is getting tighter and looks like we may see a break past resistance in a short period of time. Will it be today, nobody knows, but the 3131 resistance might be taken, then we have higher targets into 3300 and 3400 for the next weeks. So far IWM and SPY are starting to become more constructive and rotation out of technology might be good for a midterm investor.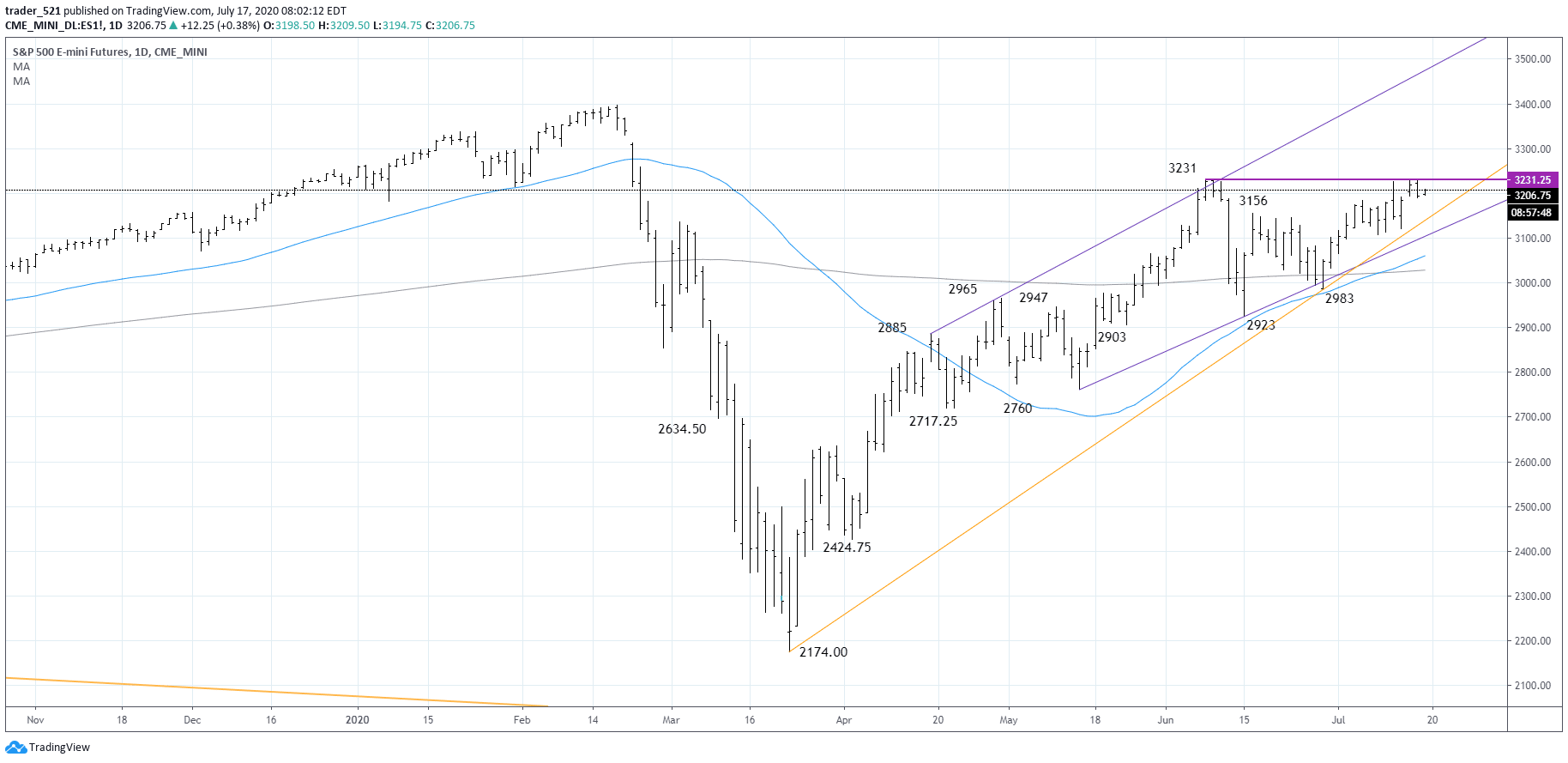 Europe is mixed this morning so DAX +0.27%, FTSE +0.44%, and CAC40 -0.22%. Asia is mixed as well but holding. The Chinese tech FXI and KWEB is doing ok but its not the momentum we had at the beginning of the week or last week. Netflix reported worse so technology is slowing down. https://money.cnn.com/data/world_markets/europe/
Commodities: Gold is feeling well and despite the sloppy action overall this week the flag remains valid and a break higher with volume can signify a new wave of momentum in this sector. Stocks are stronger and move better than the Gold futures so consider individual companies related to metals or use ETFs like GDX.

A few companies report this morning and not the most important ones so the surprise factor might not be enough to move a sector or a market ETF. Just watching how the open goes and preparing for next weeks ahead with earnings season kicking in. https://www.estimize.com/calendar?column=reports_at&direction=asc&tab=equity&date=2020-07-17
Only building permits are in the news flow this morning that is why we are expecting a slower trading session with focus on individual names and gappers that have more momentum power. Gold is good this morning and a few Industrial, Transportation and Retails sector companies.
https://www.investing.com/economic-calendar/
For more ideas, market videos and analytics, sign up to our premium room: https://www.asktraders.com/stocks-live/