Key points:
ValiRx's share price surged 19.5% on a positive operations update.
The biotech firm is making decent progress on its different projects.
As a result, the company's shares look attractive after falling 38.7% in 2022.
The ValiRx Plc (LON: VAL) share price surged 19.5% after issuing an operational update regarding its different assets under development and plans.

Investors cheered the news since the company is making decent progress on its clinical and pre-clinical drug assets.
However, a key highlight of the report was the company's announcement that it was reviewing several options to acquire the infrastructure and capabilities to start performing its own research and clinical tests instead of contracting out the work.
ValiRx said that it was aware that its current operations model as a virtual biotech company was not optimal. It has to engage the services of other contract research organisations (CROs) instead of doing the work in-house.
By acquiring the facilities and technology to start doing its research, testing and development work, the company will lower its costs and generate additional revenues by offering the same services to other firms as a CRO.
The company's update revealed that its evaluation projects with other parties, such as the breast cancer evaluation agreement with a London University, had completed five months of the nine scheduled for scientific evaluations.
The story was the same for its agreement with Japan's Hokkaido University and the University of Barcelona, which are in the early stages of evaluation.
The work on ValiRx's pre-clinical assets, including its endometriosis drug VAL301, is progressing well with the firm working on laboratory tests and updating the clinical development plan in line with the current regulations.
ValiRx's clinical assets include its adenocarcinoma drug candidate VAL401, its sepsis drug treatment BC201 and its prostate cancer drug VAL201 are all progressing well. Furthermore, the company has a letter of intent with TheromeRx to continue developing VAL201.
The company is looking for a funding partner to develop its VAL401 drug, and the BC201 treatment is progressing well as OncoLytika, and Black Cat Bio are developing it.
ValiRX shares have fallen 34.78% in 2022 but could be turning around their fortunes after forming a bottoming pattern before today's announcement. The shares look pretty attractive at current prices.
*This is not investment advice. Always do your due diligence before making investment decisions.
ValiRx share price.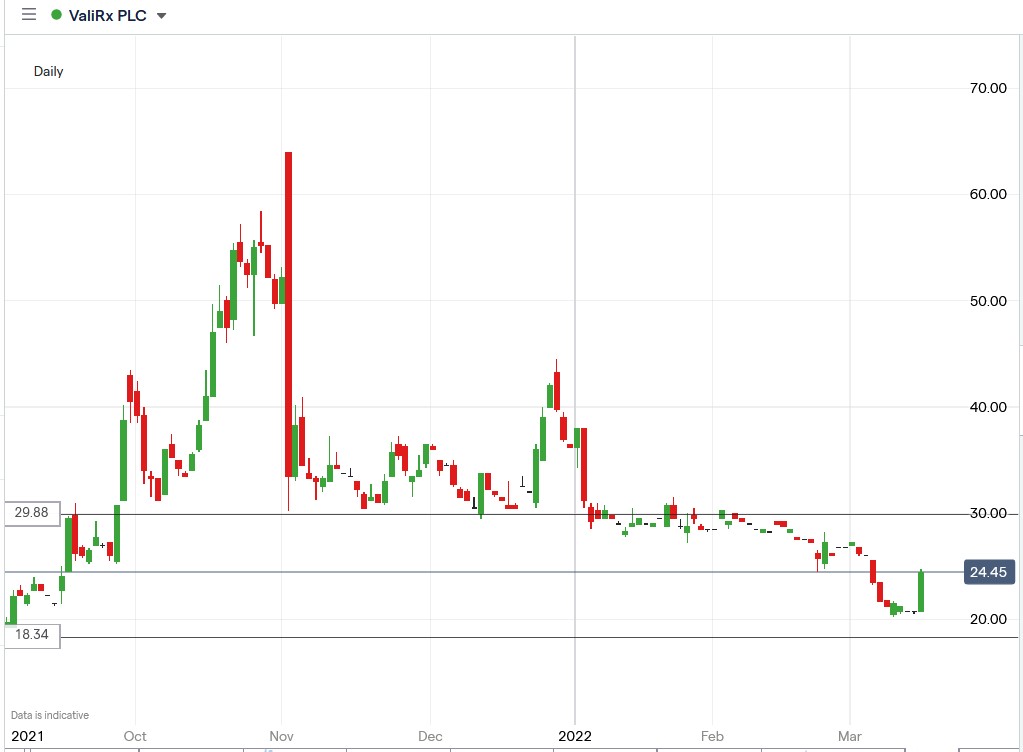 ValiRx's share price surged 19.52% to trade at 24.8p, rising from Monday's closing price of 20.75p.