Shares of British homebuilding company Vistry Group PLC (LON: VTY) are up 34.3% this year and appear set to keep rising. Can they sustain the bullish momentum?
The short answer is there is no impediment to Vistry's shares rallying higher, but from my perspective, the shares are a bit over-extended, and I wouldn't be buying at current prices.
The company is set to benefit from the recovery in the UK property market as the British economy reopens. Still, some of the short-term gains may already be factored into its current stock price.

Vistry Group's shares are trading approximately 200p off their pre-pandemic highs the UK economy reopens amid an expected surge in demand for new homes, which should significantly benefit the company.
The home building company has an estimated 2-year EPS CAGR of 39% and is considered quite undervalued by most analysts, and I am of the same view.
Despite being undervalued, Vistry shares have risen significantly in the recent past, which is why I would be waiting for a significant pullback before buying the stock.
Vistry also has a major advantage over other property companies since it does not have exposure to the commercial real estate sector, which suffered significantly since the start of the pandemic and is projected to continue struggling as many businesses embrace remote work.
The company is a buy due to its solid fundamentals, but I think it is a bit expensive for me at current prices. However, this may not apply to every investor.*
*This is not investment advice.
Vistry share price.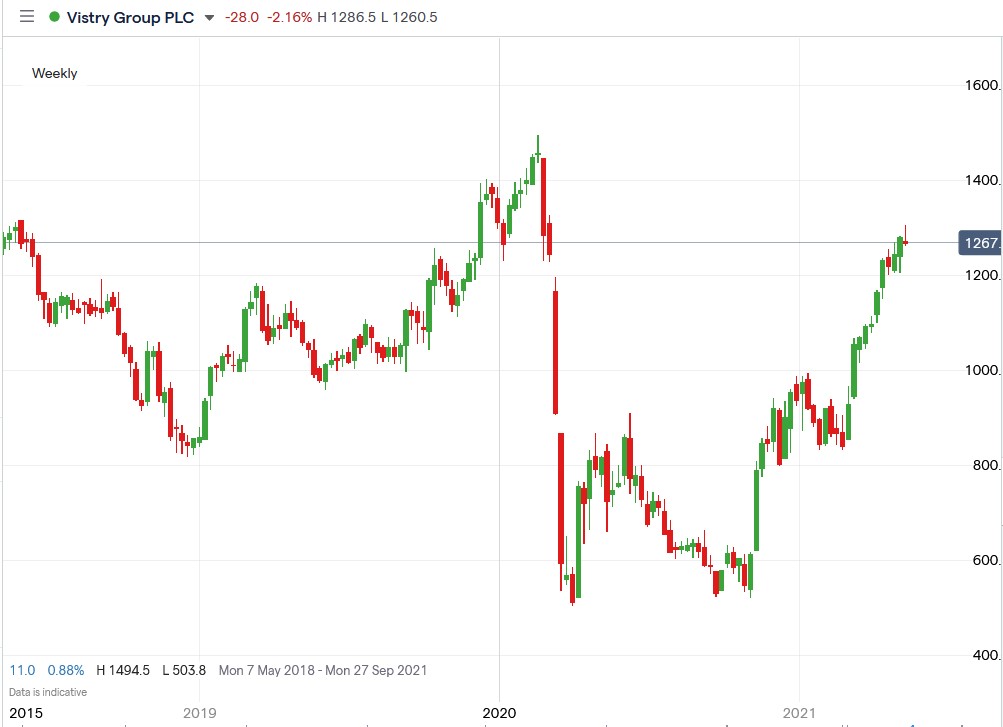 Vistry shares are up 34.35% in 2021. Can they maintain the bullish momentum?