Key points:
Waves crypto is one of the few cryptos that did well earlier this year.
However, Waves has since fallen heavily from its March all-time highs.
So, has the crypto started a new uptrend after its latest bounce?
Waves is one of the few cryptocurrencies that have performed well this year as investors supported Ukrainian companies and projects following Russia's invasion. The crypto was launched in 2016 by Sasha Ivanov, a Ukrainian scientist who had founded multiple crypto projects.

The project has since evolved past its initial goal of providing higher speeds and more utility than the leading cryptocurrencies. Instead, the blockchain is now focused on providing an open-source platform for decentralised applications (DApps) that use Proof-of-Stake (PoS) consensus to process transactions with a low carbon footprint.
Some of the Waves crypto's critical achievements include having a total value locked (TVL) of $2 billion, with over 2 million user wallets. In addition, a significant portion (80%) of the available Waves tokens have been locked, providing significant liquidity within the network.
Waves has implemented various upgrades to its network, including selecting Tokenomika, a Singaporean fintech firm, to operate its Waves Enterprise mainnet. Waves also underpins decentralised finance (DeFi) apps such as Vires.Finance, a peer-to-contract money market protocol.
Waves price prediction
The waves crypto has crashed massively from its March all-time highs of $63.50 to its current price of $16.81, but the downtrend could finally be over after the coin bounced off a crucial support level yesterday.
The Waves coin bounced off the $12.107 support level (its Tuesday closing price) and are now up 40% at writing (Thursday, May 5). As a result, many wonder whether now is a good time to buy Waves crypto after the recent bounce.
However, some analysts have opined that the rally might be short-lived despite the recent bounce, resulting in a dead cat bounce. The bearish outlook is because Waves and other leading cryptos are yet to hit their long term support levels.
For example, Waves' long term support level is $8.369, at which point the bulls are very likely to jump in and push prices higher. Therefore, it is prudent to exercise caution when buying the latest rally.
*This is not investment advice. Always do your due diligence before making investment decisions.
Waves crypto price.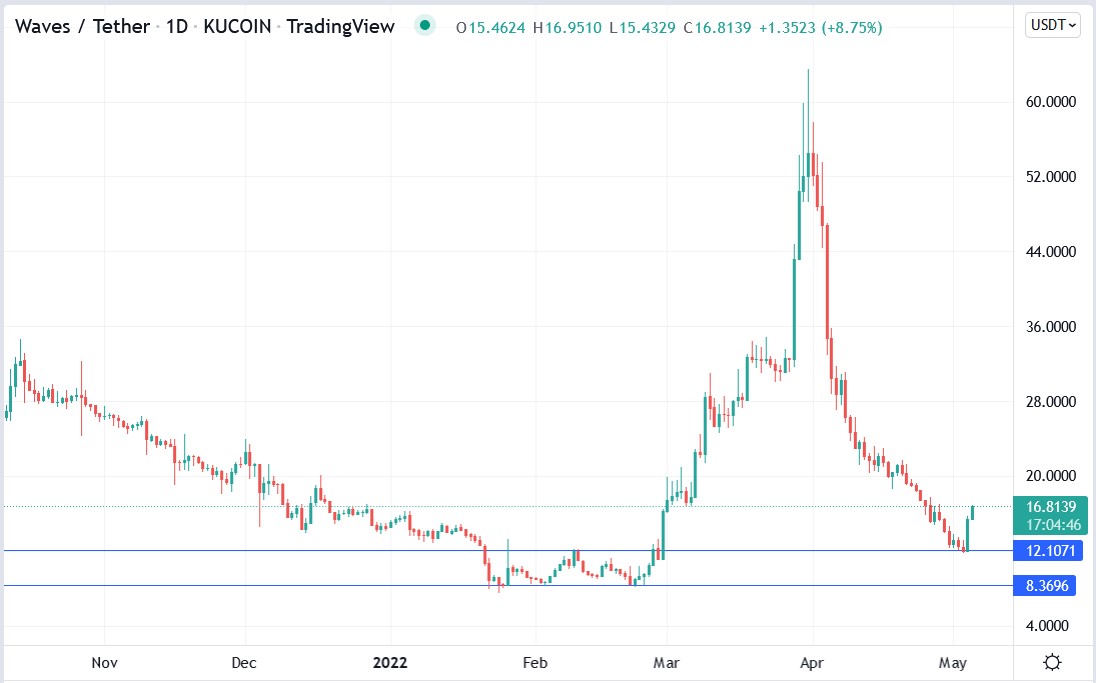 Waves crypto price has surged 40.4% in two days from Tuesday's closing price of $11.973 to $16.813 today.