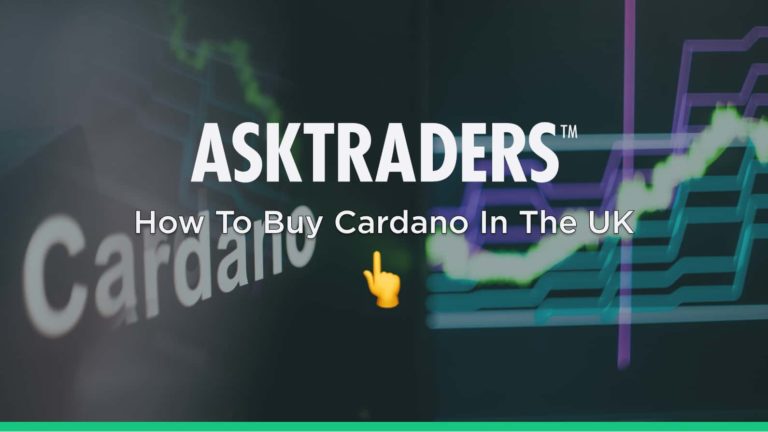 Cardano, which launched in 2015, takes it to the extreme. Cardano and its coin ADA is one of a range of new entrants that was set up to try to use the latest technological advances to gain an advantage over established coins such as Bitcoin. The whipsawing price moves suggest that there is still a debate as to whether Cardano will succeed.
Where does Cardano fit into the cryptocurrency sector?
Cardano – solving a very real problem
Who is behind Cardano?
What's special about Cardano?
How do I buy Cardano?
Where does Cardano fit into the cryptocurrency sector?
A lot of the price volatility comes from the different coins being valued using different protocols. Bitcoin is by far the largest coin in the crypto sector, its market capitalisation ($288bn) exceeding that of the next four cryptos put together.

Source: CMC
Cardano recently ranked eighth in a chart of top 10 altcoins. Its market capitalisation of $3bn is tiny compared to Bitcoin, but it has enough critical mass to be in with a chance.
Cardano – solving a very real problem
Bitcoin and other more established names are great ways to store wealth, but they currently lack the functionality needed to make them effective means of processing payments.
Zipmex reported in July 2020 that bitcoin transactions typically take 10 minutes to process. Ethereum, one of the coins that came to the market after Bitcoin and with the intention of speeding up transaction times, takes six minutes.
The bright new dawn promised by cryptocurrencies is severely held back by the fact that transactions will take as long to process as they did hundreds of years ago.
Ethereum is a step in the right direction and can process 15 transactions per second. The stand-out feature of Cardano is that it can process 257 transactions per second. In terms of being 'future-proof', Cardano has a circulating supply of 25bn coins compared to ETH's 100m.
Who is behind Cardano?
The evolutionary history of the different cryptos picks out a pattern of individuals working on one project and moving to another. There is a start-up theme, with new coins being triggered by a realisation that things need to be done differently, and elsewhere.
 The brains
Vitalik Buterin, co-founder of Ethereum, first entered the crypto sector in a role associated with Bitcoin. Buterin was the co-founder and leading writer of Bitcoin Magazine. His two years writing about BTC provided the catalyst for his white paper on Ethereum, which was published in 2013.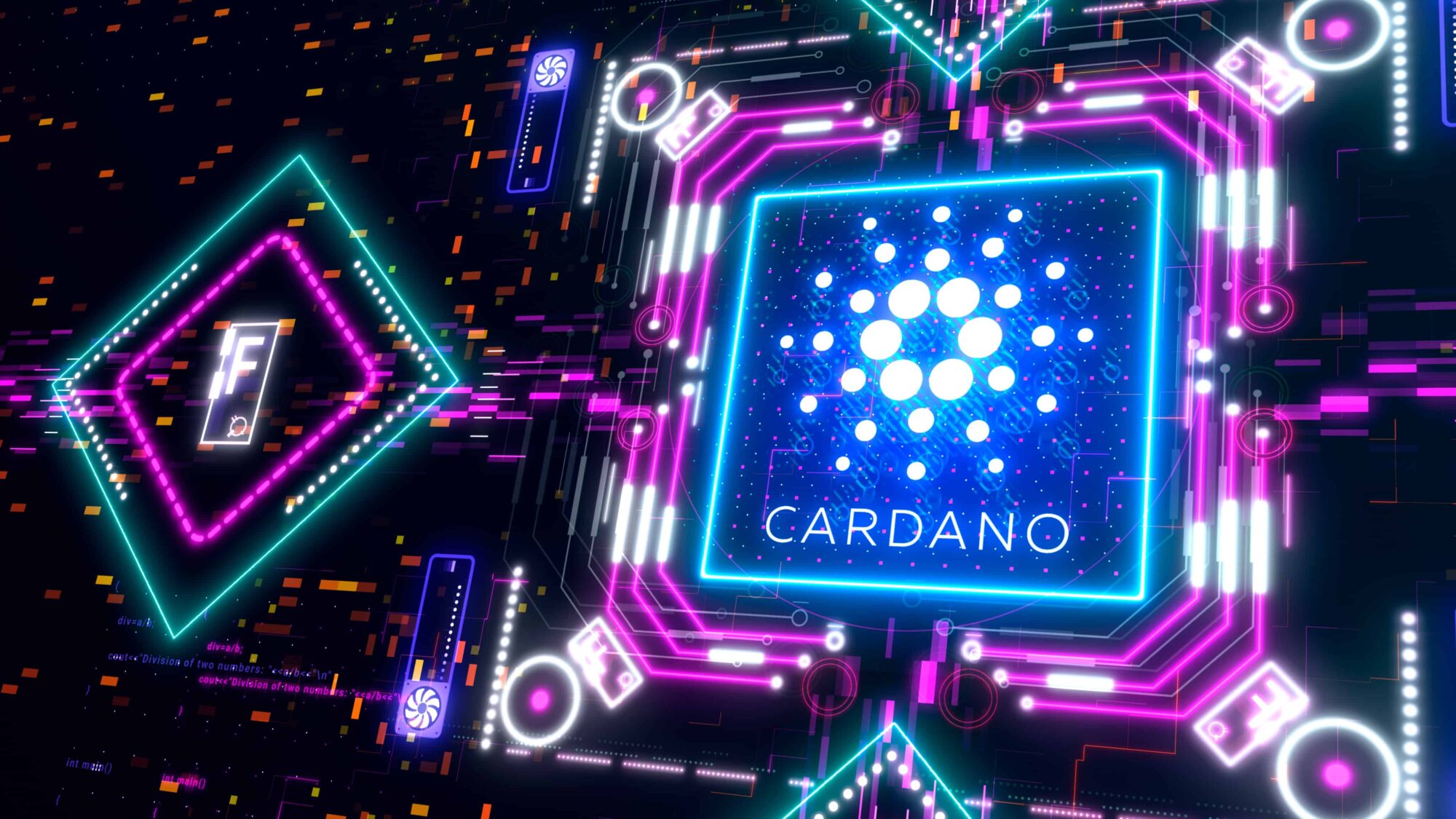 In the same way, the founder of Cardano, Charles Hoskinson, was one of the eight original founders of Ethereum. He worked with Buterin and the ETF team between 2013 and 2014, and during that time he realised that he would also have to move on if he wanted to develop crypto in the way that he wanted to.
After a brief sabbatical, Hoskinson set about creating what he and others see as the next evolutionary step, Cardano.
The backers
It's suggested that one of the reasons why Hoskinson left Ethereum was to engage the services of Venture Capitalists. Cardano's founders, Hoskinson and Jeremy Wood, by contrast do not own or operate the Cardano blockchain.
The stakeholders have been chosen with an eye on creating an ownership and governance structure that gives Cardano the best chance of being successful. The stakeholders are:
Cardano Foundation – A non-profit organisation. Custodian for the entire project with a mandate to focus on security of the blockchain.
IOHK – A research and development company founded in 2015 by Hoskinson and Wood. Its main mandate is to help with the design and engineering of the Cardano blockchain.
Embargo – A large funding entity. Its mandate is to provide the financial support that Cardano requires.
What's special about Cardano?
This question is also often asked in another way: is Cardano better than Ethereum?
Both Cardano and Ethereum have similar goals and aspirations.
Both see themselves as next-generation cryptos.
Both claim to have taken the best bits of Bitcoin and upgraded on the worst bits.
Both have a range of new tools and protocols.
One area where Cardano and Ethereum differ is scalability. ETH is already going through a second evolutionary upgrade to help it become more scalable. Delays to the rollout of new protocols have caught the headlines and highlighted how ADA has from the start been better equipped for scaling up.
As you would expect, a large part of the difference comes down to the tech infrastructure of the two systems.
Ethereum operates using Proof-of-Work (PoW) blockchain networks, which use up a lot of computational power. Cardano uses the Proof-of-Stake (PoS) blockchain protocol.
PoS is a consensus-based system and allows ADA to be sent and received easily and securely at all times. Even without digging too deep into the code, it's clear to see the advantage of PoS, merely by the fact that the ETH upgrade involves moving from PoW to PoS.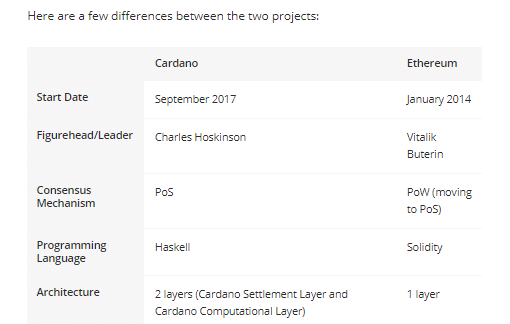 Source: eToro
How do I buy Cardano?
Being the new kid on the block has brought Cardano a lot of attention. A few months after its launch, ADA has risen in price by 6,000%, from $0.02 to $1.22. It then fell like a stone.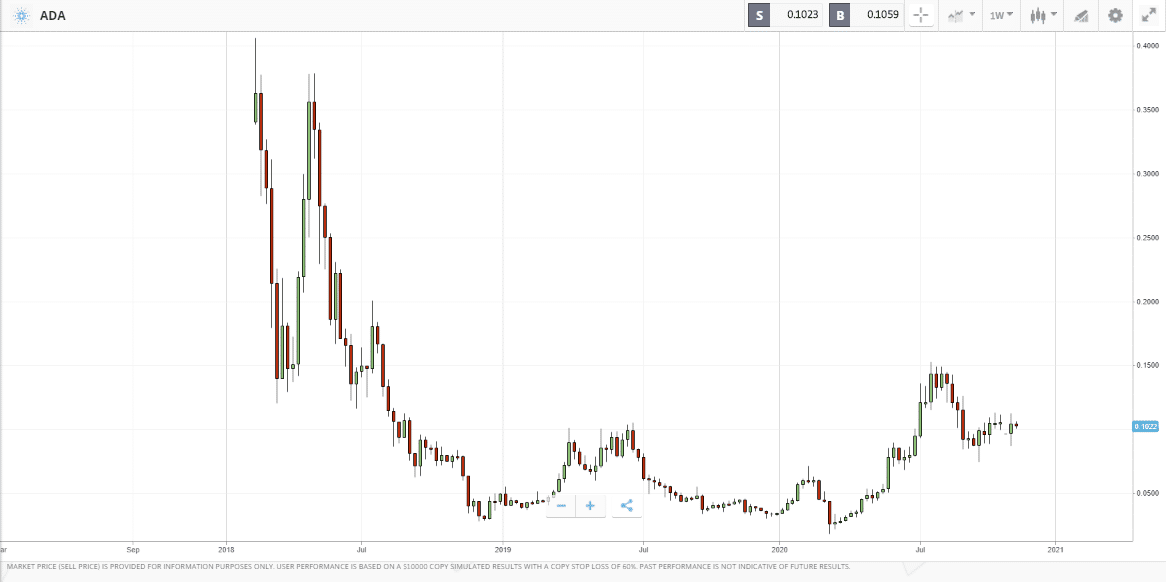 Source: eToro
Cardano and its coin ADA remain a long way from achieving the goal of unlimited, instant and free transactions. Theirs wouldn't be the first team of clever academics, scientists and developers to fail on a project.
Crypto markets are known for hair-raising price moves, and even within that group, Cardano has a reputation for being a surprise package. Its price has at times risen by 11% in the space of 24 hours.
Brokers that offer markets in Cardano include eToro and CMC. Trading ADA in CFD format at those brokers allows you to sell short as well as go long – something to keep in mind with so much uncertainty about the viability of crypto projects.
People who read this also read: