Key points:
Avacta shares barely moved after raising £64 million via multiple channels.
AVCT shares have risen over 25% in the past month despite the fundraising.
Would I buy AVCT shares? Read on to find out.
The Avacta Group Plc (LON: AVCT) share price barely moved after it finally closed the open offer announced as part of the massive fundraising unveiled on 18 October 2022. The company noted that it had received valid applications for 16,258,999 Open Offer Shares despite only 2,106,980 shares being available.
The clinical-stage biopharma company noted the excess demand for the open offer shares, but it could only accept the advertised number. The firm informed investors it had applied to the London Stock Exchange to have the shares listed. Hence, it expects the shares to be available for trading from tomorrow.
Also read: Five Best Pharmaceutical Stocks To Watch In 2022.
Avacta raised grossed proceeds of £64 million, with £55 million coming from the convertible bonds issued by the company. In addition, the firm raised a further £7 million by placing new ordinary shares bringing the total amount raised to £64 million.
AVCT shares have risen 25.45% in the past month despite the company's capital-raising activities that are likely to dilute existing shareholders significantly if the bondholders decide to convert their bonds into ordinary shares.
Investors are confident in the clinical-stage biopharmaceutical company's prospects despite none of its therapies being commercialised. The company's latest achievement was the orphan drug designation of its AVA6000 drug candidate by the US Food and Drug Agency (FDA).
AVA6000 is Avacta's lead pre|CISION drug candidate to treat soft tissue sarcoma.
Avacta's proprietary pre|CISION™ technology is crucial to the company's goal of developing next-generation cancer therapies, as evidenced by its AVA6000 therapy. The drug is in phase I clinical studies, but the firm is confident in its effectiveness.
The biopharma company also develops high-performance Affimer®-based diagnostics to improve health outcomes. For example, Avacta uses its proprietary Affimer® platform to develop AffiDX®in Vitro diagnostic (IVD) tests, such as its COVID-19 lateral flow test.
Investors are excited about Avacta's proprietary technologies that set it apart from its competition.
So, would I buy Avacta shares? The short answer is no. AVCT shares have rallied and are trading at the upper end of a wide range. I would wait for a deep pullback before buying.
*This is not investment advice.
Avacta share price.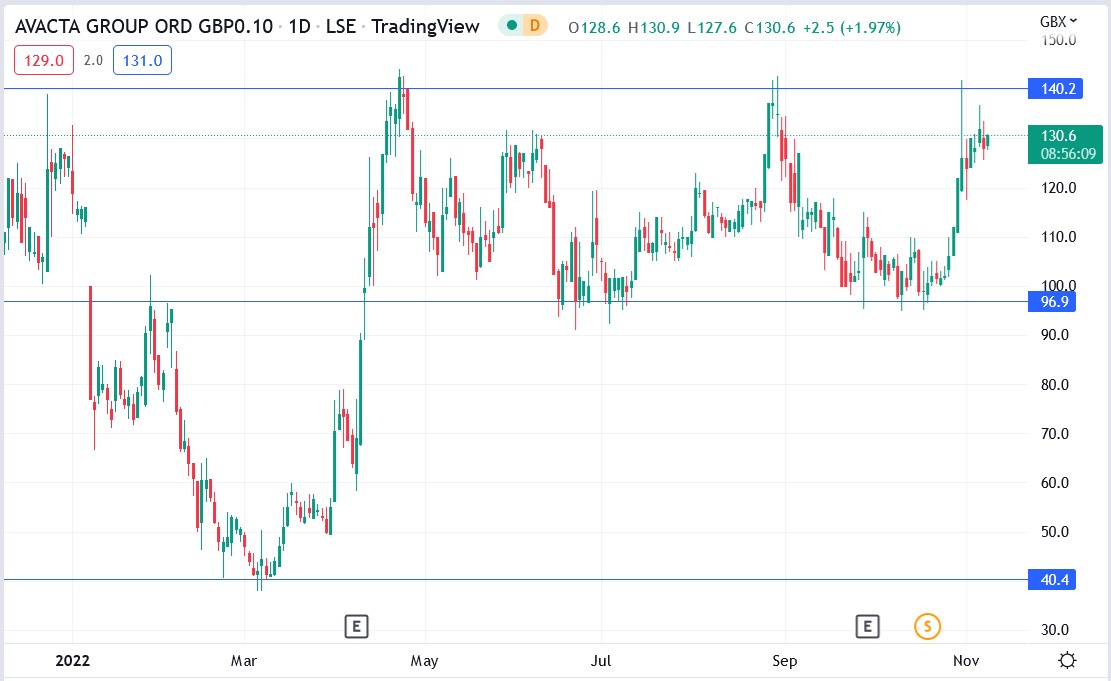 The Avacta share price edged 2.11% higher to trade at 130.9p, rising from Monday's closing price of 128.2p.