DEGIRO is an online broker that hails from the Netherlands. It was founded in 2013. It now offers trading across 18 different nations in Europe and one of its main selling points is its low fee structure. It currently has more than 450,000 people signed up to the platform.
The company provides a plethora of different markets to trade. It is regulated by the Netherlands Authority for Financial Markets (AFM), as well as the Dutch Central Bank (DNB). Finally, DEGIRO is also included on the Financial Conduct Authority (FCA) register in the U.K.
What can you trade at DEGIRO?
#

DEGIRO STOCKS REVIEW
| | | | |
| --- | --- | --- | --- |
| Min Deposit | App Support | Max Leverage | Trading Fees |
| £1 | Good | 1:1 | Low |
The company has a massive array of stocks on offer for you to trade. There are indices from around 30 different nations available to invest in. All of the major markets are covered, and the fees are surprisingly low. There is also an impressive array of research tools available to analyse potential stocks.
#1

DEGIRO ETFS REVIEW
| | | | |
| --- | --- | --- | --- |
| Min Deposit | App Support | Max Leverage | Trading Fees |
| £1 | 6000 | 1:1 | Low |
In terms of the ETFs selection the company provides, there are 5,400 options across 20 different markets that you can select from. They include some of the larger international markets as well as some of, the smaller stock exchanges in Europe.
#2

DEGIRO FUTURES REVIEW
| | | | |
| --- | --- | --- | --- |
| Min Deposit | App Support | Max Leverage | Trading Fees |
| £1 | Good | 1:1 | Low |
There is a futures market on offer through DEGIRO. However, it is relatively small, with only 14 different futures markets to trade. The options include large markets from the U.S. to smaller ones in Europe.
What did our traders think after reviewing the key criteria?
Fees
One of the main selling points is its low fees. There will be different fees depending on the markets you are trading. For example, stocks listed in the U.K., have a £1.75 fee in addition to a charge of 0.014%.
As well as being able to trade a selection of ETFs for free once a month, you will be ready to trade one ETF commission-free, each calendar month, subject to terms and conditions.
If you are executing trades via telephone or email, there is an £8.50 surcharge in place. There are no setup fees or inactivity charges, and there is an annual connectivity fee of £2.50 per calendar year for each exchange other than the London Stock Exchange.
You can quickly compare fees with those of six of the other leading competitors in the U.K. market by using their fee calculator. The company provides you with examples of how much it will cost you when buying individual shares.
There is also a fee associated if you open and use a custody account.
Account Types
There are five different types available, with each one depending on your risk profile. The options available are the basic option, custody, active, trader and day trader types. As mentioned above, there is a fee when using the custody account. Some people may want to open up a corporate custody account. The minimum deposit is £1.
Each of these types has its own advantages and drawbacks. How active you are when using the platform will dictate which option best suits your needs. For beginners, the basic type is the ideal option for you.
Platforms
DEGIRO has a web-based trading platform available for its traders to use. This is common across the broker industry. Their platform gives you access to all of the standard tools needed when analysing markets.
There is a handy favourites list which can be used to watch your favored positions and identify buying and selling opportunities. In terms of speed, the platform works ultra-fast, and it is straightforward to use.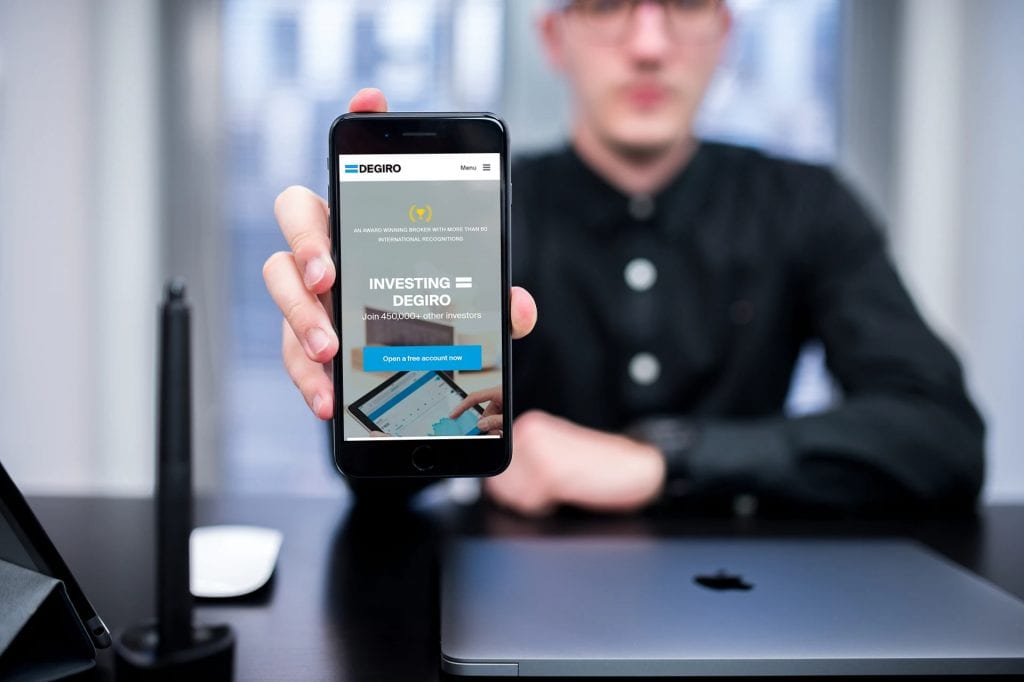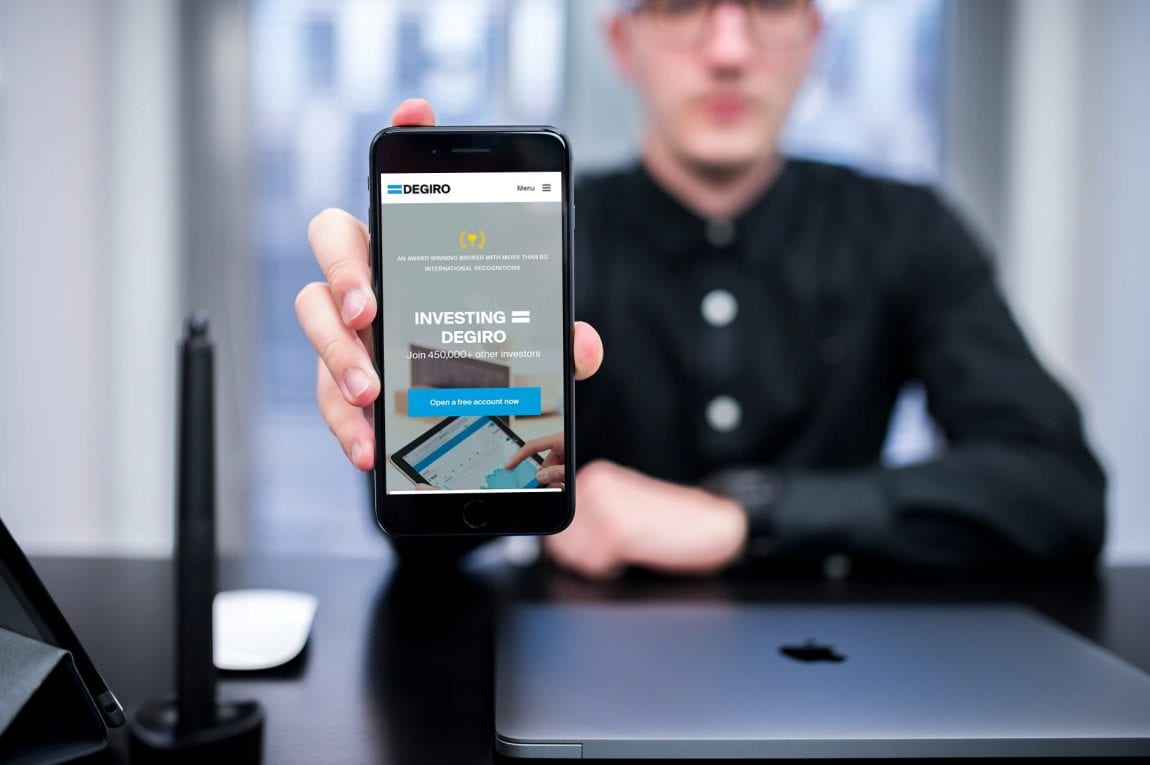 There is also an app for iOS and Android users. It is proprietary for software and allows you to trade futures, options, ETFs and stocks. Other features that can be accessed on the app are the full breakdown of the performance of your investments, as well as getting instant quotes and access to market news.
Usability
As mentioned, the trading platform at DEGIRO is very intuitive and straightforward to use. In terms of the website itself, there is a classic blue and white colour scheme in place. Site developers clearly didn't want to have too many frills, as everything is to the point. The site is straightforward to navigate, and you should have no trouble finding the information you are looking for. The menu is not inundated with many unnecessary links, and you can quickly see what investment products are open for you to trade.
A lot of platforms do not have such an expansive list of exchanges in which you can access, so this is definitely a strong point of the platform. As mentioned previously, if you want to compare fees, there is a well-presented table found on the website which compares the brokers costs with the other competitors in your region.
Customer support
For answers to more simple questions, the best place to start is the FAQ section, which is well stocked up with a diverse range of subjects. The accompanying solutions are well laid out and explained perfectly.
If you want to talk with a member of the customer support team, you can get in touch by phone or email. The phone lines for both the trading desks and the support team are open during the week between 7 AM and 9 PM.
There are numerous languages supported, but you will face charges for making calls to these numbers, although from the U.K. calls to DEGIRO's U.K. based desk are charged at local rates. When sending an email, the response time is pretty fast, but there is an increasing number of people who are contacting the company via their social media accounts as there tends to be a more rapid response time. All in all, the company's customer service is of the highest quality.
However, there is one drawback, which is not having access 24/7 to the support team.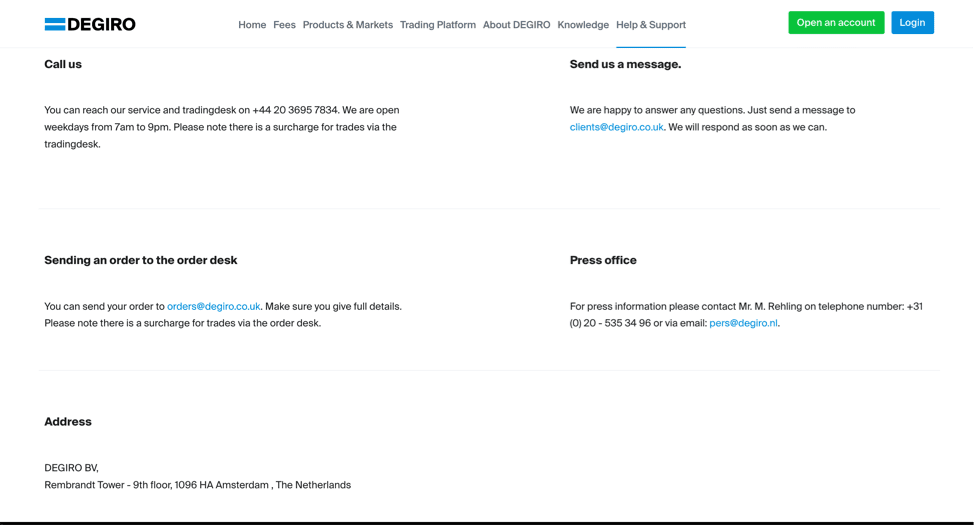 Payment Methods
The primary method to add funds is via a bank transfer. When you first sign up for an account, you will need to add in your bank details. This allows you to quickly make a deposit when the time comes. Generally, it will take 2-4 business days for your funds to be processed into your DEGIRO account. There is no way for you to rush urgent transfers through and there is no fee charged when you are adding or withdrawing funds from the platform.
There are currently no limits in place for how much you can deposit in a single transaction.
Unfortunately, only having a bank transfer option open to users is a drawback due to its bank charges and slow processing times.
Best Offers
Another negative of the platform is that there is no option to open up a demo account. This is a common way for new users to get used to a new trading platform. The justification given by the company for not having a demo is that you can deposit as little as £1 and trade using minimal sums, so you may as well use real funds as such small amounts are catered for.
They offer tutorials and lessons about investing. In their investor's academy, you can learn how investing works, which products you can invest in, and what strategies you can use.
Unlike a lot of the newer online brokers, there are no bonuses or offers available for clients, such as deposit bonuses. The analysis section is also lacking, there is no economic calendar, trading signals or in-depth analysis tools open for you to use. Most other trading platforms will provide one if not all of, these.
In general, the company focuses on being a low-cost broker that gives you access to a wide range of financial products and markets.
REGULATION & DEPOSIT PROTECTION
DEGIRO is regulated in two principal ways. The Netherlands Authority for the Financial Markets (AFM) supervises its behaviour, and the Dutch Central Bank (DNB) provides prudential supervision. Licensed as an investment firm under article 2:96 of the Netherlands' Act on Financial Supervision, it is also registered with the Amsterdam Chamber of Commerce and Industry (registration number 34342820). Accordingly, it has its registered office in the Dutch capital.
In addition to the above, the company is registered with the U.K.'s Financial Conduct Authority (FCA) (registration number 595455).
The money you have invested on the platform is held in segregated accounts, separate from the company's finances; therefore, if the company were to go into administration, your investments will not be considered a recoverable asset by the company's creditors. You will be able to recover your funds.
DEGIRO typically invests its clients' money in Money Market Funds that ensure the value grows at a rate comparable with the rate of inflation of that currency and aims to keep risks to a minimum.
Awards
Over several years, the company has racked up an impressive array of awards.
Having been in the sector since 2013, it is already one of the leading discount platforms across all of Europe. They consistently are ranked highly following reviews, particularly when it comes to its customer support and low fees. Some of the more recent awards that have been won include:
Best Low-Cost Stockbroker – 2017 and 2018 Financial Times/Investors Chronicle
Best Discount Broker 2018 – Broker Chooser
Best Online Broker 2018, 2017 and 2015 – Golden Bull Awards (Netherlands)
Best Mobile Share Dealing 2017 – Financial Times/Investors Chronicle
In total, more than 57 awards have been won since the company started just six years ago, which is an awe-inspiring feat. As time goes on, this list will no doubt grow in size.