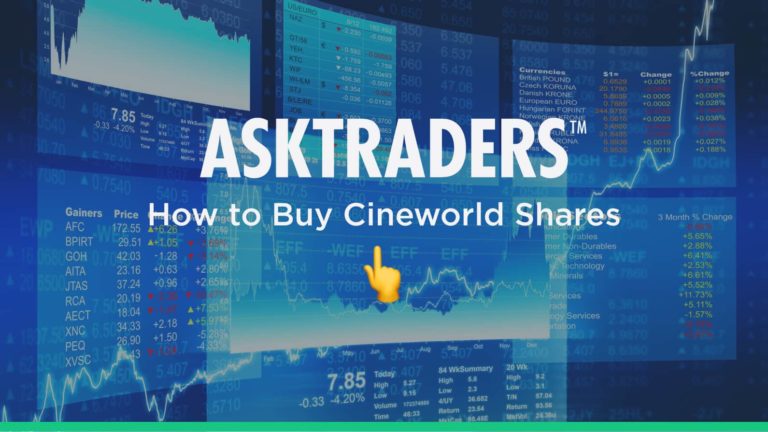 After the UK Government set out its roadmap to come out of lockdown, Cineworld's share price gain has been no surprise.
The fall in Covid-19 infection rates and fatalities and the UK's vaccination program has provided a positive outlook for Cineworld to reopen its venues soon, with their even talk of the restrictions being eased earlier than first set out. Before we look at how to buy Cineworld shares, let's take a look at the basics…

Cineworld Shares: The Basics
Cineworld is, of course, a cinema chain firm founded in 1995 and based in London. It is now one of the world's leading cinema venues with 790 branches throughout Europe and North America.
It listed on the London Stock Exchange in 2007, where it trades under the ticker symbol CINE and can also be bought in the OTC market in the US.
Recent and Historical Market Performance
As you can imagine, Cineworld's share price suffered immensely from the COVID-19 lockdown restrictions put in place in various regions globally.
Back in February 2020, before a lockdown was put in place across the UK, the FTSE 250 company's shares were trading around the 175p level before falling as low as 24p as fears grew, and a lockdown was eventually enforced.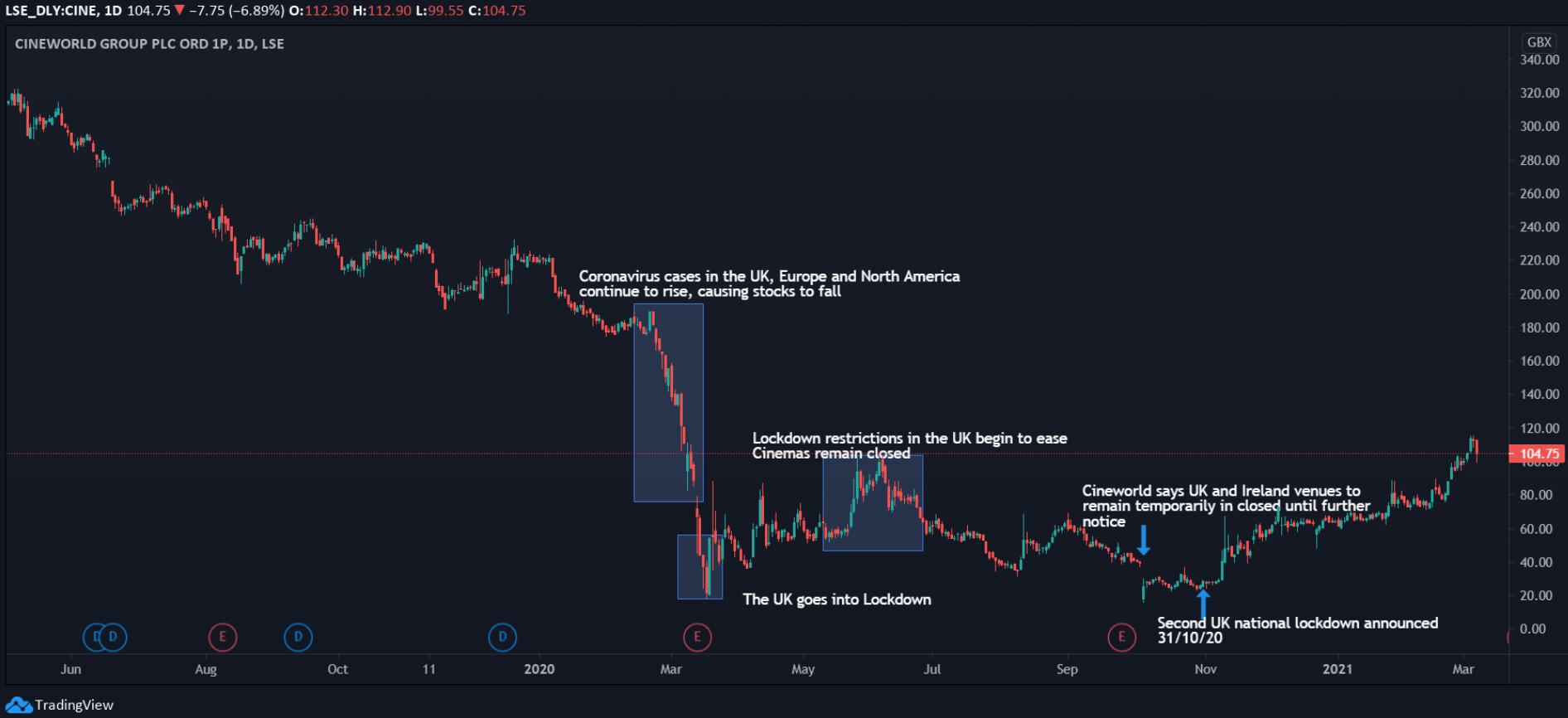 One event not added to the chart above is the announcement of the UK's roadmap out of lockdown, announced on February 22nd, which included a date for all restrictions to be lifted.
Cineworld's share price rallied ahead of the announcement, gaining over 43% in the last three months, up 63.42% for the year to date. Investors have been pricing in a reopening well ahead of schedule.
Is it a good time to buy Cineworld's stock?
The UK coronavirus cases and fatality rates are falling rapidly. With the government claiming they are focusing on "data not dates" when it considers the reopening plan, there is an argument that the dates could be brought forward, but that is purely speculation at the moment.
In January, Cineworld shareholders approved a plan to reward the company's senior executive team if its share price climbs to 190p within three years. If the level is reached, then they will share £104 million. If the share price rises to 380p, then executive directors would be awarded shares worth £208 million. This is a tremendous incentive to create value and push Cineworld's share price higher.
Markets like stability and the UK's reopening roadmap has provided its economy and, more specifically, Cineworld just that.
Cineworld's shares are a good buy, but only for a short to medium-term hold. Investors have been bullish on Cineworld in recent months, and there is still room to move higher in the near term, especially as we get closer to the reopening date.
Steps To Buy Cineworld Shares
There are hundreds, if not thousands, of online brokers available that have made it easy for anyone to access, invest in or trade stocks.
Once you do your research and decide to acquire Cineworld shares, it is a straightforward process to open an account and start trading or investing. But, if you are still unsure of what to do, the below guide will take you through the process and show you how to get the best deal.
1. Choose a Broker
Cineworld is a large company and will be offered by most brokers, especially in the UK. Below you will find a table of platforms that provide the ability to purchase Cineworld shares.
Each broker and platform will offer various positives and negatives depending on the different needs of each trader, some will even provide research, but again the quality can differ from broker to broker.
The best thing you can do is to test a few risk-free demo accounts. This will help you get comfortable with the platform you eventually choose while also figuring out your approach to trading or investing in the market.
A critical part of choosing a broker is making sure they are regulated so that you can be assured your money is safe. We have a list of FCA, IIROC, ASIC, or DFSA regulated brokers you can choose from. Just make sure you pick the one best suited to your region.
2. Open & Fund an Account
Opening and funding an account is a straightforward process and takes a similar form, no matter which platform you choose.
The broker will request information such as your name, address, proof of residency, a copy of your driver's license or passport etc. They may also ask further questions regarding your current market knowledge to make sure that you meet their requirements.
There are generally a few ways funding your account can be completed, such as via your credit/debit card, bank wire, or online payment services like PayPal or Skrill.
3. Open an order ticket and set your position size
Once you have completed your research into the stock, opened an account, and funded it, you are all set to start the process of buying shares.
The first thing you will need to do is open an order ticket. This can usually be done by clicking buy or sell next to the stock you want to purchase. You will then need to set your order size (make sure to manage risk appropriately).
Finally, choose whether you want it to be a market order (instruct the broker you want to open a new position at the current market price) or a limit order (an instruction to open a new position at a pre-specified price level).
4. Set your stops and limits
Before you purchase Cineworld shares, it is essential to understand the different order types.
Once you have confirmed the position size and decided on the order type, you will need to set a stop-loss and take-profit.
A stop-loss order is an instruction to your broker to sell the position if the price goes against you and reaches a certain level. A take-profit order is an instruction to close the trade once it goes a certain amount in your favour.
These order types are optional, but they are vital in helping manage risk. We recommend using a stop-loss order.
5. Select & Buy Cineworld Shares
So, you have decided to buy Cineworld shares and have gone through all of the above steps.
The final step to take is to click the button to buy or confirm your order instructing the broker to execute your instructions. The broker will have a tab somewhere on its platform to view the position and current profit/loss.
If you are unsure of the best way to trade or invest in the stock market, take a look at these online stock trading strategies.
Best Brokers to buy Cineworld Shares
eToro:
68% of retail CFD accounts lose money
Take a look
From 0% commission to low trading fees and top-tier regulation, these brokers are best-in-class when it  comes to buying and selling Cineworld Shares.
Fees When Buying Cineworld Stock
In recent years, online stock trading has become cheaper than ever for retail investors. This is due to most trades being automated, making them more efficient and giving rise to many new competitors lowering their fees to compete in the industry.
One of the most important things you can do before choosing a broker is knowing the fees they charge and how that will impact your trading/investing. Fees can stack up and really affect performance, so it is vital to select a broker that provides transparent and low costs. Some of the costs to look out for and hopefully avoid are deposit and withdrawal fees, inactivity fees, spreads, FX conversion and taxes (which depends on your country of residence).
A lot has been made recently about zero commission brokers. While these can obviously be beneficial, you must understand how the broker achieves this. In the high profile case of Robinhood, they made the majority of their money by selling customers order flow to Citadel.
| | | | |
| --- | --- | --- | --- |
| | eToro | Plus 500 | Markets.com |
| Inactivity Fee | Yes | Yes | Yes |
| Inactivity Fee details | $10 per month. After 12 months | $10 per month. After 3 months | $10 per month. After 3 months |
| FX Conversion | Yes – on non-base currency trades | Yes – on non-base currency trades | Yes – on non-base currency trades |
| Fund withdrawal fees | Yes – $5 | Applied on some payment methods | Yes – $5 -$100 |
| Trading commissions | Included in spread | Included in spread | Included in spread |
| Overnight Financing | Yes, on CFDs | Yes, on CFDs | Yes, on CFDs |
Full Overview of Cineworld
Niche and History
Cineworld is a cinema company founded by Steve Wiener in 1995. The firm is based in London, UK, and is one of the world's largest cinema chains with approximately 9,518 screens across 790 venues in the UK, Europe and the US.
It IPO'd in 2007 and is a constituent of the FTSE 250.
In January, the company's shareholders approved a plan that would see its senior executive team rewarded if its share price climbs to 190p within three years. If the level is reached, Cineworld senior executives will share £104m. If the share price rises to 380p, they would, between them, be awarded shares worth a total of £208m.
Since October, nearly all of Cineworld's UK and Ireland staff have been furloughed or out of work, following branch closures.
In December 2020, its share price plunged after AT&T's Warner Bros. announced that it would release all its 2021 movies on HBO Max at the same time they will premier in theatres.
Financial Overview
| | |
| --- | --- |
| Latest market close | 104.75p |
| 52-week range | 15.64/115.15 |
| YTD Return | 63.42% |
| Market capitalisation | 1.438bn |
| Dividend yield | N/A |
| Earnings per share | 0.13 |
Interim results for the six months ending June 2020
Company's EBITDA $53m
Revenue  $712.4m
Losses -$436m
Between mid-March and late June/early August, all of the group's sites were closed, impacting its H1 2020 results.
During the period, the company also raised an additional $360.8 million in liquidity.
Cineworld's Ethical Rating
Environmental Impact
On the company's website, you will find a statement regarding its attitude towards the environment, stating: "Being a multisite business, the Group is conscious of its total energy consumption and amount of waste materials generated and is actively working on reducing both. Our cinema websites enable e-tickets to be purchased and used, avoiding the need to print tickets."
Controversies
Following the announcement of branch closures in October, reports surfaced questioning how Cineworld's was treating its staff and their handling of zero-hour contract employees.
Summary
Some people may be put off buying Cineworld shares given the current environment. However, the market prices in future events and with restrictions being eased rather than tightened, Cineworld's shares look like an attractive proposition in the short term.
Even after the recent rise, there is still room to move higher, and the company's incentive to senior executives should help encourage performance.
The current market outlook suggests that now is a great time to buy Cineworld shares for a near term move higher. Just make sure to manage risk effectively and choose a trusted broker that protects your funds.
Further Reading: