Trading in high risk-return stocks is all about timing and establishing what catalysts are in play. In the case of Hurricane Energy, that time is now thanks to a boardroom shake-up in June paving the way for share price volatility.
Nothing can be guaranteed, but the changes made on 30th June have so far been warmly welcomed by the investment community, which has for some time been wondering when Hurricane Energy stock will fulfil its potential.

With crude oil prices also gaining momentum, an increasing number of investors are asking the question, is Hurricane Energy a good stock to buy?
Who is Hurricane Energy?
Hurricane Energy is a UK-listed oil extraction firm that specialises in locating and pumping oil from fields other firms have left behind. The firm uses innovative techniques to squeeze out reserves that legacy technologies were unable to. It targets basement reservoirs around the UK where there is clear evidence of oil – the killer question being how much?
Listed on the London Stock Exchange under ticker HUR, the hit and miss nature of the firm's operations have given investors something of a roller-coaster ride. Unfortunately, in recent years the firm has been recording more misses than hits and the share price has tumbled from £64.50 to £3.00 in little more than two years.
The oil producer has a market cap of £58m, so is classified as a small-cap stock. Being such a small size means there are extra complexities to consider, one of them being the firm can be 'bullied' by short-sellers. The 2019–2021 price fall was not only down to disgruntled shareholders bailing out of positions, it was also partly down to hedge funds selling short with the intention of buying the stock at a lower price in the future.
Significant changes to the firm's operations and a multi-month bull run in the oil price have brought the stock to the attention of investors. Between 25th June and 7th July, the HUR stock price rallied by a staggering 187%. Since then, it has fallen back, leaving many wondering if Hurricane Energy is a buy or sell. Should valuations be based on the long-term downward trend or the more recent upwards momentum?
Where Will Hurricane Energy's Stock Price Be in 3 Months?
Since the start of the year, HUR stock has traded in a range of between £0.59 and £4.50. Between February and May, Hurricane shares lost 86% of their value. From May to July, the share price soared by 597%. The whipsawing price action and potential for trading the downside as well as buying the dips has brought all types of trading strategies to the table. Whether you consider Hurricane Energy a buy or sell, there are opportunities to profit from short-term price moves.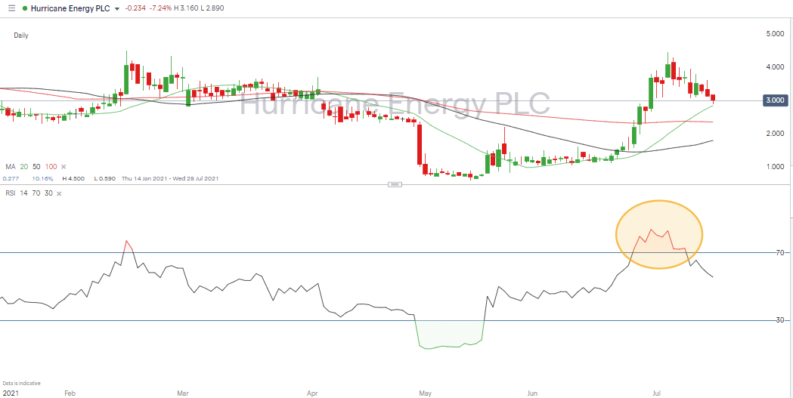 On a short-term basis, the HUR technical analysis indicators reveal there is more chance of upward price momentum. The high of £4.45 on 5th July has been followed by a pull-back. Price weakness shouldn't be too surprising, considering the daily RSI at that time was heavily overbought and even reached 83 on 30th June. The year-to-date high of £4.50 on 15th February was also always going to provide stiff resistance following such a sudden and steep rally in price.
Given that the pull-back could be a chance to buy the dips, a scan of the Fibonacci retracement levels points to price currently sitting on the 38.2% Fib. A further pullback to the 50% Fib can't be ruled out, but given the strength of the recent surge, it could well be that the 38.2% level at £2.975 holds and acts as the base camp for further upward movement. Further support is offered by the daily 20 SMA currently sitting at £2.847.
A breakthrough to the downside of the 50% Fib (£2.52) would be a bearish indicator and would suggest the recent optimism has been quenched by the long-term downward price pattern. There is also the question of how much of the June rally was down to a change to the core prospects of the firm and how much it was due to short-sellers closing out positions.
Given the speculative nature of oil exploration, company reports on known reserves are something to keep a close eye on. The next earnings update isn't due until Thursday 9th September. That date will be one that investors will want to have clearly marked in their calendars. Until then, the price looks subject to the influence of technical rather than fundamental factors.
Short Interest and Hurricane Energy Stock
One thing to know about Hurricane Energy is that it has long been targeted by hedge funds looking for shorting opportunities. Long/short hedge funds that look to trade market neutral strategies will often look for the weakest stock in a sector and short it while going long in a more attractive proposition. The oil sector is no different and the weakest firms, in this case, Hurricane Energy, has for many years been a target of short interest.
In January of 2021, 3.29% of the total amount of listed shares were shorted and as recently as 8th July, Astaris Capital Management increased its short position. Even after the recent share price strength, or possibly because of it, Hurricane Energy is currently the 34th most shorted stock on the London Stock Exchange (by percentage of total equity issuance).
Where Will Hurricane Energy's Stock Price Be in 1 Year?
Any 12 month Hurricane Energy stock forecast would do well to consider the events of April 2021, which started off a chain of events that look set to dominate the stock price in the near future.
Notably, on Wednesday 7th April, the stock posted an intra-day price crash of over 23% after the firm announced disappointing results regarding reserves at its flagship Lancaster oil field. The independent consultancy firm ERC Equipoise noted how the gross stock barrels of proved, probable and possible reserves at Lancaster were only at 10.8 million. At the time, this was a value of £126.2m.
The disastrous announcement also flagged up regulatory tape. Slipping production timelines could lead to the field being written off. The company announcement declared:
"There can be no certainty of any further activity in relation to the Lancaster field" (source: The Motley Fool). It also warned of "a risk of significant dilution to existing shareholders from a possible restructuring and/or partial equitisation of the convertible bonds" (source: The Motley Fool). Indeed, this caused investors to rush for the lifeboats.
Before the month was out, the Hurricane share price hit £1.00 when on 30th April it plummeted more than 52% in one trading session. This was the day that restructuring plans, which would mean equity holders giving up control to the firm's creditors, were announced. Anyone considering buying Hurricane Energy with a one-year investment horizon needs to take care to factor in such price drops, which can leave investors stuck in a position or bailing out at a significant loss.
By 14th May, the friendless Hurricane Energy share price reached the year-to-date low of £0.66. This is, unfortunately, the harsh reality of oil extraction. Sometimes even sophisticated ways of retrieving oil from complex geological structures just don't come good. It also reflected the brewing boardroom struggle that pitched bond holders against shareholders.
Explaining the current share price of close to £3.00 involves analysis of the firm's corporate structure – a factor that could continue to be a major influence over the next 12 months.
Investors are still digesting the ramifications of the board room shake-up, which took place on 30th June when the Chair and four non-executive directors of the board resigned. The move came after Simon Walton, who acted on behalf of Crystal Amber Fund Ltd (owning approximately 15% of Hurricane Energy's issued share capital), went to court to challenge the restructuring, which was mooted in April, and won. The bondholder's plan to pull rank over equity holders had failed and the share price rallied as a result.
Talk of the court's decision being challenged by the firm has subsided thanks to the change of directors, and with the dark shadow of equity holders seeing their shares being deemed worthless by the board, a share price revival appears to be on the cards.
Where Will Hurricane Energy's Stock Price Be in 5 Years?
The failed reorganisation would have led to $50m of debt being written off by creditors who would, in exchange, be handed all the equity in the firm. With that deal out of the window, Hurricane Energy has to find the cash to redeem £230m worth of bonds, which mature in July 2022. The unfortunate reality is that if the firm defaults on that bond commitment and goes into bankruptcy, it would result in the stock price going to zero.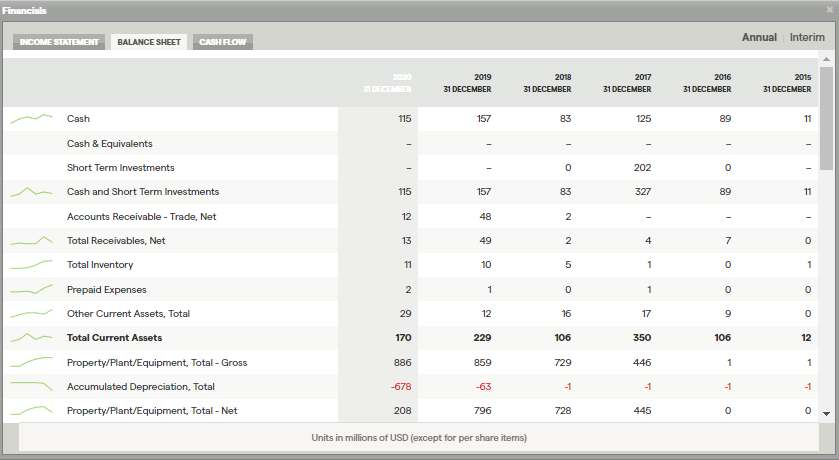 Analysis of the firm's balance sheet is therefore crucial, and the 2020 year-end reports point to the net cash balance being in the region of $115 and total current assets totalling $170m. This means there is a $55m shortfall. Investing in a company that has such a large net liability is risky and traditional investment strategies would suggest opting for firms that aren't in such a position. On the other hand, the perilous situation is also why the share price is where it is.
The question for long term investors is whether the firm can work its way out of its cash flow problems. Once having done that, will revenues pick up? On the latter point, there is some good news as 2020 full-year revenues of $180.01 were up on the $170.3 posted the previous year.
The mood among some shareholders on social media platforms is that the bondholders had superior access to the true worth of the value of the oil fields the firm has license to drill and were looking to maximise their returns by squeezing stockholders out of the equation.
The idea that the firm's share price currently massively undervalues the firm then extends to the possibility that the corporate reorganisation was effectively a take-over of a prized asset. This has, in turn, caused many to consider the likelihood of a genuine take-over by a third party. Such a deal would involve a healthy premium being paid and is one reason why many have been buying any dips in share price.
Source: IG
Factor in that WTI oil prices have rallied from below zero to above $80 per barrel in the space of about one year and the idea that Hurricane's revenues could rebound makes increasing sense. It also increases the chances of a bigger rival with deep pockets stepping in as a white knight.
Of the four broker ratings on IG, three are 'Hold' and only one is 'Strong Sell'. The consensus appears to be that Hurricane Energy has weathered the storm and sitting on long positions might pay off.
Is Hurricane Energy a Good Buy?
Retail investors have a lot less access to boardroom dynamics than institutional investors. Fund managers and hedge funds with large enough shareholdings even have sufficient influence to be able to steer their chosen candidates to boardroom positions.
Those looking to make a Hurricane Energy stock forecast for 2025 and beyond would benefit from having intimate knowledge of what plans are in place to resurrect the firm's fortunes. Second-guessing the actions of bigger players is, therefore, one way for retail investors to play the situation, and the drop in hedge fund shorting activity could be a result of whispers circulating in the market.
Being some way down the line when crucial news is released is far from ideal, which makes buying Hurricane Energy a high-risk strategy. It would require a conviction that the firm will be able to restructure itself without damaging the interests of shareholders. Oil prices remaining at high levels and oil field data taking a turn for the better would also help, but those are far from guaranteed.
Deloitte Touche LLP, the independent auditors of Hurricane Energy, reviewed the firm's accounts for 2020 year-end and gave an analysis, which provides one final reason to steer clear. After analysing the accounts to a granular level, Deloitte Touche LLP stated that it could not be sure that Hurricane Energy would be able to continue operating in 2021. There have been a lot of changes since the 2020 year-end, but none that suggest the auditor's opinion can be dismissed.
The Best Brokers to Trade Hurricane Energy Stocks:
eToro:
68% of retail CFD accounts lose money
Take a look
If you are ready to add some Hurricane Energy stocks to your portfolio you'll need a broker that is regulated, has low fees and a user-friendly platform. Finding one can be a daunting task, which is why we've selected some of our favourites that tick all of these boxes to help you get started.