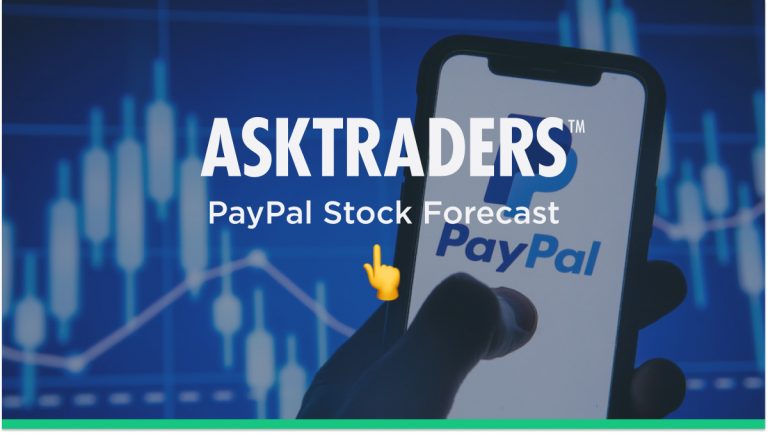 PayPal now seems entrenched alongside Visa and MasterCard – the two behemoths in the industry – but it has carved out its own niche, especially on the business side as a merchant processor of note. Over the past five months, its share price, however, has declined from a lofty station of $300 down to $186, as depicted in the YTD chart from eToro presented below: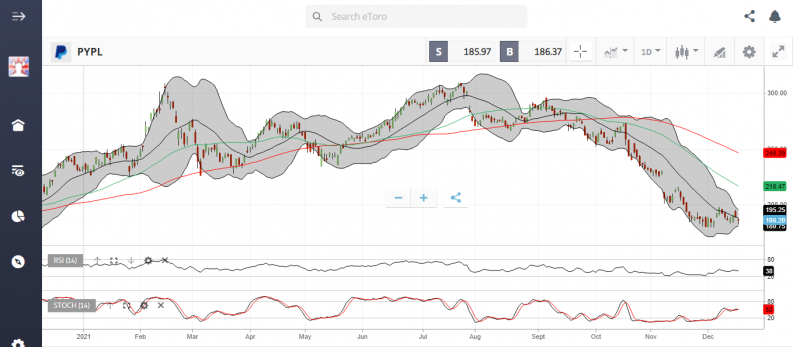 Source: eToro
*68% of retail CFD accounts lose money
Its price seemed to level out in December 2021, thereby suggesting a possible buying opportunity, but only if the reasons for its decline are temporary industry concerns. In any event, for the long-term investor, PYPL is an ideal addition to anyone's portfolio.
Who is PayPal?
In 1998, e-commerce was beginning to emerge as an activity on the nascent internet of the day. Bankers, however, were not enamoured with the prospect of enormous fraud in this virtual environment. Peter Thiel, Luke Nosek, Max Levchin, and Elon Musk saw an opportunity for a digital wallet service, and, after combining a few interests, PayPal was formed, launching its initial foray into payment processing in 1999.
The firm also launched an aggressive marketing referral campaign for customer sign-ups, incurring around $70m in debt for its first 100,000 accounts. Within three years, however, it had roughly 60% of eBay's settlement traffic and a fledgling merchant operation of its own. Unfortunately, bankers had been correct, PayPal was also absorbing an inordinate level of fraudulent transaction losses, as it stood between the banks and the marketplace.
It solved its fraud problem by tightening its reins on cardholders and merchants, whose 2.9% discount rate could rise as high as 10% if rated a high-risk merchant. It solved its funding problem by going public briefly in 2002 and then being bought out by eBay for $1.5bn. By that time, 70% of the auctions on eBay were settled via the PayPal platform. It was, as they say, a match made in heaven.
With fraud under control and financing assured, the firm literally took off. Today, PayPal has over 361 million active accounts, which account for over 22% of online transactions in the United States. It is also global. It is accepted in over 200 countries and 25 currencies. It also has 48 offices in 29 states and countries.
The COVID-19 pandemic did not have an adverse impact on PayPal's good fortunes. Since more people stayed at home and shopped from there, e-commerce took off like a rocket. PayPal's stock price shot up 116% in 2020, and the firm cleared net revenue of $5.46bn for the four quarters ending in September of 2020, its fiscal year period.
After such stellar results, it should be no surprise that PYPL shares have come down in price during the latter half of 2021. In general terms, FinTech companies took a beating, but in many ways, analysts believe that PayPal is being punished for its success in 2020. Investors got wrapped up in the frenzy brought on by the supposed 'COVID bump' in online buying activity and expected it to continue. As the furore subsided, PayPal's share price corrected down to $186, its current trading price.
Is PayPal stock a Buy or Sell? The vast majority of analysts that follow this stock believe that it has reached a current bottom and that it will not go further down in value. Revenue growth for the past year maintained an aggressive 22.2% posture, and the management's forecast for the next five years is more of the same. The goal at the end of 2025 is $50bn in total revenue, and 20% annual growth will achieve that objective. Payment systems typically grow at GDP rates plus an add-on for new account growth and for other expanded service offerings. PayPal has above average potential in each category.
Where Will PayPal's Stock Price Be in 3 Months?
Is now the time to buy PayPal? One of the first lessons taught to traders is to never attempt to guess a bottom or top in a market. Veterans have old scars from learning this valuable lesson. It is best to wait for confirmation of a new direction from ranging price behaviour before committing funds to a new position.
A cursory review of PayPal's recent stock trajectory does reflect a plateau of sorts around the $185 region. The RSI and Stochastics are both signalling a mid-range for prices, and the Bollinger Bands are tightening, a suggestion that a move is imminent. Will that move be up or down? Once again, the counsel of a legion of veterans would have you wait until the market makes up its mind. The present ranging attitude could just be a head-fake before going south, although many analysts think to the contrary.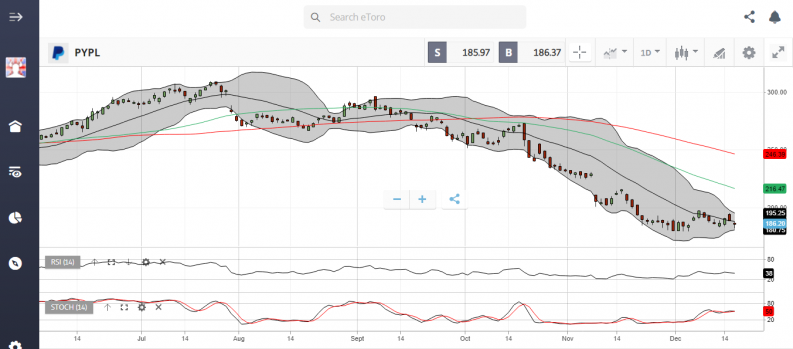 Source: eToro
*68% of retail CFD accounts lose money
Where Will PayPal's Stock Price Be in 1 Year?
A total of 42 analysts speak favourably of PYPL, and their median result for a PayPal stock forecast touts a 45.4% appreciation in share price over the next 12 months up to $270 (source: CNN Business).
One should keep in mind that analysts can also be wrong. A positive future will hinge on a steady global recovery from the Covid-19 pandemic. Christopher Brendler, an analyst with D. A. Davidson, has signalled a cautious tone:
"PYPL was one of the pandemic's biggest beneficiaries… but the uneven global macro recovery amid supply chain issues as well as tough comps are challenging growth prospect."
(source: Capital)
Caution is also the watchword, according to recent statements by Dan Schulman, PayPal's CEO:
"We are seeing the impact of global supply chain shortages in our merchant base, consumer confidence is weakened with the absence of stimulus payments, and with the economy reopening, more people may be likely to do their holiday shopping in-store"
(source: Capital).
Global supply issues will not correct themselves easily or evenly as we go forward. Preparing PayPal stock predictions in this environment is not easy, as PayPal's CFO, John Rainey, has warned on previous conference calls. He admits that management got ahead of the curve in their predictions, and when they did not meet their numbers, the stock price was pounded into submission, giving up most of its 'COVID bump' gains from 2020. The fact that the market tends to overreact is why many analysts are now optimistic about the next 12 months.
Where Will PayPal's Stock Price Be in 5 Years?
When preparing a PayPal stock forecast for 2025, it is best to start with a chart that goes back at least four to five years: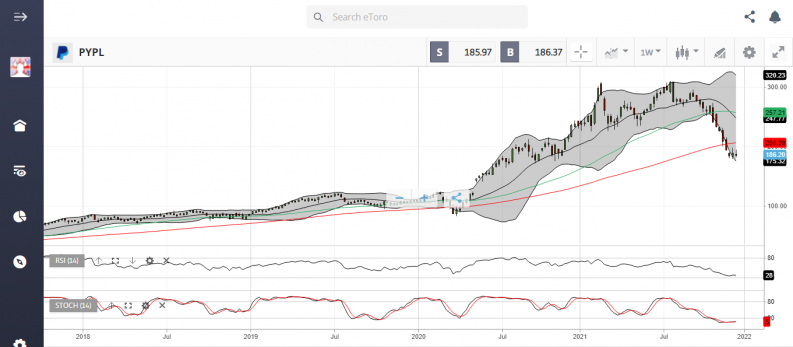 Source: eToro
*68% of retail CFD accounts lose money
This weekly chart yields a few insights, visible with the naked eye. There is a cross of the 20 and 50-week SMA – a cause for concern. The RSI and Stochastic indicators, however, are signally an oversold condition – an offset to the SMA-cross seen above. The net effect is that the jury is still out as far as investors are concerned. If you were to draw a line from mid-2019 to the present, the slope would mirror past performance, another sign that a bottom may have been reached.
Extending that straight line forward would yield the medium 12-month forecast in the analyst community, but what about 2025 and beyond? Fundamentals are important here. PayPal has a strong foundation, and in the absence of a severe global recession, a straight-line forecast does make sense.
PayPal has been a consistent performer, and for that reason, extending the current slope experience is not that outlandish. The 2025/26 forecasts then range between $400 and $600. The company foresees a 20% annual growth rate going forward for five years and predicts a revenue target of $50 billion. This growth rate assumption matches its track record for the previous five years and would deliver a higher revenue amount than its current target.
Is PayPal a Good Buy?
Is PayPal a good stock to buy? Payment-related processors on a global scale are with us to stay for quite some time. Yes, there have been threats from other multinationals and now even from innovative cryptocurrencies. The sheer scale of these companies, however, insulates them from most of the competitive attempts to move share. PayPal has always been unique. The firm initially went down risk avenues on the internet, which banks had no desire to pursue, but it now sports a very diversified set of payment offerings.
Once the firm had established a firm foundation, it began to expand into other areas with its own brand of innovation. As long as it continues to stay vibrant and offer innovative payment solutions across its global base, it will remain a good 'buy'.
Recent declines in stock price are more than likely temporary industry issues, which should pass. Indeed, it is anticipated that PYPL is now a good buying opportunity at present levels, especially for the long-term investor. Perform your own due diligence and make your own judgement.