eBay is one of the world's largest online marketplaces, where people and businesses can buy and sell a wide variety of goods and services. eBay is also a publicly traded company, which means that investors who see movement in the company's share price can buy and sell the stock.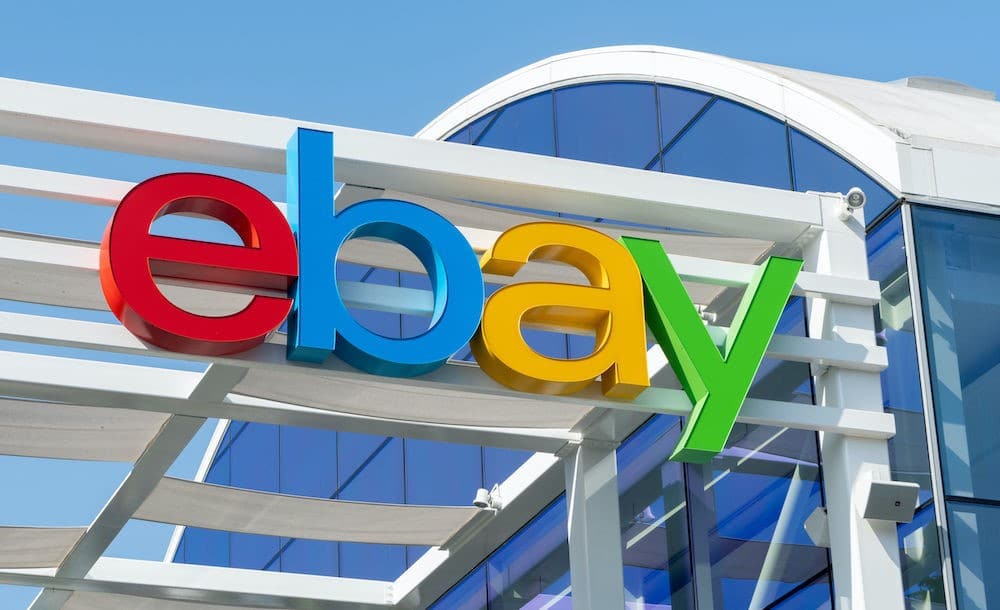 So, how do you buy and sell eBay shares to profit from the potential price moves? Well, if you're interested in buying eBay stock, there are a few things you need to know first. This article will walk you through the process of buying eBay shares step-by-step.
eBay Overview
eBay Inc. is an American e-commerce company based in San Jose, California that facilitates consumer-to-consumer and business-to-consumer sales through its website. eBay is considered one of the world's largest online marketplaces, where people and businesses can buy and sell a wide variety of goods and services.
eBay was founded in 1995 by Pierre Omidyar and has since grown to become one of the most successful e-commerce companies in the world. eBay's platform allows users to list items for sale, create auctions, and bid on items listed by other users. eBay also offers a variety of features to help buyers and sellers protect themselves, such as buyer protection and seller protection programs.
The company was initially founded as "AuctionWeb" in 1995 before being renamed eBay in September 1997. As part of its global expansion, in July 1999, eBay launched sites in Germany, Australia, and the UK. As of today, the e-commerce platform is available in 180 countries.
Over the years, eBay has acquired and sold or spun off various companies, including PayPal, Rent.com, Gumtree, and Skype.
eBay Shares: The Basics
eBay shares are traded on the Nasdaq stock exchange under the ticker symbol EBAY. At the time of writing, eBay has a market capitalization of over $20 billion.
eBay went public on September 21, 1998, with the company's initial public offering (IPO) priced at $18 per share. However, the stock price jumped to $53.50 on its first day of trading. This was a significant gain for investors who bought the stock at the IPO price.
eBay's IPO was one of the most successful IPOs of the late 1990s. The company's stock price continued to rise in the months after its IPO, and eBay became one of the most valuable companies in the world.
While it's now not the most sought-after stock, eBay is still a well-established company with a strong track record. The company's stock is still a relatively risky investment, but it is also a potential opportunity for investors who are looking for long-term growth.
Steps to Buy eBay Stock
Trading eBay shares using an online broker is a very straightforward process. Brokerages have invested heavily in their platforms to ensure they have user-friendly functionality. There are also customer service teams to assist clients, whether they are novices or experienced traders.
1. Research eBay shares
The first step towards buying eBay shares is to develop a well-thought-out strategy. This can be as complicated or as simple as you like. You may look to trade intra-day using software tools or wait for an opportunity to enter into a long-term buy-and-hold position. You should establish how long you want to hold the shares.
Good places to start your research include the broker platforms themselves. You'll find analysts usually break situations down into two general areas:
Technical analysis: Using historical price data, chart patterns, and powerful software to predict future price moves.
Fundamental analysis: In-depth analysis of the eBay business model and the broader equity market. This involves establishing if eBay is mispriced by using reports such as income statements, cash flow reports, and news releases. One debate around eBay is how it can better compete with other e-commerce giants like Amazon.
2. Find a broker
When choosing a broker, the essential aspect is to use a brokerage regulated by a tier-1 regulator. The regulator that you require will depend on your location, but some of the most well-known include the Financial Conduct Authority (FCA), the Australian Securities and Investments Commission (ASIC), and the Cyprus Securities and Exchange Commission (CySec).
3. Open and fund an account
Online broker accounts have a similar feel to online banking. As you'd expect, with money being wired from one account to another, some forms must be completed.
Each broker has its own client onboarding format, but most take only minutes to work through. Wiring funds into your account will be almost instantaneous if you deposit funds via bank or credit card. Other payment methods are usually available.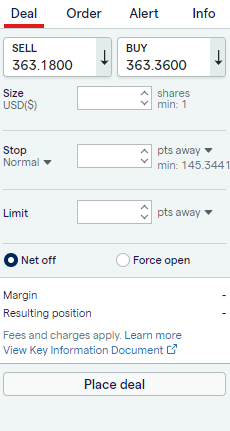 4. Set order types
With the admin completed, buying eBay shares is as easy as finding the stock on the platform, building a trade ticket, and clicking a button.
If you're trading using CFDs, you'll be able to 'buy' or 'sell' eBay shares. If you intend to hold the underlying shares, then you can only buy and can't use leverage.
After inputting the 'amount' of eBay shares you want to trade, you're ready to go. Whether you are using a desktop or handheld device, you are one click or one tap away from putting on a trade.
Before you open your trade, you can input automated instructions to close your position at certain price levels. For example, 'stop-loss orders' and take-profit instructions are risk management tools that can be added before or after trade execution to help you better manage your trade.
5. Select and buy eBay shares
Even the experts double-check their trading instructions before giving the final order to the broker (clicking buy/sell).
Brokers have different names for the button that gives the final order to trade. 'Open Trade' or 'Place Order' are popular terms. When hit, your cash balance will be debited, and you will hold a position in eBay.
The value of the holding will fluctuate in line with the market price. Monitoring the performance of your eBay holding will be possible via the 'portfolio' monitor. It will also be possible to close out of your position from this part of the site.
The Best Brokers to Buy eBay Stock
There is fierce competition between brokers, which helps feed through as improved T&Cs for account holders. Each broker will offer users something slightly different. As demo accounts are free to set up, it is recommended you try a few to find the best trading platform for you.
Broker comparison tables such as the one found here are useful resources.
Finding the right broker should be considered one of the most important parts of the process. While you can buy eBay stock with most brokers on the market today, not all brokers are created equal.
If you're ready to buy eBay shares, you'll need to use a regulated broker with low trading commissions and a reliable trading platform. Finding one can be arduous and daunting, so we've hand-picked favourites that tick all the boxes to help you get started.
Searching for the Perfect Broker?
Discover our top-recommended brokers for trading stocks, CFDs, forex, cryptos, and beyond. Dive in and test their capabilities with complimentary demo accounts.
YOUR CAPITAL IS AT RISK. 76% OF RETAIL CFD ACCOUNTS LOSE MONEY
Fees When Buying eBay Stock
Keeping on top of the costs and fees associated with trading and investing is vital. Financing charges and commissions can add up over time.
They'll also play a part in helping you determine if you trade using CFDs or Shares.
Most good brokers offer fee tables so that you can run checks and determine what approach is best for you.
| | eToro | Plus 500 | Markets.com |
| --- | --- | --- | --- |
| Inactivity Fee | Yes | Yes | Yes |
| Inactivity Fee details | $10 per month. After 12 months | $10 per month. After 3 months | $10 per month. After 3 months |
| FX Conversion | Yes – on non-base currency trades | Yes – on non-base currency trades | Yes – on non-base currency trades |
| Fund withdrawal fees | Yes – $5 | Applied on some payment methods | Yes – $5 -$100 |
| Trading commissions | Included in spread | Included in spread | Included in spread |
| Overnight Financing | Yes, on CFDs | Yes, on CFDs | Yes, on CFDs |
Final Thoughts
The process of booking an online trade is simple. One recommendation is to start by practising using a Demo account. They offer you the opportunity to trade risk-free and to learn how your broker works.
'Fat finger' errors plague all traders, even seasoned pros. It's just that the top guys have learned they need to know their systems and check their trades. A Demo account offers an insight into how to do this and provides a chance to practice.
Taking a few precautionary steps will not get in the way of your progress.
No one can guarantee that the price of eBay stocks will rise; however, the opportunity to take a position on that happening is now easier than it has ever been.
If you need further help check out: