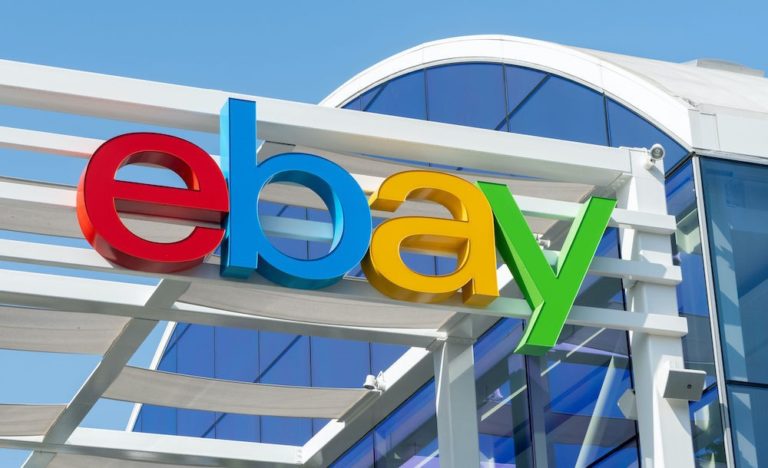 The price of eBay shares has more than doubled since March. A surging stock price like that attracts attention when the reason for the meteoric rise is plausible.
So, how do you buy eBay stocks to profit from the price moves? Fortunately, online brokers provide information to help novice traders make a profit by providing:

Guidance for new traders
Advice on trading safely
Advice on buying eBay stock
An explanation of 'Leverage' and other terms
Help with monitoring positions and 'closing out' trades
The return on investment of 113% between March and August is tipped by some analysts to be the start of a long-term trend. The argument being that the COVID-19 pandemic is a catalyst for the digital economy to expand.
Essential guidance for those new to trading
More business is being conducted online than ever before, so it makes sense that an established digital market place with strong brand recognition is going to be a winner.
eBay (Nasdaq: EBAY) share price chart – 2019 – 2020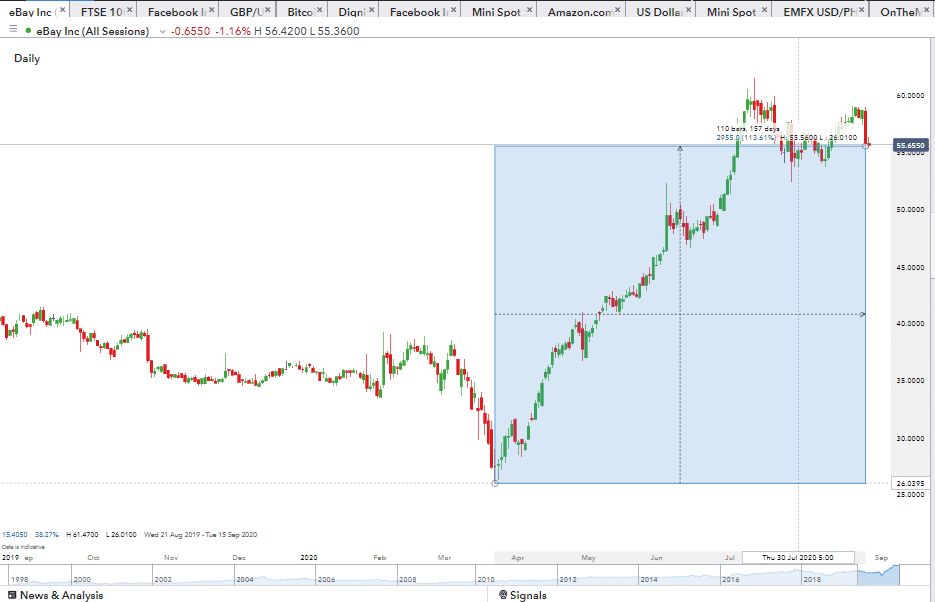 Source: IG
Market pundits explaining the price hike have to consider the track record of tech stocks. The 2000 dot-com bubble burnt a lot of fingers. The justification that 'this time it's different' is backed up by real-life increases in revenue streams.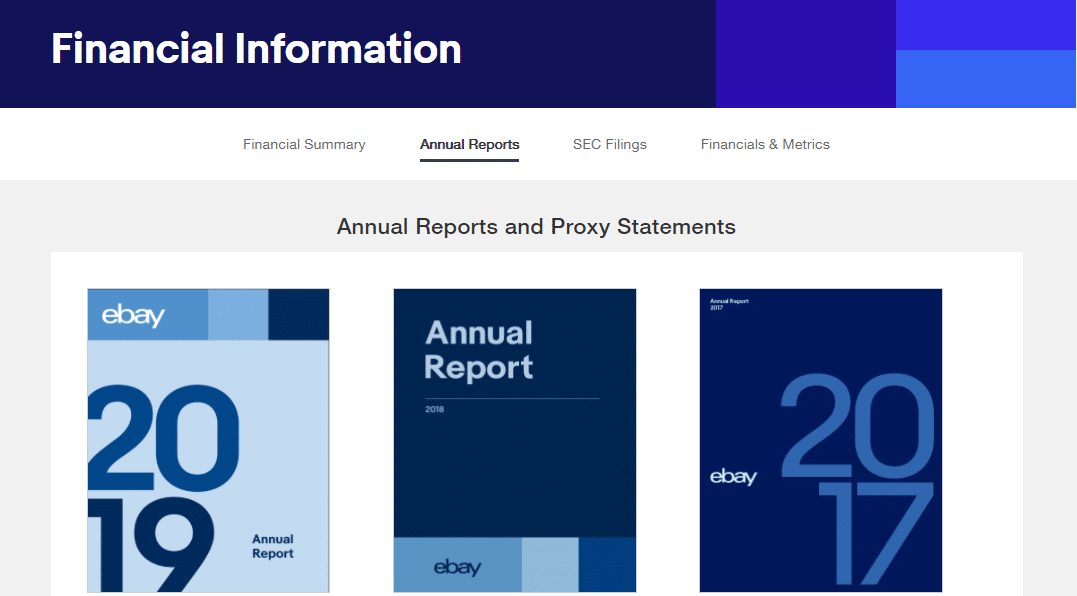 The firm's latest report to investors, on second-quarter earnings, indicated that it needed to 'upgrade' its forecast for 2020 profits. The truth is, the eBay story has been building for some time, as outlined by this article.

This is important because each unit of eBay stock represents an entitlement to a share of future earnings. The greater they are believed to be, the higher the stock price.
For far too long, gaining access to equity investments involved several layers of costly administration. That process was complicated and inefficient.
In the same way that eBay revolutionised e-commerce, so online brokers have simplified how you buy shares.
eBay (Nasdaq: EBAY) share price chart – 1998 – 2020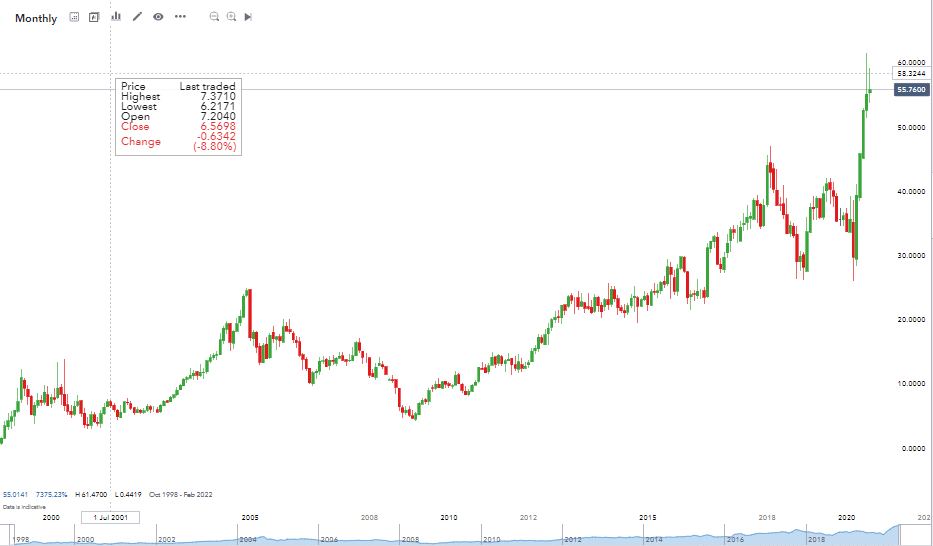 Source: IG
Online brokers such as Pepperstone, eToro and IG offer global investors easy to use and secure online trading platforms. There they can buy eBay shares securely with the click of a button.
How to trade safely
Buying eBay stock might be simple, but avoiding some common pitfalls is vital.
One of the crucial things is only to use a regulated broker. The big global brokers operate under licence from a range of Tier-1 regulators including:
The Financial Conduct Authority in the UK (FCA)
The Australian Securities and Investments Commission (ASIC)
The Cyprus Securities and Exchange Commission, (CySEC)
It's also good to crowdsource your due-diligence reporting. Running a Google search on 'Is broker ABC regulated?' is an excellent idea.
A benefit of trading eBay shares is that they are listed on a regulated exchange, the Nasdaq. The Nasdaq, in turn, falls under the regulatory oversight of two government bodies: the Securities and Exchange Commission (SEC) and the Commodity Futures Trading Commission (CFTC).
Investors also benefit from some personal protection allocated according to country of domicile.
If a broker is not licensed by a top-grade regulator, do not use the service. If you do, you run the risk of losing all your capital before you even put on a trade.
How do I buy eBay stock?
If you had picked the bottom of the COVID stock market crash, you could have bought one eBay share for $26.01. That price, last seen on the 23rd of March looks cheap when compared to current trading levels. The below screenshot is taken from an eToro trading account and shows the process of buying one eBay share for $55.23.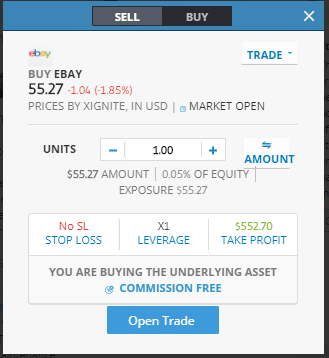 Source: eToro
The data fields include direction and size of order ('Buy' 1.00 Unit). There are also optional risk management tools such as 'Stop Loss' and 'Take Profit' instructions. They are automated 'sell' orders you can build into the system to cap your downside and, or, lock in any gains.
Unlike forex and commodity markets, stock markets still have set trading times. That is important because keeping up to speed with opening hours to be fully informed about what you're trading will help your bottom line.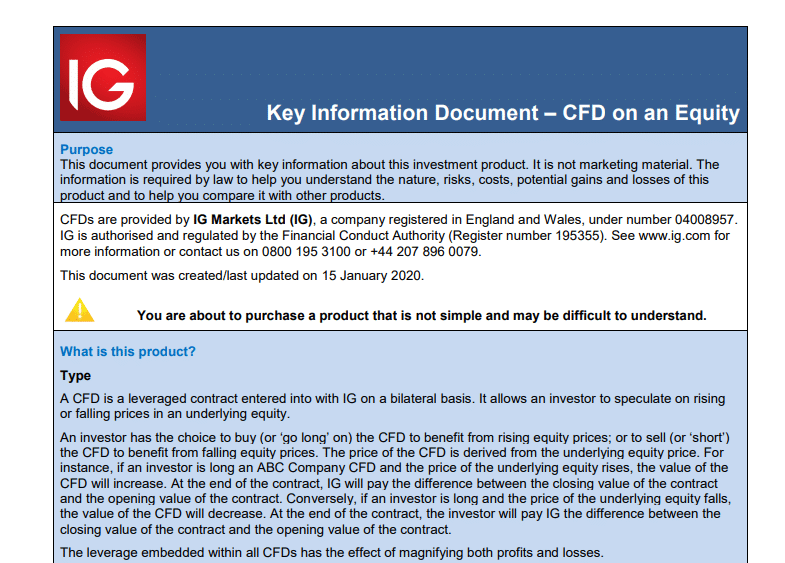 Source: IG
Brokers such as IG offer information and updates on the trading periods of the world's financial markets, so when choosing a broker, select one that willingly shares news.
Information such as market hours is vital. Something else to look out for is details relating to trading commissions or holding fees. A broker that adopts a policy of being transparent about costs is also likely to be well-positioned in terms of its peer group.
At eToro, additional charges are outlined at the time of the trade. The snapshot of our buy instruction shows no mention of holding fees and US equity trading at eToro is currently commission-free. That means by clicking on 'Open Trade' we are taking on an easy to book and low cost 'buy and hold' style strategy.

Slightly more sophisticated trading options are also available. IG offers a market in trading eBay shares which is open longer than the standard 09.30 – 16.00 Eastern Time hours of the Nasdaq.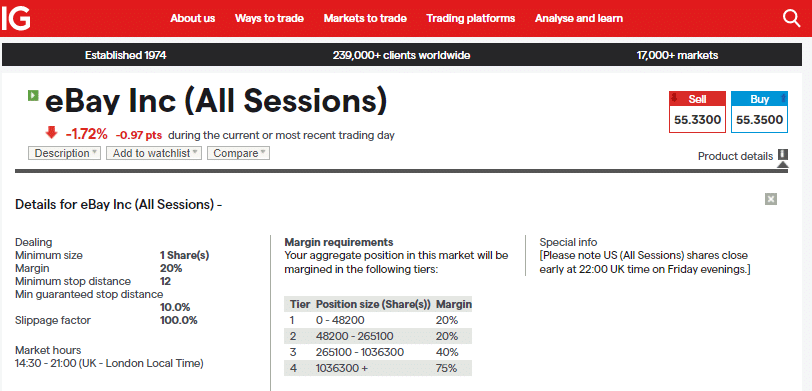 Source: IG
The 'All Sessions' version of eBay found at IG can be traded 16 hours a day, 09:00 – 01:00 (UK – London Local Time). That allows traders more flexibility and a chance to trade on news that hits the markets 'after-hours'.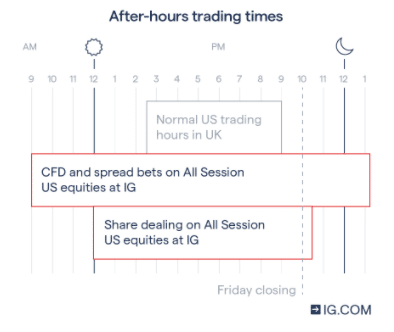 Source: IG
'Leverage' and other terms explained
Those trading eBay stock in CFD format at online brokers also have the option of using leverage.
A small adjustment to the trade instructions increases our exposure to the stock considerably. This time the instruction is to buy 10 shares of eBay at x5 leverage. We will effectively be buying 50 (10 x 5) eBay shares.
Source: eToro
Trading using leverage increases the stakes on the trade. It involves borrowing money from the broker and scaling up in position size. Each percentage point move in the stock price will then lead to a proportionately greater move in real cash terms.
Leverage is often used by traders running shorter-term strategies. It favours traders with a more speculative approach; those looking to make a quick profit. To achieve that they run greater exposure/position size than if they bought an unleveraged position.
Using leverage is risky. In the same way that profits are multiplied, so are any losses.
Those looking to use leverage for the first time should first start trading on a virtual account. Such accounts are free to use and an excellent way of testing new ideas.
Monitoring positions and 'closing out' trades
The aim of the trading game is to make money. If the price of eBay stock increases after you have bought a position, then there will be a profit shown in the 'portfolio' area of your account.
If the Nasdaq is open, then the profit or loss on your trade will update in real-time. If the exchange is closed, then the last printed price will be used to 'mark' the value of your position.
That can lead to 'Gapping' and explains the popularity of the extended-hours versions of stocks such as eBay All Sessions at IG.

Source: eToro
The mechanics of monitoring your positions are the same regardless of which strategy you are following.
One variable is the typical holding period. If a buy of eBay stock is based on a short-term strategy such as scalping, you might look to sell your position within minutes of the purchase. That strategy is based on a high volume of small profits being made.
Buy and hold style strategies involve lower trading volumes but may introduce the concept of a 'partial close'. That is when a portion of the total position is sold to lock in some profits while the rest of the position is left to run in the hope of making further gains.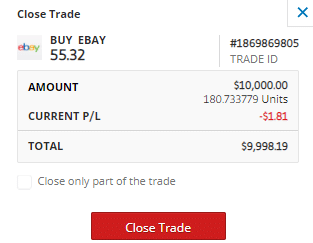 Source: eToro
The functionality of modern broking sites is super-friendly and closing out a position at eToro involves clicking on it in the 'Portfolio' monitor, then confirming your intention to sell.
The Bottom Line
The process of booking an online trade is simple. One useful tip is to start by practising using a Demo account. They offer you the opportunity to trade risk-free and to learn how your broker works.
'Fat finger' errors plague all traders, even seasoned pros. It's just that the top guys have learnt they need to know their systems and check their trades. A Demo account offers an insight into how to do this and provides a chance to practice.
It is also worth offering a reminder about how important it is to trade using a regulated broker.
Taking a few precautionary steps will not get in the way of your progress.
No-one can guarantee that the price of eBay stocks will rise; however, the opportunity to take a position on that happening is now easier than it has ever been.
If you need further help check out: