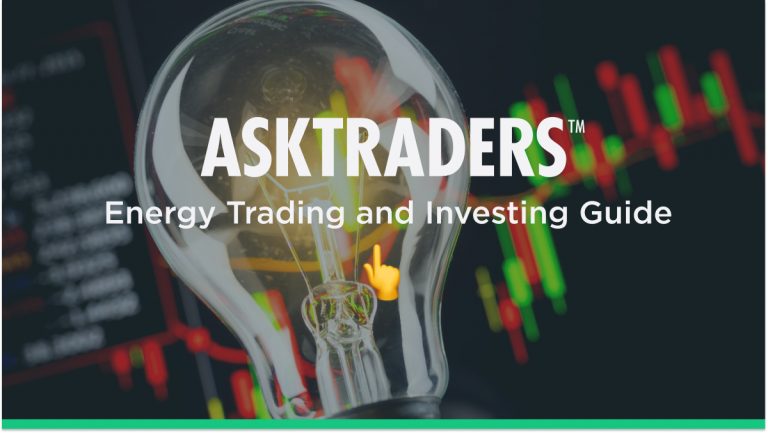 In this Guide to Energy Trading and Investing, we'll explore:
The size of the energy market
The growing demand for energy
How to trade energy commodities, fossil fuels and equities
Natural Gas – Daily Price Chart – 2020 – 2022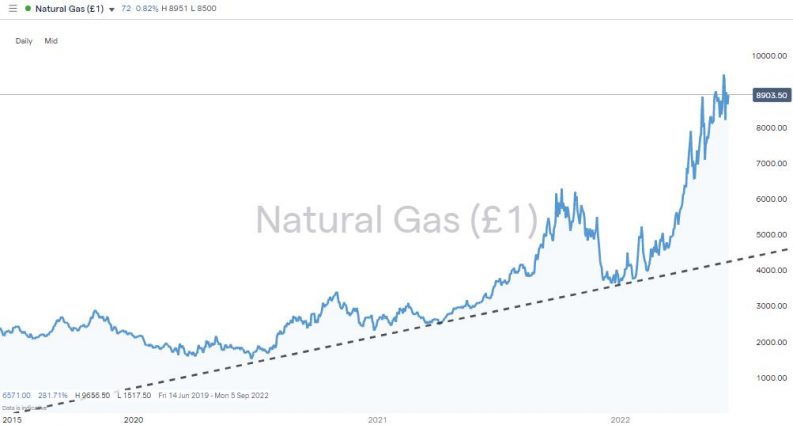 Source: IG
HOW BIG IS THE ENERGY MARKET?
In a word: big!
Most of us are familiar with fossil fuels like petrol and diesel, but the energy market goes well beyond transportation. In addition to fossil fuels, the energy market incorporates natural gas liquids, electrical power, nuclear power, and renewable energy.
Commodity assets such as crude oil, natural gas, and electrical power are traded around the globe. In addition, the companies that produce, refine, transport, store and consume energy are actively traded on stock exchanges worldwide.
IS ENERGY DEMAND GROWING?
The Economist Intelligence Unit forecasts that global energy consumption will rise by 2.2% in 2022, and McKinsey predicts that power consumption will triple by 2050. The different segments of the energy markets are expected to see diverging growth patterns in the future.
Fossil Fuels
Global fossil-fuels demand is projected to peak between 2023–2025. Investments in oil and gas projects are projected to stay stable in absolute terms. However, that sector will represent a smaller proportion of total demand; their share of the global energy investments total is projected to decrease from 54% in 2021 to 36% in 2035.
Renewables
Electrical power generation from renewable sources continues to expand and will compensate for the deficit caused by carbon-based energy sources treading water.
Renewables, including hydro, solar, wind power, synfuels and hydrogen, are growth sectors. It's forecast that by 2035, 32% of global energy demand will be met by this sector, with that percentage moving up to 50% by 2050.
Renewable fuels include ethanol which is made from various plant materials and is blended with petrol. Biofuels are grain seed oils (like soybean oil) mixed with diesel fuel. These products generally exist for sustainability purposes. Renewable fuels also trade in the over-the-counter market.
Electricity
Electrification appears to be the most convenient way of converting the global economy into one which can be fuelled by clean energy. From EVs to domestic heating, increasing electricity use allows new green alternatives to be brought online as and when they are developed.
The annual growth in electricity demand is forecast to be 3-4% between 2022 and 2050 which, thanks to compounding, will result in electricity consumption being three times what it is today.
Oil (WTI) – Daily Price Chart – 2020 – 2022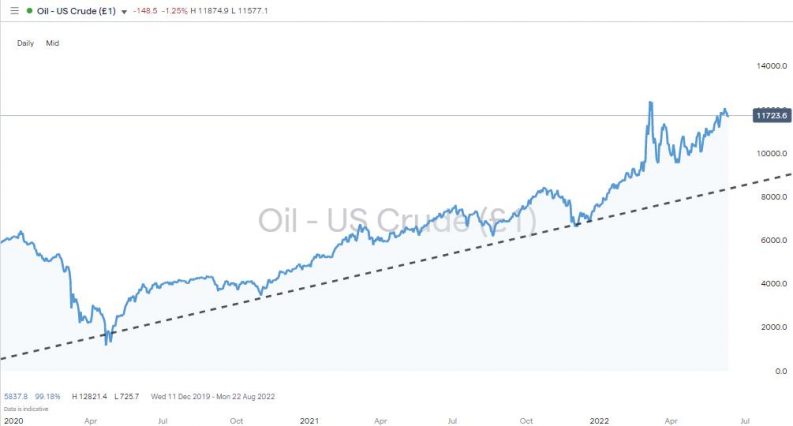 Source: IG
Substantial investment will be required across all sectors to accelerate the transition from carbon-based to clean energy. What that means for investors is harder to gauge, and as the Ukraine-Russia conflict highlights, expected returns will be highly scenario dependent.
HOW TO TRADE ENERGY COMMODITIES
The global supply and demand changes for energy present an opportunity to trade these markets. Shocks generally generate price spikes or troughs, which eventually recover, but short-term geopolitical uncertainty is always ready to play a part in disrupting energy market prices.
Several strategies can be used to trade energy products. These include those based on fundamental analysis and evaluating supply and demand or measuring one energy product versus another. A complementary approach uses price data and metrics in the form of technical analysis.
Once your research has given you a good steer on what direction price might head, it's time to select the instruments and markets best suited to your approach. As the sector is considered high-risk, using ETFs can help smooth out returns and avoid excessive price volatility.
CFDs have added functionality and allow traders to sell short and apply leverage, so they are often used for strategies at the riskier end of the spectrum
HOW TO TRADE FOSSIL FUELS
Two main groups trade energy products. The core trading activity is between oil producers and refiners and users of the finished product, such as airlines, electricity suppliers and chemical manufacturers. If changes in underlying economic activity suggest price might change in the future, speculators can join in the trading activity to buy and sell positions for a profit but with no intention of ever taking delivery of the product being traded
Futures Markets
Fossil fuels such as oil, petrol, heating oil, gas oil, residual fuels, coal, and natural gas are traded on a global basis. Their price is determined by activity on futures exchanges such as the Chicago Mercantile Exchange (CME) and the Intercontinental Exchange (ICE). A futures contract is the obligation to either buy or sell an asset at a pre-determined date in the future. A futures contract has a fixed volume and trades on a regulated exchange.
Global crude oil benchmarks such as the Brent oil futures contract are actively traded on ICE. Brent is a worldwide benchmark with approximately 70% of global crude priced accordingly. ICE also offers a Middle East benchmark, with the other major oil product being the US-based West Texas Intermediate market.
The oil and refined products traded on futures exchanges are financially settled and physically delivered. Many futures contracts provide the option to exchange the financially settled instrument for a physical transaction delivered to an ICE-regulated storage facility. This reflects the futures exchange primarily serving the 'real' economy – people who want to take delivery of a quantity of crude as part of their business model.
Trading Electricity
Electricity is a local product that is actively traded in the United States. Since you cannot store electricity for more than a few days (via a battery), the price is driven by demand and the cost of supply. The CME provides several active electricity contracts based on specific locations throughout the United States. Each electricity contract describes the hub where it will be delivered and a specific wattage that will be provided each day.
Speculative Trading of Energy Products
Those trading futures for purely speculative purposes need to avoid trading futures with physical delivery. The worst-case scenario involves staying too long in a position and then being contractually obliged to take delivery of the barrels of oil that were bought. This can be an issue when you consider that the WTI contract traded on the CME is physically delivered. Each contract requires the delivery of 1,000 barrels of WTI crude oil, which equals 42,000 gallons.
The CME also offers petrol contracts, heating oil contracts, brent oil contracts, and coal contracts. More experienced investors can favour futures with enough capital to meet the minimum balance requirements and the knowledge of how to manage 'roll-overs' and ensure they avoid trading physical delivery futures.
Online brokers who offer markets in the same energy products make the trading of energy markets more user-friendly. They take a live price feed from the exchange but offer their clients a cash-only product which can be traded in small sizes.
Energy ETFs
Exchange-traded funds (ETFs) are another investment vehicle that online brokers offer. It is a more convenient way to gain exposure to the energy market. This stock-like security is traded on an exchange that allows you to purchase a basket of different energy products. Each ETF outlines products it might invest in, such as futures contracts, indices that track the movement of some underlying asset, or energy stocks. For example, the United States Oil Fund holds WTI futures contracts.
Some ETFs focus on raw material commodities, such as natural gas. Others might invest in exploration and production companies or hold only oil service companies or refiners. You can trade ETFs that hold these companies in a trust. The XLE Spider ETF holds large integrated companies like Exxon Mobile, Chevron Texaco, and Conoco Phillips. Whichever area of the sector you want to invest in, you can buy a basket of different assets with the click of a button.
Energy CFDs
Contracts for Differences (CFDs) are financial instruments that provide exposure to energy. They are private contracts between retail traders and their broker that track the movements of energy products like crude oil, natural gas or an energy company.
CFD Markets In The Energy Sector at Broker IG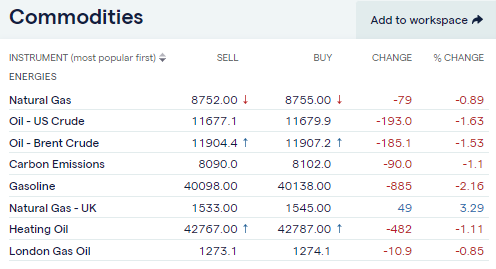 Source: IG
Energy Stocks
You can't buy stock in natural gas or oil, but as stock trading is one of the easiest ways for individual investors to trade, it can be a neat way of gaining indirect exposure to the sector.
Buying shares in an oil producer such as ConocoPhillips (COP) or solar power giant First Solar Inc (FSLR) allows you to benefit from events which impact those companies.
It's possible to buy shares in companies that produce, refine, move, consume, and store energy. They include:
Exploration and Production
Oil and Natural Gas Services
Refiners
Pipeline Companies
Transportation Companies
Utilities
There are thousands of public companies that engage in these activities. They are listed on stock exchanges throughout the world. Trading fees are low, dividends are always possible, and the exchanges the stocks are traded on are well regulated. Energy stocks are a low-maintenance and cost-effective way for buy-and-hold investors to take a position in the energy market.
Oil (Brent Crude) – Daily Price Chart – 2020 – 2022
Source: IG
THE BOTTOM LINE
The global energy sector generally expands during periods of economic growth and contracts during recessions. The factors influencing the industry are varied, and price swings can be dramatic. That means risk return is relatively high, but if you make the right call, you can find yourself in a position which generates profits for a considerable period. Between March 2020 and March 2022, the price of Brent crude increased by an eye-watering 517%.
The move to cleaner energy is a substantial underlying influence on the market as it is backed by the world's governments. It will change the quantity and type of energy we use.
Whether you're an experienced trader or just starting, the energy sector offers considerable opportunities because of the significant overhaul it is experiencing. Head to this shortlist of safe brokers to learn more about the different ways to trade energy. If you're considering moving into trading energy futures, energy CFDs or stocks for the first time, then using a Demo account will allow you to test your strategy using virtual funds.