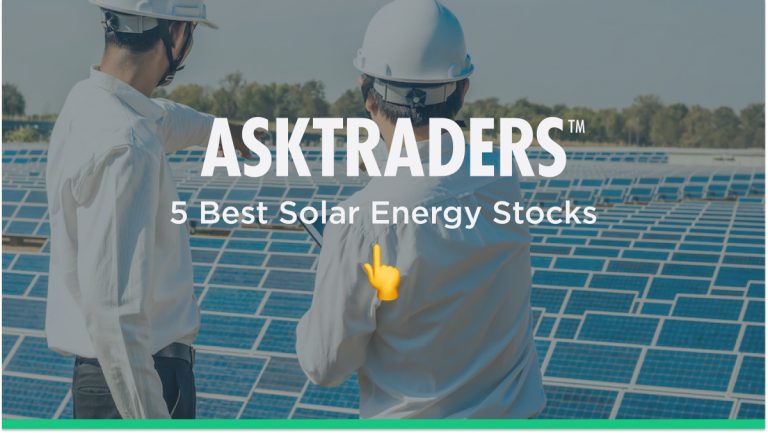 Recent political tensions between Ukraine and Russia and skyrocketing oil and gas prices mean that the shift to solar is as much about being able to keep the lights on as it is saving the planet. The alignment of long-running eco campaigns and short-term political realities makes now the time to locate and invest in the best solar energy stocks.

Rule number one of successful investing is to identify a trend and trade with it, which is why the below list of top solar energy stocks for 2022 includes some of the most sought-after stocks in the market.
Top Solar Energy Stocks 2022
First Solar, Inc. (FSLR)
SunPower Corp (SPWR)
Array Technologies, Inc. (ARRY)
Sunnova Energy International Inc. (NOVA)
Shoals Technologies Group, Inc. (SHLS)
The Solar Energy Stocks Sector
The solar energy stocks sector has been building momentum for decades. More importantly, the technology behind extracting power from the sun and turning it into electricity has become more efficient. The net result is that the industry is now at a tipping point, which investors need to be aware of.
In 1995, thin film, crystalline silicon and concentrator methods of photovoltaic (PV) energy production had respective efficiency rates of approximately 5%, 11% and 14%. By 2020, the numbers for each group had risen to 12%, 16% and 25%.
Over the same time period, the capital cost for each of the PV systems dropped. From 1995 to 2000, the US dollar cost per watt of electricity dropped from approximately $7.5 to $1 for thin film and concentrator methods and $6.5 to $2 for crystalline silicon.
Using fundamental analysis can help identify how these trends will feed through into growth prospects of the different firms, and technical analysis can help identify the best time to step in and buy them. Two other questions for long-term investors to consider are the extent to which government subsidies are supporting the sector, and whether that support might be scaled back at some point – and which of the firms looks best positioned to become the dominant market leader as the industry matures.
---
RELATED ARTICLES
---
1. First Solar, Inc. (FSLR)
Source: 123rf.com
First Solar, Inc. is one of the most well-established firms in the solar energy sector. The firm was established in 1990 and through its history has embarked on aggressive expansion plans, which have resulted in it having operations across the globe.
It is well positioned to use its scale to tap into increased interest in solar, and the multi-year deal with BP subsidiary Lightsource BP to provide up to 5.4 gigawatts of solar modules highlights how the firm is operating at the top end of the industry.
Recent cost-cutting exercises have significantly improved the firm's balance sheet and resulted in the firm sitting on extensive cash reserves that could be used to fuel further expansion or returned to investors in the form of dividends.
2. SunPower Corp (SPWR)
Source: 123rf.com
Investors looking to buy shares in a solar energy stock in 2022 that has exposure to many different areas of the industry would do well to consider SunPower Corp. The firm's operations extend from raw material sourcing through to end-of-life module recycling. The heart of the business is associated with developing, financing, engineering, constructing and operating many of the world's largest grid-connected PV power plants.
The firm has a market cap of around $2.9bn and that is even with the share price currently being around 68% off its all-time highs of January 2021. Those who were waiting for a chance to buy into one of the big players in the sector at lower share price levels may well find that the time has arrived. Long-term growth prospects still look attractive, with the firm being the biggest investor in solar power R&D.
3. Array Technologies, Inc. (ARRY)
Source: 123rf.com
Soon after its IPO listing in 2020, Array Technologies, Inc. saw its stock price surge 34%. The subsequent fall in price has taken the stock down to all-time lows in the region of $10, but the firm still has a market cap in excess of $1bn.
Bottom-fishers with long-term time horizons will be interested to note that the average ratings by brokers tip the stock as a 'Buy' largely because of the firm's particular approach towards generating carbon-free energy. Array products include DuraTrack HZ v3, a single-axis solar tracking system that allows for up to 40° of combined angle in the east-west direction and up to 26% grades in the north-south direction. There is also SmarTrack – a sophisticated machine learning software that automatically adjusts module angles to boost energy production and revenue.
4. Sunnova Energy International Inc. (NOVA)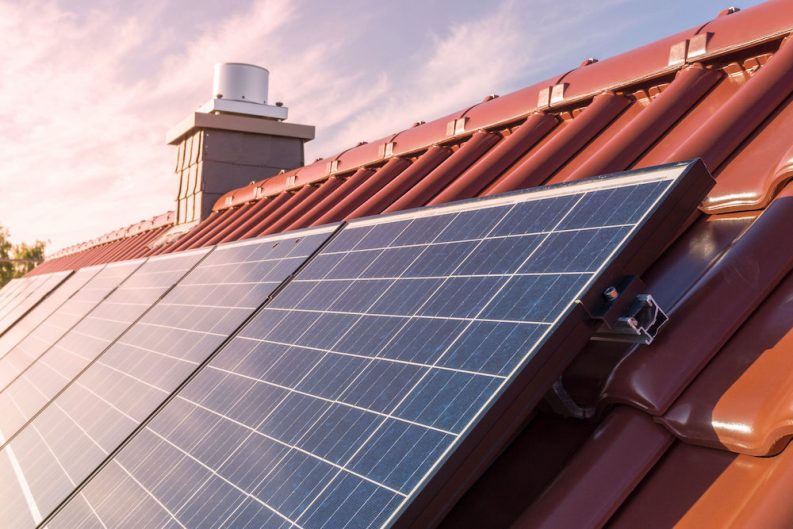 Source: 123rf.com
Texas-based Sunnova Energy International Inc. is a market leader in terms of rolling out solar energy solutions to the residential property market. The firm currently operates in 33 US states, so there is capacity for it to expand in the domestic market and also into other sectors. Its deal with ChargePoint to combine domestic solar production with EV charging capacity highlights how the core product can be leveraged to allow the firm to expand into new markets.
In line with sector-wide weakness, the Sunnova stock price is currently below $20, but the average target price based on analyst ratings is $50.23. The lowest target price submitted by that group of analysts is $32.00 and the most aggressive is $63.00.
5. Shoals Technologies Group, Inc. (SHLS)
Source: 123rf.com
Tennessee-based Shoals Technologies Group, Inc. offers a slightly leftfield approach to providing carbon-free energy. The firm specialises in solar generation and storage but also has interests in eMobility and EV products. Pitching itself as a "collection of engineers and solar evangelists, curious minds and collaborators, optimists and advocates of sunnier days" (source: Shoals), the firm specialises in electrical balance of systems (EBOS) technology. This part of the industry involves the cable assemblies, inline fuses, combiners, disconnects, wireless monitoring systems and junction boxes that carry electric current from solar panels to an inverter and then on to the power grid.
BEST BROKERS TO BUY ETHICAL STOCKS:
Solar has already established its position as one of the key players in the move away from carbon-based energy, and the spike in solar stock prices in 2021 signalled the potential that the sector holds for investors. The pullback in prices from the 2021 highs is being seen by many as a chance to enter into positions. Whether investors are looking to take positions in companies associated with cutting-edge technology or more sedate stocks, the process of choosing a broker must prioritise safety of funds.
Online broker platforms have improved their all-round offering and now combine easy-to-use functionality with impressive regulatory stamps of approval. Setting up an account with one can be done using desktop or handheld devices, meaning that it can take a matter of minutes to open and fund an account and put trades on.