So far, 2020 has been a hair-raising roller-coaster ride of a year. Exceptional circumstances have led to unprecedented price moves in the financial markets. Some of the established stock market trends have been challenged by recent events and some have been fast-tracked by them.
After a record-breaking run in 2019, most investors were considering the market statistics at the turn of the year and predicting more steady growth. An opportunity to pick up satisfactory if not ground breaking returns. It would be rude not to. Although the first two months of the year followed the game plan, as it turns out, they couldn't have been more wrong.
If you want to put the year into context, then consider these interesting facts about the stock market.
Key Stock Market Statistics and Facts
The total value of the world's stock exchanges is $95tn — up from $25tn in 2009
Approximately 33% of households in the US own taxable investment accounts
53% of those who don't own stocks say it's because they can't afford to invest
The best performing major stock index from 2000 to 2020 is the NASDAQ
Things are changing — the US middle class is seeing the value of its equity holding diminish
Source: Liberated Stock Trader.
Stock Market Size
Market Capitalisation of listed companies (USD)
Source: World Bank.
1. The world's stock markets have doubled in size since 2008
The doubling in value between 2008–2020 provided handsome returns for investors who caught the ride. Those with a longer-term plan could have done even better. In the space of 30 years, between 1990–2020 the stock market increased in size by a multiple of nine.
Source: World Bank.
2. The biggest one-year crash saw global stock markets almost halve in value
The Great Financial Crisis of 2007–2008 wiped 46.6% off the value of global stocks. The financial sector was badly hit, but those 12 months provided a timely reminder that stocks can go down as well as up.
Source: World Bank.
3. The value of stock markets can change dramatically
Given the size of equity market, the moves in cash terms can be eye-watering. In just one month, April 2020, global exchanges increased in value by $7.25tn.
Source: World Federation of Exchanges.
4. The world's second-largest company Saudi Aramco is still largely privately held
The Saudi Arabian oil giant is one of the world's largest companies. Its IPO in December 2019 saw 1.9% of ownership transfer to publicly tradable equities, which at that time valued it as the largest firm in the world.
Source: New York Times.
5. In the long-run, stock markets post positive returns
Looking at annual returns of the S&P 500 index (with dividends reinvested) from 1926 to 2018, on average, 1 in 4 years posted a loss. Over a 10-year period, loss-making years come around 5% of the time. One of many interesting stock market facts is that taking a rolling 20-year period stock markets have always posted gains.
Source: Traders Magazine.
Stock Market Trends, Growth & History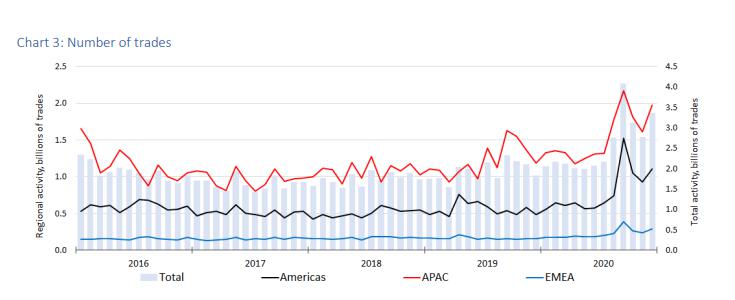 Source: World Federation of Exchanges.
6. In 2019, four-times more firms joined an exchange than left one
Some exchange-listed firms 'delist' to go back to private ownership, some get bought up and some go bust. There are though always new firms looking to join an exchange and source investor capital.  The trend is that firms continue to look to float. In 2019 there were 2,519 newly listed firms globally and 577 left exchanges.
Source: World Federation of Exchanges.
7. Investors can choose from 53,000 listed firms
Stock exchanges operate globally. The big names such as the NASDAQ are well known, but there are more than 60 major stock exchanges throughout the world, and their range of sizes is quite surprising. The big players still set the rules and analysing stock trends found in Dow Jones statistics is a good place to start.
Source: World Federation of Exchanges.
8. Not only are stock markets getting bigger, but they're also getting busier too
Between H2 of 2019 and H1 of 2020 equity trading volumes increased dramatically. The highest increase in the number of trades in equities took place in the Americas (66.7%), while APAC and EMEA regions registered only 38.0% and 46.9% increase, respectively.
Source: World Federation of Exchanges.
9. Automated trading is now the norm
More than 80% of stock trading is carried out based on the decisions of algorithms and computer systems. The efficiencies of automated trading help explain the increase in trading activity. In 2019, the number of trades in equities on the NASDAQ exchange was 2,198,488,360,000.
Source: Fortunly / World Federation of Exchanges.
10. Stock markets date back more than 400 years
In 1602, the Dutch East India Co. issued the first paper shares. By providing an exchangeable medium, shareholders were able to conveniently buy, sell and trade their stock with other shareholders and investors. The same principles apply today.
Source: Small Business.
11. Stock markets are getting more stable
A stock market correction is defined by a fall in price of between 10–19%. Since the beginning of 1980, there have been 13 corrections in the S&P 500. At the start of the 20th century, they happened on average every other year.
Source: Fortunly.
12. There's still room to grow
Of the 5.1 million US firms with employees, in 2013, less than 1% of them were listed on a stock exchange. Some of these are large enough to be in line to list. In 2010, private firms in the US accounted for 86.4 % of firms with 500 or more employees.
Source: Forbes.
13. Investors are increasingly likely to invest in international stocks
In the decade between 2010 and 2020, US investors increased their share in the world equity market by almost 15%. Investing in non-US markets is being made easier by less costly and more user-friendly ways to invest internationally.
Source: Fortunly
The US vs. The World Stock Market Statistics
Source: Brokernotes.
14. The two major US stock exchanges, the NYSE and NASDAQ account for more than half of the world's total market capitalisation.
Nasdaq and NYSE statistics show that after it weathered the 2000 Dot.com crash — the NASDAQ 100 index came of age. But it certainly took its time. The high in March 2000 of 4,816 was followed by 16 years of negative price performance. The percentage increase in the value of the index from Sep 2016 to Sep 2020 is a breath-taking 156% return in only four years.
Source: Brokernotes.
15. The US dominates the global equity markets, but growth lies elsewhere
In 2019 it was the Hong Kong stock market that once again ranked first globally in terms of IPO launches by value. Despite global uncertainties, it declared its status as the world's leading IPO hub.
Source: Global Business Outlook.
16. Even small US firms are bigger than some entire exchanges
The smallest sized stock on the Nasdaq 100 is struggling retailer Bed Bath and Beyond (NASDAQ: BBBY). Even so, the firm has a market capitalisation ($3.3bn), which is greater than the entire market cap of the national exchanges of Rwanda, Botswana and Bermuda.
Source: World Federation of Exchanges.
17. If you want a wide range of stocks to choose from, look to India
The BSE India Limited exchange holds 5,519 listed companies. This is the largest number globally. The North American exchange with the greatest choice is the TMX Group in Toronto, which has 3,413 listed stocks.
Source: World Federation of Exchanges.
Stock Market Stats by Industry Sectors
Source: Fool.com.
18. The US stock market's largest sector is the technology sector
Tech stocks account for 26% of the total value of US stocks and shares.
Source: Washington Post.
19. There are 11 recognised sectors
The full list of sector categories in the all-important US market is:
Communication services: 5 industries
Consumer discretionary: 11 industries
Consumer staples: 6 industries
Energy: 2 industries
Financials: 7 industries
Healthcare: 6 industries
Industrials: 14 industries
Information technology: 6 industries
Materials: 5 industries
Real estate: 2 industries
Utilities: 5 industries
Source: Yahoo Finance.
20. Of those 11 sectors, the three best performers between 2010 and 2020 posted returns in excess of 200%
In the US, the top-three sectors over the last decade have been:
Information technology: +357.78%
Consumer discretionary: +324.02%
Healthcare: +224.66%
Source: Yahoo Finance.
21. Even in the COVID 'new-normal', the same sectors are still topping the charts
Despite the unprecedented disruption of 2020's global pandemic, information technology and consumer discretionary are the two best performing sectors. Between 10th March and 7th August, they rose in value by more than 30%.
Source: Statista.
22. Until quite recently, real estate was included in the Financials sector.
Real estate had to wait until 2016 before it was allocated its own category.
Source: Yahoo Finance.
Fastest Growing Industry Sectors
Source: Renaissance Capital.
23. Recent IPO activity shows healthcare leading the way and responsible for 51% of new listings
It may surprise some that IT is (only) in second place in terms of IPOs over the last 12 months. This shouldn't put investors off that growth sector as some big names such as WeWork were due to list but failed to do so due to peculiar and specific circumstances.
Source: Renaissance Capital.
24. Sector performance differs from country to country
India is seen by many investors as a growth market. Trade Brains tips IT as the number on sector for long-term returns. Second on its list is FMCG (Fast Moving Consumer Goods), 3rd is housing finance companies and 4th is automobiles.
Source: Trade Brains.
25. The detail of what sectors are growing gives a better idea of where to invest
Sub-sector groupings throw up some interesting investment ideas. Seek Business Capital ran a survey in 2020 and found the top seven growth industries to be: 1) home healthcare services 2) outpatient care centres 3) individual and family services 4) other information services 5) offices of health practitioners 6) medical and diagnostic laboratories 7) computer systems design and related services.
Source: Seek Capital.
Stock Ownership Statistics
Source: Gallup.
26. Stocks can be risky, but holding cash has its disadvantages too
Cash deposits can lose their spending power as erosion eats away at their worth. Taking an average 20-year period, cash loses a whopping 52.8% in value.
Source: Traders Magazine.
27. The percentage of stocks owned by the middle-classes is on the slide
In 1989, middle-class citizens owned 15% of all household equity holdings, and in 2016 they held just 5%.
Source: Fortunly.
28. While the percentage held by the wealthiest is on the increase
During the same period, the value of equity holdings owned by the wealthiest 0.1% of the population rose by approximately 5%.
Source: Fortunly.
29. America outstrips other countries in terms of stock ownership among the population
The percentage of Americans that own stock is still a world-beating 54.5%. In Japan, by comparison, only 17% of the population owns shares.
Source: Statista / Asia Nikkei.
30. China could be the next big thing in many ways — including of stock ownership statistics
Considering that equity ownership is a relatively new concept in China, the fact that 7% of the population owns stock identifies an interesting trend. This percentage total is greater than the equivalent number in France, Canada and Germany.
Source: The Balance.
Long-term Stock Market Prognosis
31. Stock markets have provided consistent and benchmark-beating returns for decades
There are always those who feel stock markets are overpriced, but the long-term track record of stock markets continues to make them an interesting proposition for investors.
32. There are ways to enhance your returns from the stock market
Goelzer Investment Management suggests that if stock markets do lose some steam over the next decade, then Beta trading could be one way of enhancing returns. This involves adjusting your exposure to the market over time, and scaling up when there are dips and locking in some profits when markets are buoyant.
Source: Goelzer Investment Management.
33. Picking winners never goes out of fashion
The events of 2020 have, in some industries, rushed through years of change in a matter of months. There is little evidence of permanent structural damage to the economic infrastructure. But the adjustment to a post-COVID world could be painful for particular sectors.
Source: Black Rock.
The Most Interesting Facts About the Stock Market
34. Australia has had the best performing share market in the world from 1900 to 2009
During the past century, Australia posted 7.5% after-inflation returns per year. The Australian Securities Commission was also the second least volatile of the 19 major global exchanges.
Source: Fortunly.
35. An exchange where people can source outside investments has a universal appeal
One of the interesting facts about stock markets is that the basic principles attract all sorts of people. There is even a 'pirate stock exchange' in Somalia where locals can invest in pirate gangs planning hijacking missions.
Source: Altitudews.
36. The most valuable listed company of all-time traded hundreds of years ago
At its peak, the Dutch East India company was valued at 78m guilders, which in modern terms translates as $7.9tn. This equates to approximately 10% of the value of the current entire global equity market.
Source: The Genius Works.
Summary
Stock market statistics can be a great tool when looking to make a profitable return from investing. As the standard investment disclaimers confirm, using market statistics and historical data doesn't guarantee future returns. That being said, identifying stock market trends can be easier to do when studying over a longer time period.
The size of the equity market makes it an obvious place to look to place some capital. Stock ownership statistics point to interesting trends in terms of who is in the game. With so much information on hand, it's hard to bet against being involved to some extent.
FAQs
How many Americans invest in the stock market?
The number of Americans that own stock in percentage terms is 54%. Of the top 10% of income earners, 94.7% own stock.
The median value for all families is $40,000, and for the top 10% of income earners, the median value is $363,400.
How much money is in the stock market?
This number fluctuates in line with live pricing and market rallies or sell-offs, which can involve trillions of dollars being won or lost. The total value of all the world's stock markets is calculated by the World Federation of Exchanges to be $95 trillion.
How many people invest in the stock market worldwide?
A lot of people own stocks via an arms-length pension fund. In terms of active investors, it is estimated that the total number of people worldwide who own stocks is more than 500,000,000
How many stocks are there in the US?
In 2019 the New York Stock Exchange (NYSE) and the NASDAQ exchange listed 2,143 and 3,140 stocks, respectively. The total number of stocks available are relatively stable, but compared to 2018 data, the NASDAQ has seen a slight increase in total number and the NYSE has seen a fall.
How much money is traded on the stock market daily?
Statista confirms that the total value of global equity trading worldwide was $32tn in the first quarter of 2020. This is a three-year high and reflects trading volumes spiking as investors reacted to the Covid-19 pandemic. The figure for Q4 of 2019 was $21tn.
Most of the activity, approximately 80% involves trading based on, and processed by computers.
Sources