Cryptocurrencies have made the transition to the mainstream. Streaming prices of respective coins are now relayed on mainstream business media sites like cnbc.com, and adoption in countries like Australia spans across generation – but what are the specific cryptocurrencies you should watch in 2023?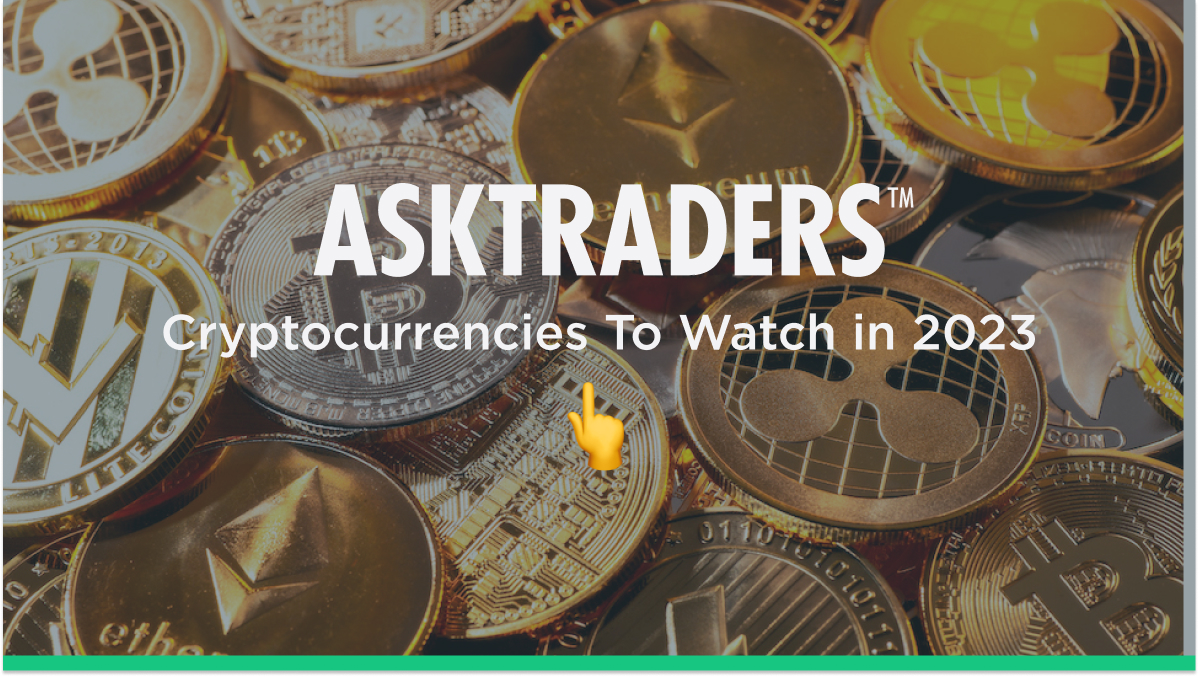 ---
YOUR CAPITAL IS AT RISK. 81% OF RETAIL CFD ACCOUNTS LOSE MONEY.
---
Following the onset of the pandemic and the subsequent monetary policy reactions from policymakers to protect their economies, public sheet balance sheets ballooned the world over.
This explosion in money supply opened the door to a new era of digital currency adoption as it was anticipated that fiat currencies might collapse and conventional payment networks would crumble.
For the crypto maximalists, this never materialised. In fact, the opposite was true. Large legacy payment service providers like Visa NYSE:V (V) and Mastercard NYSE:MA (MA) are now more entrenched and profitable than ever, providing lip service to crypto while continuing to forge ahead on the existing infrastructure.
This realisation has crushed the optimism of the crypto markets. Bitcoin has retreated from the highs of 2021 when it surpassed 60,000 BTCUSD. The entire market capitalisation of all cryptocurrencies has dwindled from nearly $3tn USD in 2021 to below $1tn USD today.
Furthermore, the folding of FTX sent shockwaves around the market. The FTX bankruptcy wasn't a precursor – it happened deep into a long and tortuous slide in the cryptocurrency market. The shockwaves from the FTX collapse will continue to be felt for some time.
With BlockFi and Genesis getting caught in the blast, ceasing operations and clinging to life, respectively, more may tumble in the weeks and months ahead after critical damage to their foundations is uncovered.
Not all doom and gloom
There is no denying the crypto market has retreated in recent months, but this is a nascent space and rapid growth will always be met with stumbles and falls.
The number of cryptocurrencies today is more than twice that at the start of 2021. With the explosion in coins comes the proliferation of applications. There will be many duds amongst this new breed, and there are also possibly some fantastic growth stories and incredibly useful tools.
Despite its recent trials and tribulations, BTC has rebounded post the FTX collapse, seeking out the 17,000 handle – more than three times the depths of the pandemic-bust of 5,000 and a 16 times increase in value from the beginning of 2017.
As we look forward to 2023, for the uninitiated, here are four cryptocurrencies to consider.
Four cryptocurrencies to consider in 2023
Bitcoin (BTC)
Ethereum
ApeCoin
DogeCoin
Bitcoin (BTC)
Cryptocurrencies, in effect, are pieces of an enormous settlement ledger. They are created in one of two ways. Through the creation of supply via an allocation to the first computer to solve a puzzle, or over an infinite ledger, an addition of supply as and when the manager of the ledger deems appropriate.
Bitcoin is of the former variety, an immutable record of transactions over a finite number of blocks in the chain. The total mined BTC sits at just over 19 million – there are only 21 million in the entire chain.
Once the final block is mined, there will be no new supply of BTC and the market will have to adjust its valuations accordingly. For the ideologues and maximalists, the cut-off in the new money supply is a major pull factor.
If widely adopted, Bitcoin it has the potential to be a useful cross-border currency – cashless, more secure than bank accounts, irreducible through increased supply as the US Dollar is, and an excellent and compact store of wealth. The road to that final destination is still a long one.
Adoption as a form of payment is still very limited, costly, and inefficient. Visa and Mastercard, alongside traditional fiat settlement mechanisms, are still vastly more accessible and convenient.
It would seem that while the FTX collapse is very damaging for the whole crypto ecosystem, there is still a lot of belief and growth in the sector. With improvements in their own self-regulation and learning from their mistakes, the advocates will go about their business and improve with each difficult lesson.

---
YOUR CAPITAL IS AT RISK. 81% OF RETAIL CFD ACCOUNTS LOSE MONEY.
---
Whether BTC reigns supreme or is consigned to the history books is yet to be decided. If you are on the side of cryptocurrencies rising again, as many are, then your first point of call for a crypto investment should be BTC.
It is still the primary means through which to enter the crypto world, with most currencies requiring a BTC cross in order to execute.
The correlation of BTC with the wider crypto ecosystem and altcoins is very high, if you wish to gain exposure to this still-growing sector of the economy, BTC is the first port of call.
Ethereum (ETH)
The second largest cryptocurrency by market capitalisation is ETH. ETH is most often referred to as a smart contract, a stepping stone to the world of alt-coins.
New ETH was created in much the same fashion as BTC, it is a blockchain that, until recently, utilised a decentralised group of users to unlock the blockchain and assign blocks of the currency to the successful problem solver. A fork in the design means that the currency will no longer be mined by computers in the conventional sense and will revert to a set supply of coins.
ETH differs from BTC in that, by design, it has fostered an entire ecosystem of cryptocurrencies and networks that leverage its programming technology. Where BTC was designed to get rid of money, ETH was designed to replace financial institutions. Relying on the central and immutable ledger rather than on separate institutions to match their record of a multilateral transaction.
ETH is still growing rapidly and has spawned thousands of new coins and applications from its programming foundation, often referred to as altcoins. Currently settling more than 1 million transactions per day, it has a long way to go before matching the Visa and Mastercard daily transaction processing capability of approximately 150 million.

---
YOUR CAPITAL IS AT RISK. 81% OF RETAIL CFD ACCOUNTS LOSE MONEY.
---
If you are interested in the potential of crypto in replacing existing labour-intensive, insecure, and inefficient transaction networks, then ETH is the entry point and cryptocurrency for you.
ApeCoin (APE)
In the first quarter of 2022, ApeCoin was released by the makers of the Bored Ape Yacht Club (BAYC). BAYC was made famous for the creation of a range of Non-Fungible-Token (NFT) prints of apes in a variety of outfits and poses.
As a range of digital collectables that are unable to be recreated, BAYC was widely successful until the wind went out of the NFT market earlier this year. The market capitalisation of the BAYC collection is still close to $1bn USD.
The APE is designed to leverage that interest in the BAYC and BAYC NFT collection with a coin built upon the core of the ETH ecosystem.
With the interest in BAYC still high amongst its most ardent fans and NFT owners, APE provides another avenue for fan engagement and delivery of the BAYC product line.
After a rocky start to the year, the APE coin is on the up of late, rallying over 25% from the 22nd of November.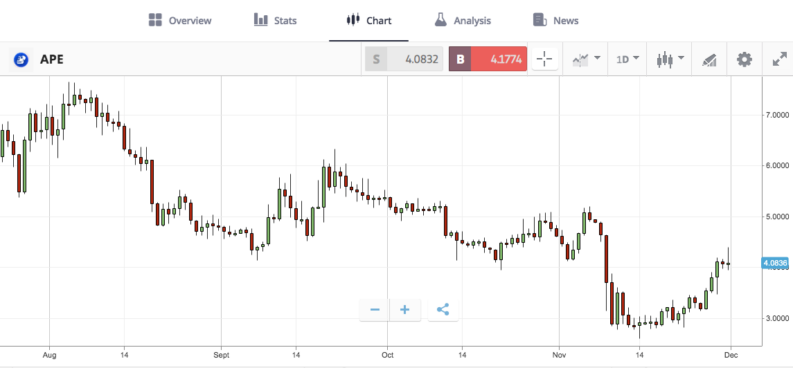 ---
YOUR CAPITAL IS AT RISK. 81% OF RETAIL CFD ACCOUNTS LOSE MONEY.
---
No investment is without risk and this could not be more true when investing in the cryptocurrency space and, in particular, altcoins. Only invest what you are prepared to lose – any speculation in APE is about as risky an investment that one can make. Ensure you understand the risks going in, obtain a secure wallet, and be prepared for extreme volatility.
DogeCoin (DOGE)
Created as a joke in response to a widely circulated meme and the proliferation of coins with seemingly zero utility, DOGE has quickly become the darling of the alternative thinking gen-z.
At times touted (mainly in jest) by Elon Musk, DOGE has become a symbol of the techno-zeitgeist of the younger generation. Cheering on everything transformative and absurd about crypto and digital forums.
Not one to pass up on a marketing opportunity, tying some funding of moon missions to DOGE has further boosted both Musk and DOGE's popularity.
It is a coin that doesn't take itself too seriously, which has led many to take it very seriously. The founders generally had altruistic and humorous intentions at heart.
DOGE blocks can and are mined. Their utility outside of marketing stunts is continuing to grow and the humour in its marketing approach is working in its favour in terms of distribution and interest.
DOGE has climbed over 70% from the lows of early October 2022 and is currently the 8th largest cryptocurrency by market capitalisation.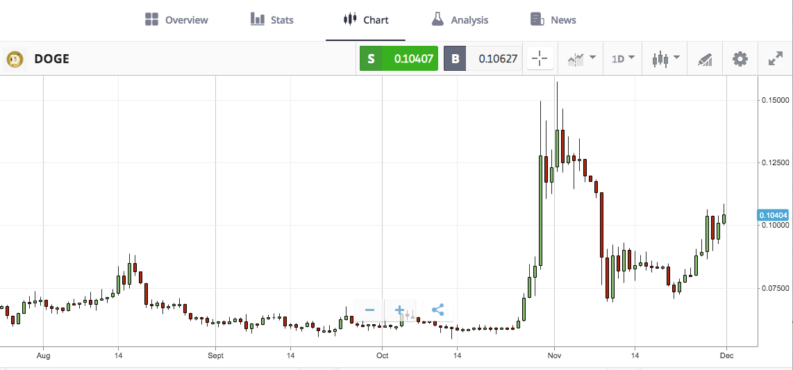 ---
YOUR CAPITAL IS AT RISK. 81% OF RETAIL CFD ACCOUNTS LOSE MONEY.
---
As with APE and any other cryptocurrency, but particularly in the field of alt-coins, as DOGE is, exercise extreme caution before entering any speculative transaction with DOGE. Though the code base and utility are proven and secure, the value is extremely volatile and only invest what you can afford to lose.
Final Thoughts
Speculative investing in cryptocurrencies is an extremely risky venture. Exercise extreme caution and only invest what you are prepared to lose. Crypto is an entertaining, exciting, and exploding centre of finance that will certainly have a major role to play in the future.
Presently the entire ecosystem is in its infancy and prone to failings, immaturity, and misadventure. Like youth, it is also, at times, humorous, forgiving and adventurous. No matter the crypto you opt to pursue in your investments, AskTraders' list of the top crypto brokers provides a ranking of our highest-valued traders in this sector – including insight, reviews and access to sign-up and demo account registration.
People Who Read This Also Read