Shares of Admiral Group plc (LON: ADM) surged 2.96% after the company announced a 63% increase in its dividend payment during the release of its half-year results to 115p from 70.5p.
The company attributed the higher dividend to a 76% jump in profits to £482.2 million compared to the £274.4 million recorded last year.
Admiral's organic revenues surged 9% higher to £1.75 billion from the £1.6 billion generated in 2020, with the extraordinary profit being attributed to the sale of its price comparison website business.

Milena Mondini de Focatiis, Admiral's CEO, said: "I am delighted that we can once again pay a record dividend (which includes a part of the proceeds from the sale of our comparison businesses) to our shareholders, including our staff who continued to work hard to provide great service to our customers,"
The CEO noted that Admiral's impressive performance was driven by the company doing the right things at the right time and, in many cases, much earlier than any of its competitors.
He added that the insurance company registered double-digit growth in customer numbers from 7.17 million customers to 8.02 million customers.
The insurance company awarded approximately 10,000 employees with a £1,800 check under its employee share scheme.
Admiral recorded higher levels of profitability driven by the growth of its UK Motor insurance companies combined with higher profit commissions.
The company also noted that it had made progress on its long-term strategy by adopting advanced analytics models and higher product diversification.
*This is not investment advice.
Admiral share price.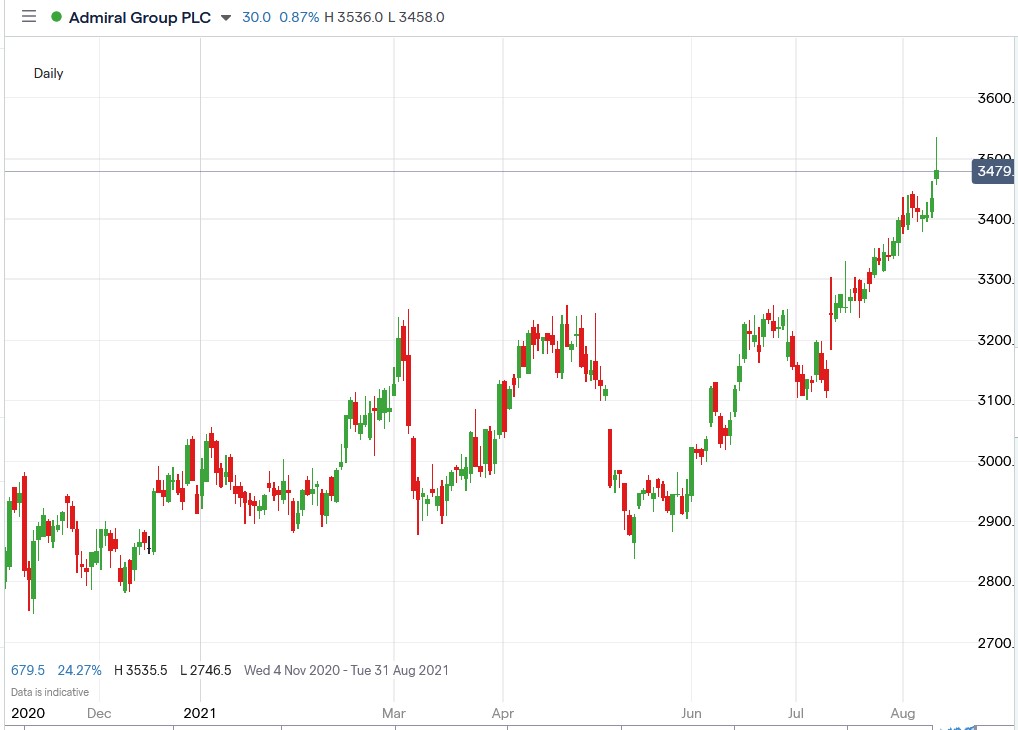 Admiral shares surged 2.96% to trade at 3535.5p, rising from Tuesday's closing price of 3434p.