Key points:
AFC Energy shares plunged 8.61% on top executives' share awards.
Investors reacted negatively, given the significant decline in AFC shares.
However, AFC shares look attractive at current prices. Are they a buy?
The AFC Energy plc (LON: AFC) share price plunged 8.61% after announcing the award of almost 1.7 million share options to its CEO, A bond, and over 743K share options to its COO, J Gibson.

Investors reacted negatively to the award despite the share options having a vesting date of 11 July 2025, three years from today. The adverse reaction could be related to the fact that AFC shares have fallen 56.9% in 2022, yet its top executives are being rewarded.
Also read: Five Best Green Energy Stocks 2022.
However, the share options award details provide crucial information since the share awards are only viable if AFC shares are trading above 40p apiece at the end of the three-year performance period, failure to which the share awards will be voided.
Therefore, AFC Energy's executives have to raise the company's share price back above 40p before they can claim their share awards, which seems like a brilliant incentive given that AFC shares are trading around 21p.
The company reassured investors that its Remuneration Committee would assess the award at the end of the vesting period to ensure that it reflects all relevant factors during the 3-year performance period.
AFC Energy, which provides hydrogen power solutions, yesterday announced that the Mace Dragados Joint Venture would lease its Power Tower hydrogen power generator for deployment at a high-profile UK infrastructure project during H2 2022.
The company announced that the lease agreement was part of a longer-term collaboration between the two companies to support Mace Dragados' sustainability goals. AFC Energy has signed multiple lease agreements with construction companies, which are evidence of the crucial role hydrogen could play in decarbonising the construction industry.
AFC Energy has worked hard to position itself as a partner to construction companies keen on eliminating the use of diesel generators at construction sites, given their contribution to carbon dioxide emissions and global warming.
After falling over 56% in 2022, AFC shares look attractive at current prices. However, there are no guarantees that we won't get a further decline in future.
*This is not investment advice. Always do your due diligence before making investment decisions.
AFC share price.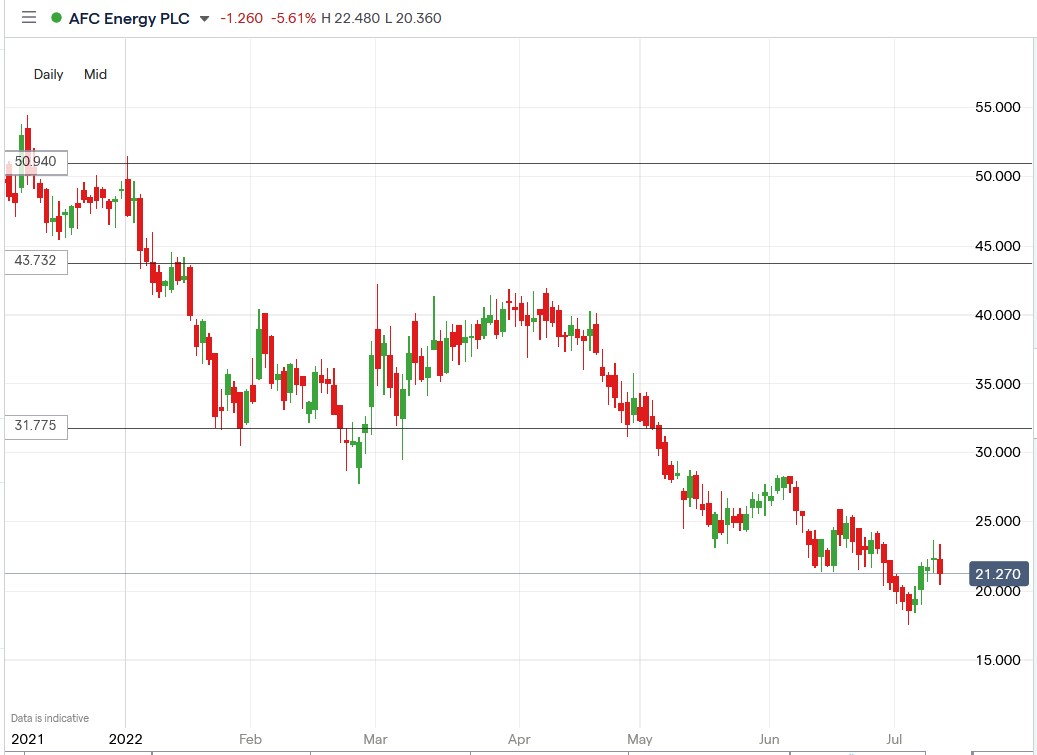 The AFC share price plunged 8.61% to trade at 20.38p, falling from Monday's closing price of 22.30p.