Key points:
Versus is down 99.7% from its price peak
VS stock jumped 75% premarket
What is driving this price change?
Versus Systems (NASDAQ: VS) stock is down 99.7% from its peak back 18 months ago and is today up 75% premarket. There's no apparent news explaining the rise today, even as the corporate performance has contributed to that fall over time. It's also true that the way percentages work means that Versus stock hasn't made back those losses. The 99.7% fall in VS is from a peak price of $163 and change, to $0.47, and the 75% rise only takes it back to $0.78 cents. That's just the way that percentages interact with stock prices.

As to what Versus does it's part of the technology stack for live events, professional sports franchises, even video games. It enables folk to offer in-game prizes and rewards, based upon the completion of in-content challenges and so on. On the face of it not a bad part of this bright new world to be in. But the business challenge is clearly substantial.
It's also possible to outline what that challenge is. Obviously there are competitors but it's a swiftly growing market, we might assume there's room for expansion. Once a system is embedded it's likely that it will stay so. Thus once the sale to the platform owner has been made it's a piece of long term business. The marginal costs of producing an extra intervention or servicing the marginal customer will be close to, if not actually, zero. So there's the possibility of good scaling effects.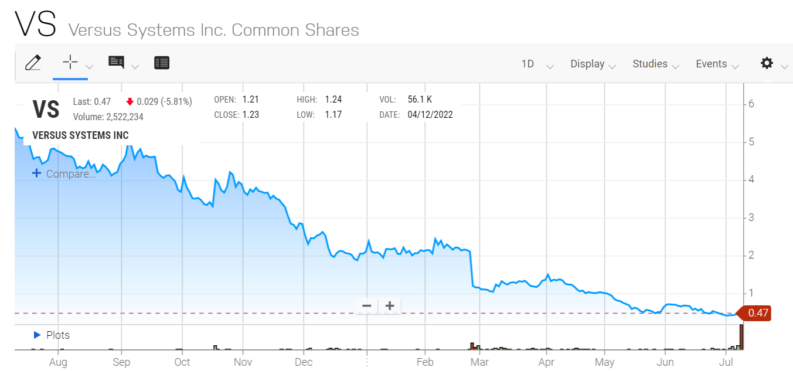 Also read: Three Best Video Gaming Stocks To Buy In 2022.
The difficulty with this as a business model is always that initial sale into the platform – being accepted as a part of the technology stack in a particular operation. This would appear to be where the difficulties are. This means that the significant fixed – development – costs are being supported by not enough real world business. Thus the long term performance.
We could also look at capital raising – VS stock slumped from $2.10 to $1.20 when they raised more capital at a $1.60 issue price back in February – that all being rather wasted given the continued fall in the stock price at Versus.
But what we need to know is what is driving this 75% rise today There's no specific news except for the one piece that really shouldn't be driving it. No announcements of a new business signing, no takeover bid made public. It's also not like the Diebold stock price jump, which was caused by one single $40 trade. There was decent enough trade after hours yesterday which has continued overnight. So this is a real price move, not just a nothingburger.
But why? The only news that coincides with the price movement is the release that Versus is in breach of the NASDAQ minimum price requirements. Trade under $1 for long enough and the quotation can vanish. But there're 180 days before that happens and we knew this anyway. It would be very weird indeed for the simple delivery of such a standard warning to drive the VS stock price up 75%. But that's all we've got at present so maybe that is it?