Shares of Alba Mineral Resources (LON: ALBA) are rising on Friday after releasing an update on its underground drilling programme at the Clogau-St David's Gold Mine.
The company said it has commenced phase two underground drilling at the mine following the successful 559m phase 1 underground drilling programme completed in October 2020.
Phase 1 intersected what Alba believes to be the westerly, 550m extension of the Clogau Main Lode, the source of historical gold production at Clogau-St David's Gold Mine.

Specifically, the drill hole L002 intersected a quartz lode, returned a significant gold value of 1.79 g/t over a width of 0.25 metres, Alba said.
Alba's main focus of phase 2 is to continue exploring and delineating the Main Lode to the north.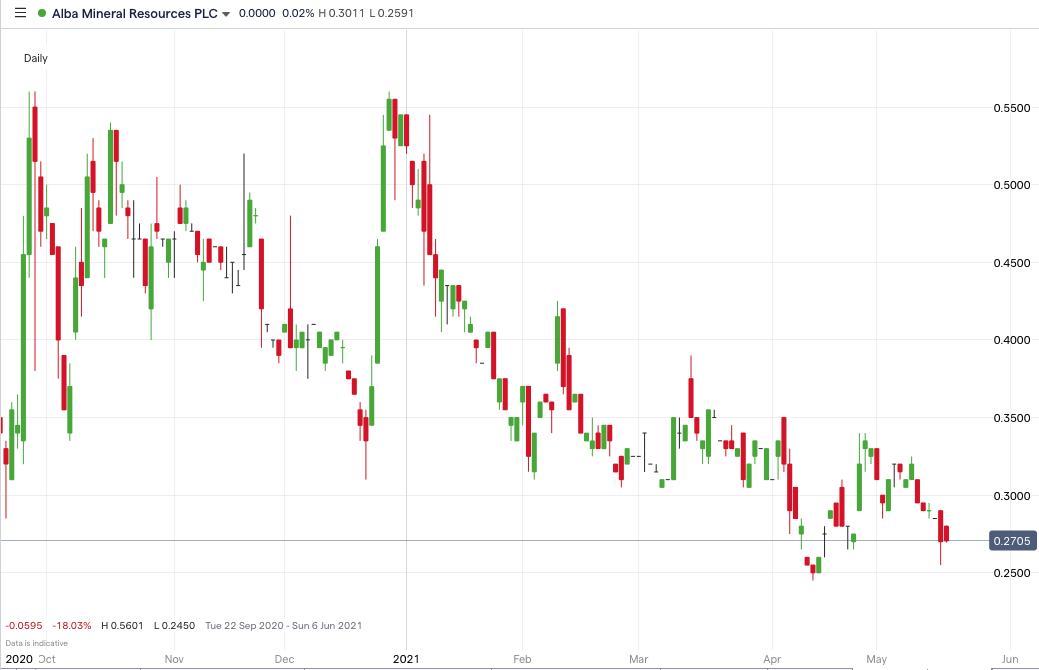 Alba's Executive Chairman, George Frangeskides, commented: "We are delighted to be drilling underground again, following our successful Phase 1 underground drilling campaign which concluded last October.
"Meanwhile, Phase 2 of our surface drilling continues to progress very well, with the first two completed holes intersecting the projected lodes as predicted by our internal geological model. The continuity of the lodes at depth is very encouraging news indeed.
"This is the first time we have drilled simultaneously both from the surface and underground at Clogau-St David's. That is a measure of our determination to maximise the progress we make during this spring/summer field season towards proving up zones for future gold production."
Alba Mineral's share price is currently trading up just 0.02% on Friday at 0.2705p, despite initially jumping to 0.29p at the open.
Should You Invest in Alba Mineral Resources Shares?
After a fall from the $2,000 level, could gold be set for another run higher? If you're a gold investor, you won't want to miss out on these stocks… Discover which companies our analysts are focusing their attention on for the coming months. If gold does move back to $2,000, these investments could see significant gains