Shares of Merck & Co (NYSE: MRK) are edging higher on Thursday after announcing V114, the company's investigational 15-valent pneumococcal conjugate vaccine, met its primary immunogenicity and safety endpoints in two trials of the V114 Phase 3 pediatric clinical program.
According to the company's statement, the data supports the potential use of V114 in healthy infants who may have previously started a pneumococcal vaccination series.
Immune responses in healthy infants aged 42-90 days who received a four-dose series of PCV13 and those who received a mixed dose schedule of PCV13 followed by V114 were generally comparable for the 13 serotypes, or strains of pneumococcal disease, targeted by both vaccines in the PNEU-DIRECTION interchangeability study.

Immune responses were generally comparable to PCV13 for the 13 shared serotypes in the PNEU-PLAN catch-up study when V114 was used as a catch-up regimen in healthy children 7 months to 17 years of age who were either pneumococcal vaccine-naive or who had previously received a partial or full regimen of a licenced paediatric PCV.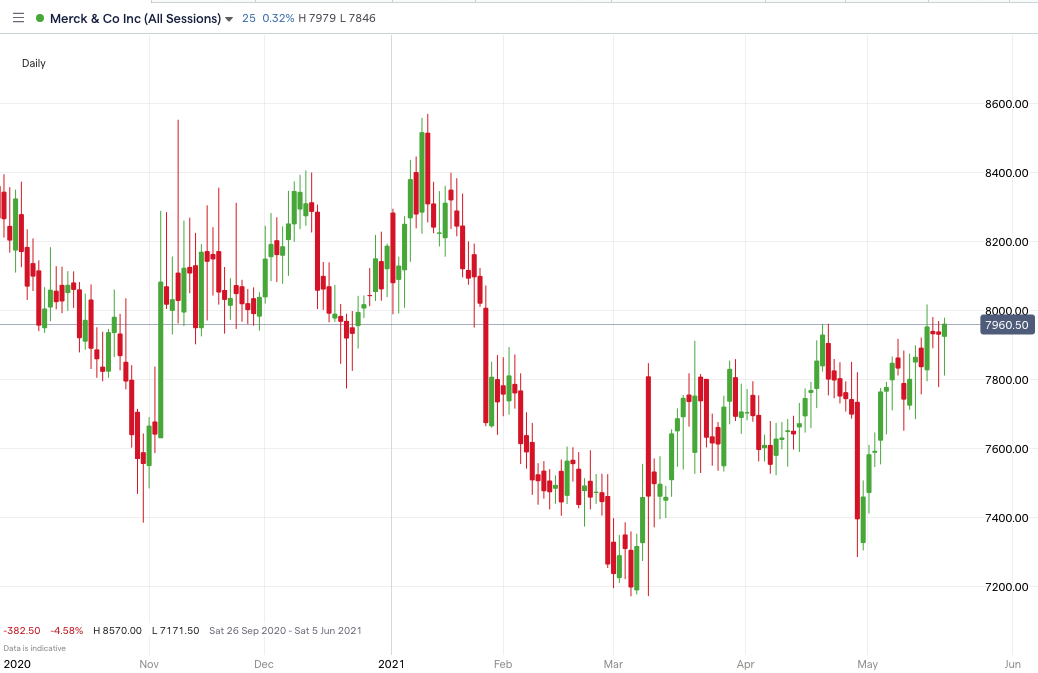 "Pneumococcal disease continues to cause serious illness and death worldwide in children under the age of 5, despite the positive impact of pneumococcal conjugate vaccination on pediatric case numbers," said Dr Roy Baynes, senior vice president and head of global clinical development, chief medical officer, at Merck & Co Research Laboratories.
"Results from these studies support the potential of V114 to confer immunogenicity for PCV13 serotypes in infants who have previously received one or multiple doses of PCV13, and for the 15 serotypes in V114 in children in a catch-up setting," he added.
Merck & Co's stock price is currently trading 0.33% above Wednesday's close at $79.62.
Should You Invest in Merck & Co Shares?
One of the most frequently asked questions we receive is, "what stocks are best to buy right now?" It's a wide-ranging question, but one that we have answered… Our AskTraders stock analysts regularly review the market and compile a list of which companies you should be adding to your portfolio, including short and longer-term positions. Here are the best stocks to buy right now