Key points:
Amigo shares have fallen back since mid-October amid a lack of news.
The FCA gave the guarantor lender the go-ahead to resume lending activities.
 Amigo will resume lending activities under the RewardRate brand.
The Amigo Holdings PLC (LON: AMGO) shares have pulled back from their mid-October highs in the past three weeks as investors and customers patiently wait for the guarantor lender to resume its lending activities.

The company is expected to launch a pilot lending scheme anytime now through which it will lend to a small group of customers to collect crucial feedback and to test its new lending infrastructure before the FCA can approve a full rollout of its lending activities.
Also read: Best Financial Stocks To Buy Right Now.
As many know, Amigo will resume lending under the RewardRate brand to put its murky past behind it and have a new pricing structure for its loans, which is more customer friendly. The new lending program will also see borrowers who repay their loans on time get better rates on future loans.
The FCA approved Amigo's return to lending on 14 October 2022, leading to a sharp spike in its share price, but since then, the company has not posted any updates on when it could start the initial lending phase. However, demand for Amigo's guarantor loans should be relatively high, given most UK consumers' challenging economic conditions.
Investors and customers will have to be patient with the company as it works on resuming lending activities and organising the mandatory capital raise under its new business scheme so that it can begin full-fledged lending activities.
The pilot lending program will be a crucial test for Amigo as it will allow the company to test its new lending infrastructure, including ranking its customers based on their repayments and upgrading customers who are consistent in their payments.
Amigo intends to expand its loan originations to £200  million a year in the second year and over £350 million in the fourth after meeting the FCA's compensation requirements within the first year of resuming lending activities.
Amigo shares look attractive at current prices since they have fallen from their recent highs and are trading above a crucial long-term support level. I would buy them.
*This is not investment advice.
Amigo share price.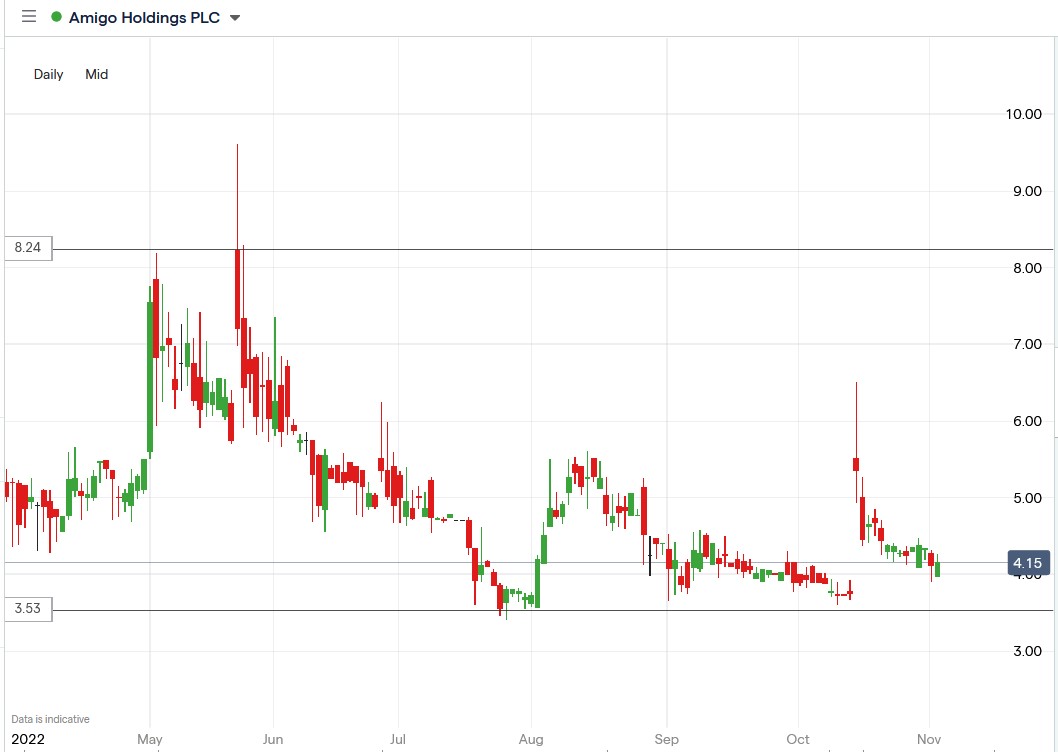 The Amigo share price has pulled back from its mid-October highs as customers await a return to lending.