Key points:
Apecoin prices have formed an ascending triangle pattern on the 4hr chart.
The token could breakout in either direction leading to gains or losses.
Investors should wait for a breakout before buying or selling the token.
Many crypto fans are familiar with the bored ape yacht club NFTs that took the crypto markets by storm last year. The popularity of the bored ape NFTs was driven by multiple celebrity endorsements, which drove a boom in the NFT market.

However, not everyone could afford to buy the cheapest bored ape yacht club NFTs costing upwards of 91.9 ETH, or about $248,000. Therefore, many retail crypto investors who did not have the massive bank accounts to buy the NFTs can now participate in the project by buying the ApeCoin token.
This article shall detail what we expect the Apecoin price to do in the next few weeks and over the next few years based on the coin's fundamentals and price dynamics.
Firstly, we can see from the 4-hour chart below that ApeCoin prices have formed an ascending triable pattern since their debut on 17 March 2022. The token initially rallied to a high of $39.40 on its debut before falling to a low of 47.43 on its first trading day. The next day, Apecoin prices soared to $17.92 and have been trading below this level ever since.
Apecoin prices have been inching higher over the past few days and seem ready to break above the $25.45 resistance level that has been in place since 18 March 2022. However, given that this is a triangle pattern, we cannot be 100% sure that we will get a bullish breakout until it happens.
Triangle patterns are usually pretty volatile, and we could easily get a bearish breakout to the downside. However, a bullish breakout would allow Apecoin prices to keep rising, while a bearish breakout could see Apecoin prices fall further.
A bullish breakout would leave Apecoin prices in unknown territory, with the upside target being its IPO high of $39.40. However, since the coin has been trading for a few days only, we do not have any other upside targets.
A bearish breakout would bring the $12.80 support level into focus, after which the $9.67 support level would come into play. Lastly, the final support level would be $5, Apecoin's lowest trading price.
Therefore, investors interested in buying Apecoin should wait for the token to break out of the current triangle pattern.
*This is not investment advice. Always do your due diligence before making investment decisions.
Apecoin 4-hour price chart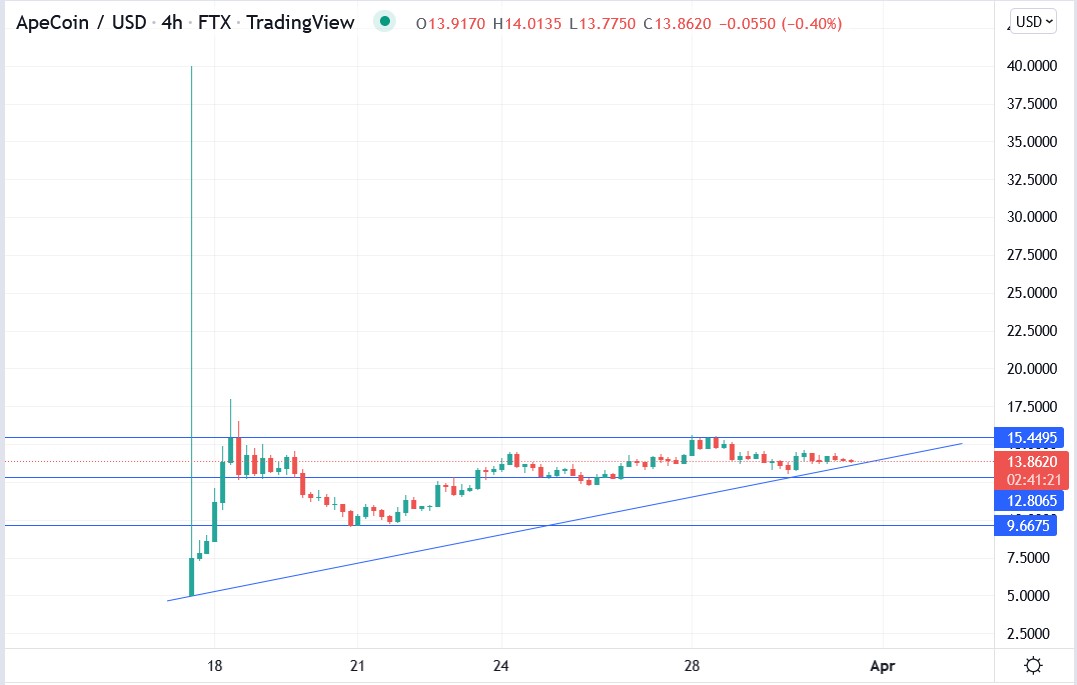 The Apecoin price seems ready to break above the ascending triangle pattern to the upside.