Many are predicting this to be the year for small cap growth stocks, and the markets are certainly throwing up plenty of opportunities to buy the dips. The sector can generate significant returns even without finding the optimal trade entry points. However, by using fundamental and technical analysis to pick the right stock, and the right time to buy it, investors can gain exposure to the market that holds the promise of revealing the next big thing.

Filtering the stock market for firms which have a market capitalisation below $6bn and the potential to post future earnings which are above the market average still leaves a considerable pool of names to choose from. This review will consider the sectors in which those candidates operate, so that it's possible to build a portfolio which offers returns, but also diversifies risk.
Best Small Cap Growth Stocks
Best Small Cap Growth Stock in the Pharma Sector – Global Blood Therapeutics Inc (NASDAQ:GBT)
Market Cap: $1.63bn
Dividends: N/A
San Francisco-based biopharma firm Global Blood Therapeutics Inc (GBT) is in a good position to scale up its operations. With an office in Switzerland and a range of promising new drugs coming through the pipeline, there is potential for the firm to become a global leader in its specialised fields.
Global Blood Therapeutics Inc Share Price Chart – 2015 -2022
Source: IG
Oxbryta is the brand name of the company's oral, once-daily treatment for sickle cell disease which was granted regulatory approval for use in patients as young as four years old at the end of 2021. Like other stocks in the sector, GBT is susceptible to demonstrating excessive price weakness during market sell-offs, but these dips can be the best time to buy as the recovery can be equally dramatic. Between 16th March and 20th April 2020, Global Blood Therapeutics stock rose in value by 78.18%.
Best Small Cap Growth Stock in the Cybersecurity Sector – Tenable Holdings Inc (NASDAQ:TENB)
Market Cap: $4.82bn
Dividends: N/A
The scanning software Nessus which has been developed by Maryland-based Tenable Holdings Inc is designed to help clients resist a wide range of online attacks. The software is capable of protecting networks and servers, but the kicker is that it can extend the protection to different areas of a firm's operations.
Tenable Holdings, Inc – Share Price Chart 2018 – 2022
Source: IG
With the Internet of Things (IoT) demonstrating how corporations are just beginning to expand their networks into another area of the public domain, Tenable is in a good position to build market share thanks to it being able to keep up with the direction its clients want to go.
The Tenable stock price has held up relatively well compared to other tech stocks which have fallen out of favour with investors as the threat of interest rate rises looms. The show of strength while the rest of the NASDAQ sold off suggests continued upward momentum can be expected.
Best Small Cap Growth Stock in the Renewables Sector – Sunnova Energy International (NYSE:NOVA)
Market Cap: $1.9bn
Dividends: N/A
Sunnova installs and services solar cells on US homes, and currently operates a network of more than 170,000 customers across 33 states and territories. Part of the appeal of Sunnova is that it is classified as a utility stock, which means funds with a mandate that requires them to invest in that relatively pedestrian sector can take a position in a stock which offers greater growth potential.
Sunnova Energy International – Share Price Chart 2019 – 2022
Source: IG
Trading in the same direction as big institutional funds is rarely a bad idea. One note to make is that Sunnova does not pay a dividend. It's not that type of utility stock and is much more about gaining exposure to the roll out of solar energy across the US.
Best Small Cap Growth Stock in the Energy Sector – PDC Energy (NASDAQ:PDCE)
Market Cap: $5.86bn
Dividends: 0.80% yield
2021 was a record year for oil prices with crude oil recording the largest price rise in more than 10 years. Oil exploration and production companies are massively back in favour with the market, and 13 out of the 14 analysts who follow PDC Energy rate it as a 'Buy' or 'Strong Buy'.
PDC Energy – Broker Ratings

Source: IG
The company is so confident in its revenue forecast that it has recently announced a special dividend payment to investors, which is always a nice-to-have for shareholders. The cash pay-out in this instance doesn't imply the firm doesn't have any new projects to invest in, more that its operations are currently in a particular sweet-spot.
PDC Energy – Share Price Chart 2013 – 2022
Source: IG
Why Invest in Small Cap Growth Stocks Now?
Using fundamental analysis metrics, small cap stocks appear undervalued in relation to a lot of other sectors. The Russell 2000 index, which contains a broad spread of US small cap stocks, gained +14.8% through 2021 considering both price appreciation and dividends, but indices made up of different types of stocks outperformed it. The S&P 500 index, which is made up of larger companies, gained 28.7% over the same time frame.
Russell 2000 Index Monthly Price Chart – Relative Underperformance in 2021
Source: IG
The under performance of the Russell 2000 surprised many as small cap growth stocks usually outperform during periods of economic recovery. The ending of lockdown restrictions due to COVID was expected to act as a catalyst for small cap growth, however, this hasn't materialised – yet.
A research note posted by NASDAQ reported on the positive views of Jill Carey Hall, Equity and Quant Strategist at Bank of America Securities. Considering the prospects for small cap growth stocks, she said:
"While large and mid-caps trade at a 35% to 40% premium to history, small caps now trade in-line with history… Valuations today imply high-single-digit annualized returns for small caps over the next 10 years."
Source: NASDAQ
What to Know Before Investing in Small Cap Growth Stocks?
January 2022 saw the threat of higher interest rates and inflationary pressure pummel global stock prices. Small cap growth stocks are not immune to those global headwinds, and it could be argued they're even more exposed to the risk of an economic slump.
The question is whether pullbacks in price are short-term blips and an opportunity to buy small cap growth stocks with a view to them coming good in the long-term. This can mean that investments in small cap stocks may take some time to come good. Buy-and-hold investing can pay off, but capital can be tied up for some time and that means it can't be invested in other areas.
Single stock risk also needs to be considered. Major corporations such as Apple and Amazon are subject to intense scrutiny from institutional investors. The granular level of due diligence on those large firms offers some comfort to retail investors and small cap stocks might not have been subject to the same degree of analysis and investigation.
How to Buy Small Cap Growth Stocks
Carrying out research on small cap growth stocks is the first step to gaining exposure to the sector but making the right choice of broker is equally important.
1. Choose a Broker
This broker shortlist includes firms that can be trusted. They are all regulated and have been reviewed by the AskTraders team. Some have been trading for decades and over that time have expanded the markets they offer to ensure their clients can tap into some of the most exciting small cap growth stocks.
Tier-1 Regulators
The U.S. Securities and Exchange Commission (SEC)
The Financial Conduct Authority (FCA)
The Australian Securities and Investments Commission (ASIC)
Cyprus Securities and Exchange Commission (CySEC)
2. Open and Fund an Account
Opening an account with an online broker takes minutes and can be done using a handheld or desktop device.
Source: IG
Once the registration process has been completed, the next step is transferring funds to the new account. There are plenty of payment options, including debit and credit cards, bank transfers and e-payments.
It is worth checking the terms and conditions at brokers as some payment methods aren't instant and others incur charges, including fees from third-parties. These aren't typically of a size that they are a deal-breaker, but there's little point in paying commissions which might be avoidable.
3. Open an Order Ticket and Set Your Position Size
The next step is to buy your target small cap growth stocks. This is done by navigating through the trading dashboard or using the 'search' function.
Source: IG
The process of buying is as simple as entering the quantity of shares you want to buy into the appropriate data field and clicking or tapping 'buy'.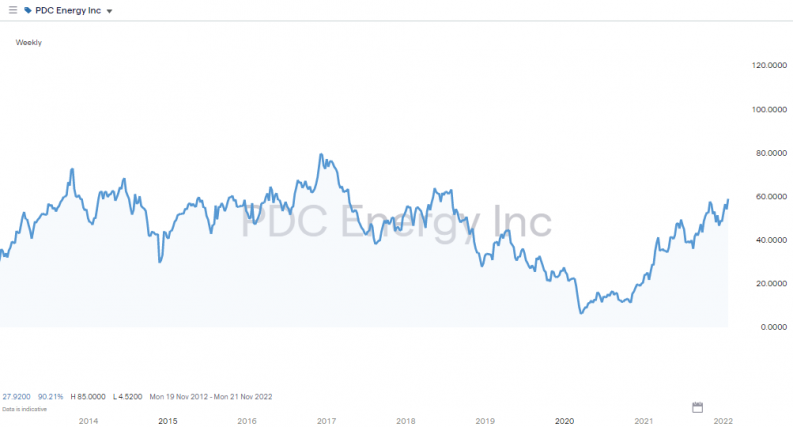 Source: IG
4. Set Your Stops and Limits
Stop Loss and Take Profit instructions are orders built into the trading platform system to help manage risk. They instruct a broker to automatically close out some, or all, of a position if the price reaches a certain level.
Investors with a longer investment time-horizon often decide not to use stop loss and take profit orders. This is because buy-and-hold positions can be closed out at a loss if there is a temporary crash. Take profit orders also cap the potential upside on a positions.
Alternative approaches to risk management include portfolio diversification and allocating small amounts of capital to different firms to limit single stock risk.
5. Make Your Purchase
At the point of trade execution, funds in your account will be converted into a stock position. This will be shown in the portfolio area of the broker platform and its value will be determined by the live price feed from the market.
Best Broker for Trading Stocks Online
Whether you're a new trader building an extensive portfolio of high-growth small cap stocks or just curious about the sector, these trading platforms are perfect for beginners. They are all fully regulated and provide a user-friendly, safe and secure trading environment. The support services include educational materials on how to trade, stock market research and price update messages, which all adds up to you having everything needed to help you get started and make your first trade.