Asana Inc (NYSE: ASAN) stock has risen 53.7% over the past month as company insiders led by its CEO Dustin Moskovitz continue accumulating shares in the firm.

According to a credible report, Dustin Moskovitz bought an additional 750,000 shares of Asana last week, bringing his total share purchases over the past three months to $217 million.
The cloud-based workplace collaboration and planning tool company also got a boost from a bullish investor note issued by Brent Thill, an analyst at Jefferies Financial Group.
Thill maintained a buy rating on the company and raised his price target on the company from $90 to $115. However, the firm has already surpassed this price target as of today.
Here's where I believe that Asana stock is now overdue a substantial correction, or at the very least, a sideways trading range over the medium-term, to relieve the overbought conditions that are seen on the chart below.
Asana stock price has formed a parabolic chart pattern, although the rally has been staggered over the past three weeks. Still, such patterns are typically followed by a significant pullback.
Given that Asana stock has formed a subtle parabolic shape instead of a sharp one, we might get a minor retracement instead of a larger one, but either way, we are now due for a correction on the stock.
While nobody can predict future stock price movements with 100% certainty, the odds at this time favour a pullback more than a continuation of the current rally.
*This is not investment advice.
Asana stock price.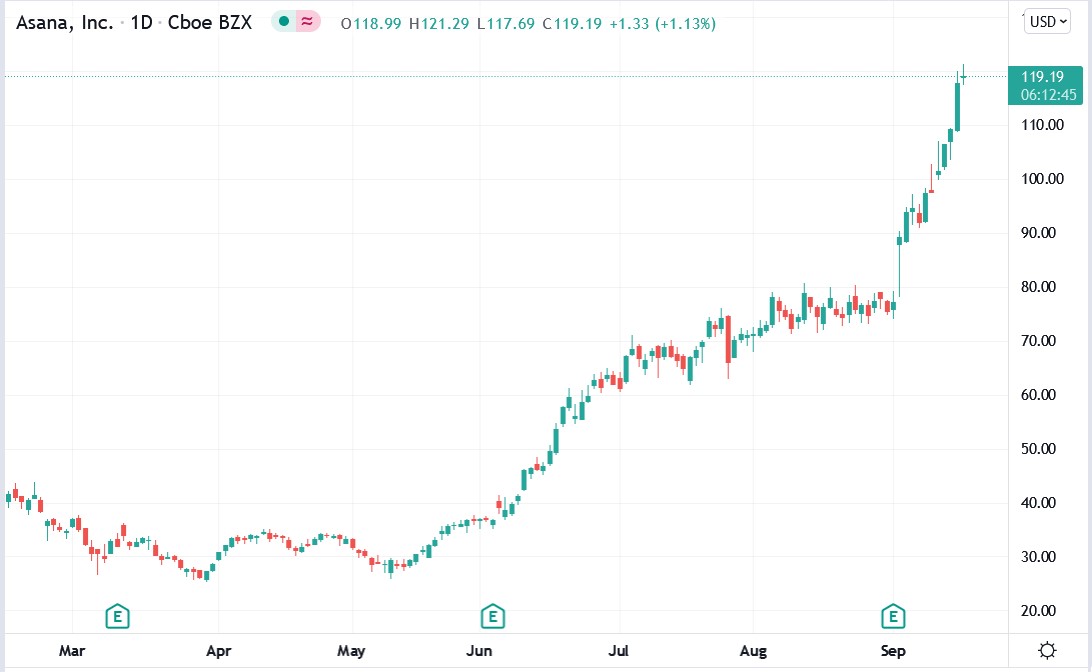 Asana stock has been up 53.7% over the past month. Is a pullback on the stock long overdue?