Beyond Meat Inc (NASDAQ: BYND) stock price dropped 18.6% after reporting a bigger loss than analysts estimates in Q3 and lowering its revenue guidance for Q4.
The meat alternatives food manufacturer generated $106.4 million in revenues during the third quarter missing analysts consensus estimates of $109.2 million.
The company's Q3 loss rose to $54.8 million, translating into a $0.87 loss per share, versus analysts expectations of a $24.6 million loss or $0.39 loss per share. This year's loss exceeded last year's $19.3 million loss by a wide margin.

Beyond Meat further told investors that its US revenues fell 13.9% compared to last year, which goes against the typical trend where demand for its food products is usually high during the summer season.
The company added that its Q4 revenues would be much lower than Q3 figures since the quarter has five fewer shipping days. Still, investors were concerned that grocery sales did not rise to cover the gap left by the lower demand for its foodservice orders.
However, investors were pleased to learn that its international sales were doing quite well after it reported a doubling in international revenues.
Beyond Meat said that it expects some of the logistical challenges it faced during the third quarter to persist in the fourth quarter, which could further hinder its domestic sales growth.
The meat alternatives company said that it is optimistic about next year. It hinted at new product launches, but this was not enough to appease investors preparing for worse performance during Q4.  
Beyond Meat, shares fell to lows last seen in April 2020 and might be attractive to long term investors who want exposure to the meat alternatives sector. However, investors must prepare for further potential losses in Q4, which could trigger further declines.
*This is not investment advice. Always do your due diligence before making investment decisions. 
Beyond Meat stock price.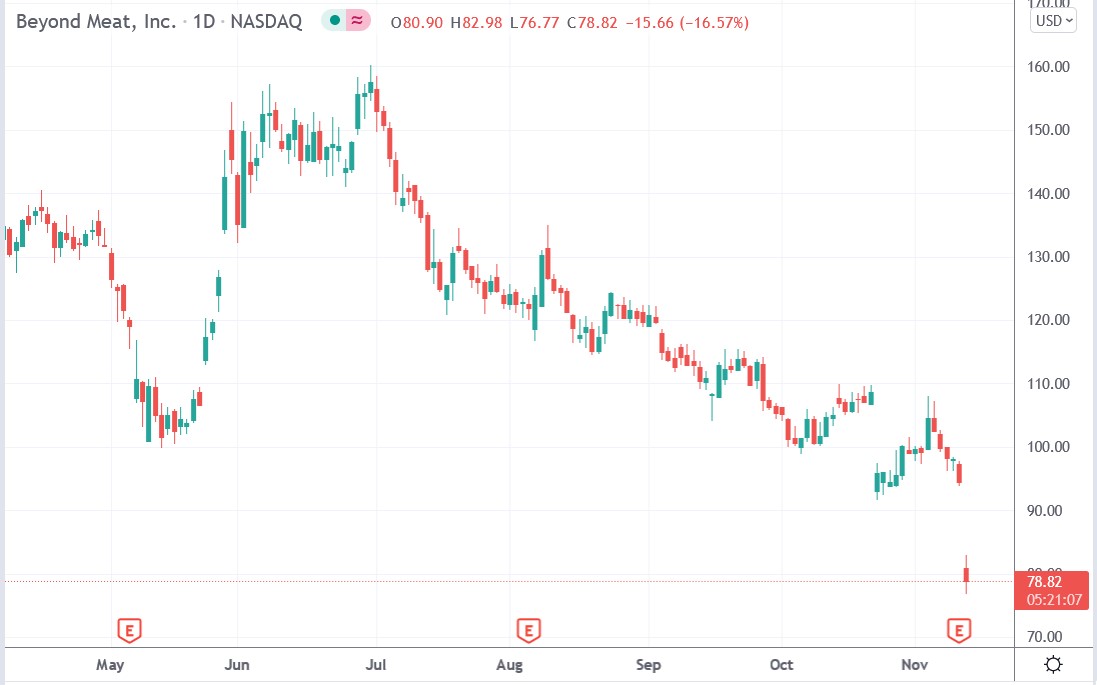 Beyond Meat stock price dropped 18.56% to trade at $77.01, falling from Wednesday's closing price of $94.56.
Should You Invest in Beyond Meat Shares?
One of the most frequently asked questions we receive is, "what stocks are best to buy right now?" It's a wide-ranging question, but one that we have answered… Our AskTraders stock analysts regularly review the market and compile a list of which companies you should be adding to your portfolio, including short and longer-term positions. Here are the best stocks to buy right now.