Massachusetts based Biogen's (NASDAQ: BIIB) stock has been upgraded by several analysts on Tuesday following the approval of its Alzheimer drug in the US.

For the first time in 18 years, the US Food and Drug Administration (FDA) approved a new drug for Alzheimer's. The drug, Aduhelm, is controversial, with critics saying that there is insufficient evidence that it stops memory degradation.
In November, the approval application for the drug was also accepted by the European Medicines Agency (EMA).
Following Monday's 38% gain, analysts have upgraded the stock and price targets.
At Barclays, analyst Carter Gould raised the stocks price target to $395 from $265, stating that he sees a "significant blockbuster and growth narrative" emerging.
Morgan Stanley analyst Matthew Harrison raised Biogen's price target to $455 from $343, keeping an Overweight rating, while RBC Capital analyst Brian Abrahams raised the firm's price target on Biogen to $400 from $259. Abrahams said that stakeholders will have to evolve and learn about the "new treatment paradigm."
Elsewhere, Deutsche Bank said that the approval of Biogen's Aduhelm is a near-term catalyst to accelerate growth in Option Care Health's chronic segment.
Analysts at Atlantic Equities, Citi, H.C. Wainwright, Jefferies, and Baird have also raised price targets, with Baird stating that the approval was a "fatal blow" to its bear thesis.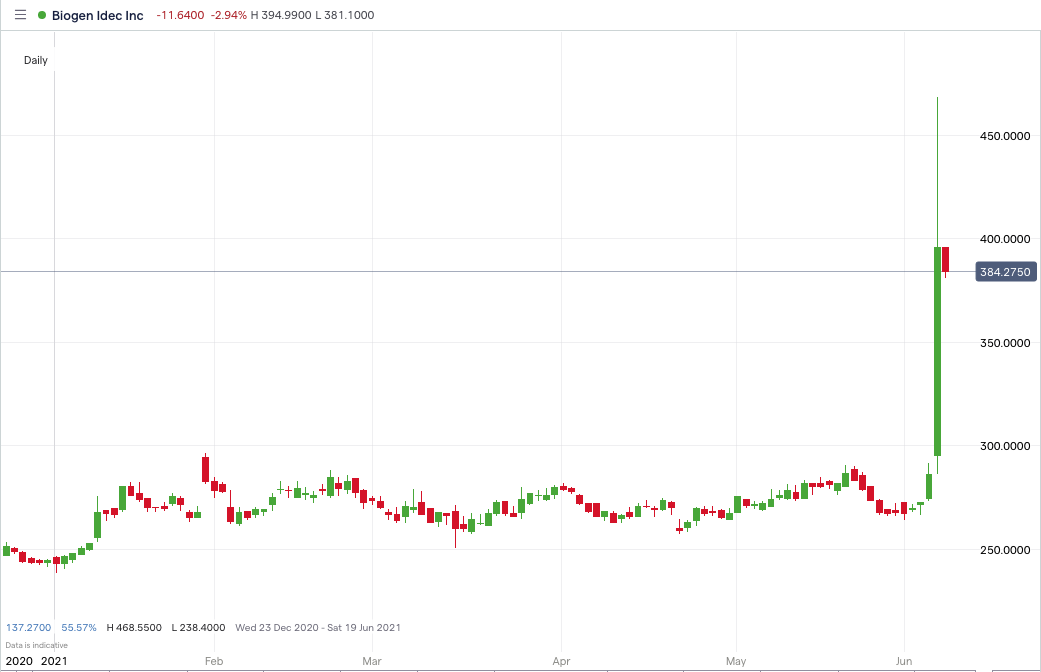 Talking to Bloomberg on Monday, Biogen CEO Michel Vounatsos said that 900 infusion sites for Aduhelm are ready in the US, and he expects it to be available in 10 days to two weeks.
Biogen shares are currently down 2.69% at $385.21.
Should You Invest in Biogen Shares?
One of the most frequently asked questions we receive is, "what stocks are best to buy right now?" It's a wide-ranging question, but one that we have answered… Our AskTraders stock analysts regularly review the market and compile a list of which companies you should be adding to your portfolio, including short and longer-term positions. Here are the best stocks to buy right now