Shares of Fastly Inc (NYSE: FSLY) were down premarket after an outage of the company's global network affecting top government, media and news websites such as the New York Times, the UK government's main website and Redditt.
The global outage linked to Fastly's popular cloud-based content delivery network affected major websites such as Amazon, Spotify, and PayPal, among others that displayed error messages linked to its content delivery system.
Fastly just confirmed that its global system is slowly coming back online after the issue was identified and fixed but that there would be long load times on many affected websites.

Today's outage is a significant event. The affected companies rely heavily on Fastly to provide fast upload speeds of their content on websites used by millions of people daily.
Many of the affected companies rely on their websites to generate revenues. Today's outage could have highlighted the weakness of relying on one company to deliver such crucial content services.
Fastly shares closed up 7.17% yesterday and appeared to be on the cusp of a recovery following the massive selloff that has been in place since mid-February in what some termed as a recovery attempt by last year's growth stocks.
The company had projected that the positive changes experienced by the company last year appeared to be permanent as market conditions remained stable despite the significant selloff in the company's share price.
While it is too early to tell whether Fastly's business shall be affected by today's incident, I believe the company has taken adequate steps to prevent such an outage in future. Still, has it done enough to satisfy its clients? Only time will tell.
In the meantime, I will keep monitoring the stock to see if the recent rally attempt will resume once the markets forget today's event.
*This is not investment advice.
Fastly Inc share price.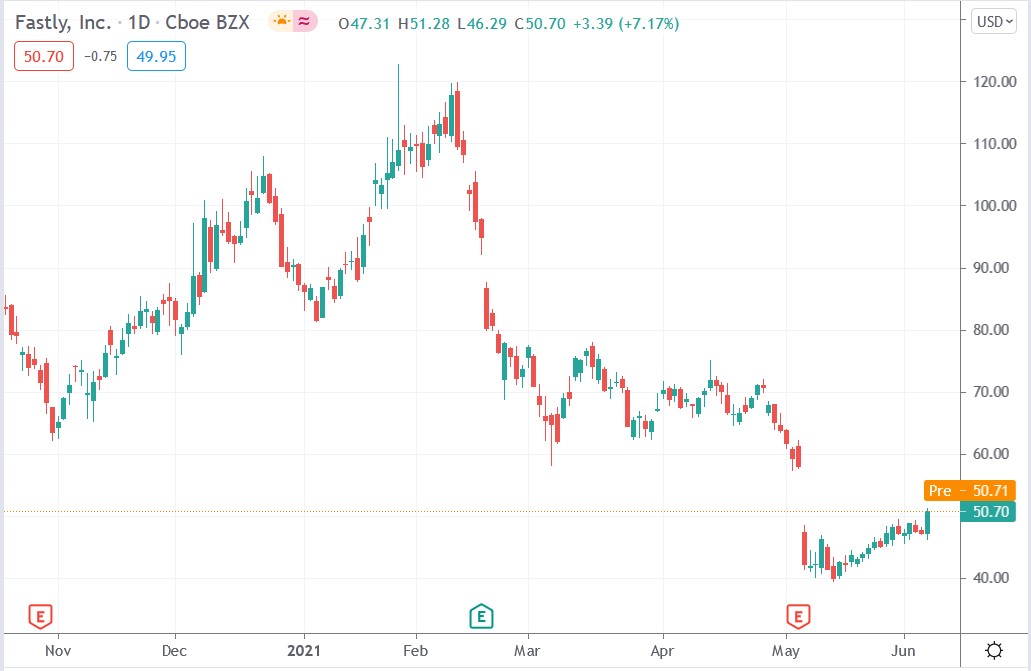 Fastly Inc shares are down 41.97% in 2021 amid a broad sell-off in growth stocks. Can they rally higher?