T'is the season to feel merry, look forward, and make predictions of what may come, a pattern of behavior well known to the trading community, especially in Crypto-Land. BTC, the unequivocal market share leader, has been on a slow descent path ever since July, although it has experienced sudden surges when the news looked supportive. The eagerness of traders and investors to grab onto something with a successful run will never dissipate. Those feelings have been rewarded from time to time by Bitcoin and other altcoins, and the holiday season has generally been kind in the past.
Will there be a Santa rally for Bitcoin?
Crypto Winter is not a distant memory, but it finally bottomed out last mid-December, at least long enough to witness a Santa rally from $3,130 up to roughly $3,700 by year end. As noted above, Bitcoin has been in a slow descent for the latter half of 2019, but several of the more respected BTC pundits see good things in the near to long term. Forbes reported these recent prognostications of three of our favorites:
Charles Hoskinson, Ethereum cofounder and creator of bitcoin rival Cardano, does not view BTC's gradual decline as anything representing a major cause for concern: "We will see $10,000 bitcoin again and welcome $100,000. Crypto is unstoppable. Crypto is the future."
 Tom Lee, head of research at bitcoin and crypto strategy boutique Fundstrat Global Advisors, remarked to folks at CNBC that Bitcoin's long-term forecast remains bright: "I think bitcoin's weakness since July is understandable. I don't think adoption has really grown since July and if you can't grow adoption, network effects don't take place and so bitcoin drifts lower. But does this change the 10-year, five-year, or even two-year outlook for bitcoin? I don't think so."
Mati Greenspan, who recently departed the eToro brokerage to found his own analytics and research firm by the name of Quantum Economics, wrote: "My conviction level has come down quite a bit. Particularly, as the continuation and strong breakout has yet to develop. It's also worth noting that neither sentiment nor volumes have seen any drastic improvement over the weekend and are once again at the lows. Still, nothing changes sentiment like price, and a strong push above $8,000 at this point could very easily pave the way to the recent highs near $14,000."
Will established yearly trends for Bitcoin continue?
The folks over at NewsBTC are responsible for the next bit of sleuthing as to what might happen next in Bitcoin-Land. Their first bit of wisdom from the past is that Bitcoin has established a yearly pattern of one poor year followed by three up years. If we assess where we are today under this portrayal of the past, then 2018 was the "poor" year, 2019 has been a good "up" year, but what will 2020 and 2021 bring? Good tidings or blocks of coal for our stockings hung with good cheer?
The four-year cycle, amazingly enough, corresponds with halving events. Unless you have been sleeping in a deep dark cave, you might not know that the next halving event will occur in late May of 2020. Here is their "brainstorm" – NewsBTC discovered that: "Along with the general pattern of three up, one down, there is another interesting, potentially emerging trend. The last candle of the back-to-back price increases is typically much larger than the two prior. If the pattern holds true, it looks like 2021 will see explosive growth for the digital asset." Looks like 5-digit territory may be near at hand… or not?
Will 2020 be "Déjà vu" all over again for Bitcoin?
Omkar Godbole, senior analyst over at CoinDesk gets the credit for this observation. His view of 2019 looks remarkably close to the happenings that transpired in 2016. Let's take a look at his charts: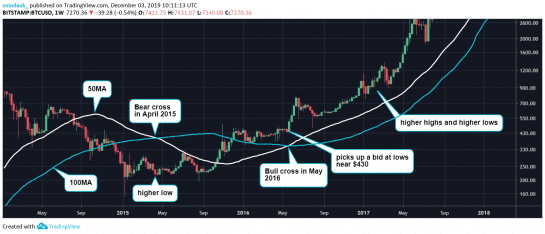 Godbole focuses on the 50- and 100-week moving averages, noting first a Bear cross, then followed by a Bull cross, and then followed by the parabolic updraft of 2017 mania that resulted in a 19-month long uptrend. Now take a look at a current weekly presentation: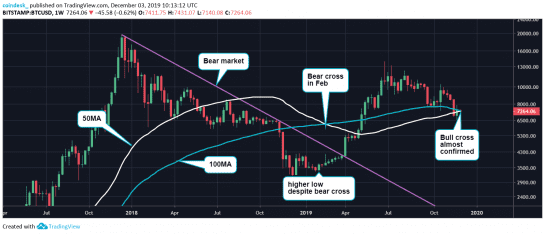 Gulp! Is this "Déjà vu" all over again? Are we in line for another 19-month or more uptrend over the next two years? Isn't it amazing how such elegant formations can occur over time from nothing more than mere buying and selling of an asset in the marketplace? Technicians can easily get enamored with the beauty of their charts and what they might portend, but markets can be fickle, and if there is any quality that Bitcoin is known for, it is that it follows the beat of its own internal drummer, charts be damned.
In any event, this "Holiday Trio" does tend to warm the cockles of one's heart on a cold wintry day while warming chestnuts over an open fire. Will these "prophecies" unfold as we move forward? It's time to let Santa know what you want for Christmas.