With weekend trading still looming, for all intents and purposes, Bitcoin has made it through a week that, according to the analyst community, was to be critical in defining where the world's favorite digital asset might be heading for the remainder of this year. As we last reported, BTC is being " squeezed" by two converging lines – an upper trendline, commencing at its high in June to the present, and lower support from its 200-Day moving average. Something has got to give, possibly over the weekend.
For now, we can only speculate. If BTC breaks to the north, it will be greeted by a "Golden Cross", when its 50-Week MA passes above its 100-Week MA. If it breaks to the south, then we could be back to the lower realms again. What happens if we pull back to an even longer timeframe? Coindesk also wanted the answer to that query and assembled the following chart for our examination: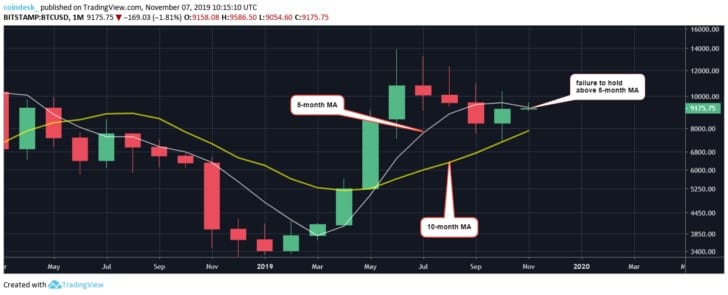 Bitcoin is presently at $9,180, as we begin Friday, exactly where it was on Monday. From a monthly perspective, BTC has dipped below its 5-Month MA, but it is showing signs of trying to break beyond it. The ensuing test will be if it can close above the descending moving average.
Otherwise, as Omkar Godbole points out: "The upper shadow of the monthly candle represents rejection above the 5-month MA at $9,265. A failure to hold above descending averages usually translates into a notable price drop. Major support is seen at the ascending 10-month MA near $8,000."
The lack of conviction over the past few days has also been troubling. It is an indication of weakness that could result in an immediate shift down to the $8,800 level and possibly lower. What are other analysts thinking? Here are a few comments from the field:
Jim Wyckoff of gold outfit Kitco sees something happening soon, possibly over the week to come: "Recent price action has choppy, quiet and sideways. This 'collapse in volatility' suggests a much bigger price move is right over the horizon—maybe yet this week." He also added that he thinks that bulls hold a slight advantage in the near term, based purely on technical underpinnings.
Michaël van de Poppe, a regular contributor to Cointelegraph, likes what he sees in the trending monthly price portrayal. The present consolidation, in his mind, can only lead to a new tick up: "Looks similar to 2016 still."
Mr. Anderson, a popular cryptocurrency analyst on Twitter, ascribes to the notion that the direction of price discovery will depend upon which line is broken first: "$BTC's next move simplified. The msg on my last several live market update videos has been the same since Oct 28th. The first H12 close outside of the 200ema… will likely decide which direction the next price discovery phase will take place."
These analysts, along with many others, are sitting on the edge of their seats, waiting for the decisive move that will rule what happens over the next few weeks. The lines are obviously drawn on a variety of charts. It is time for a demonstrative move. Will President Xi make another Friday market shaking statement? Will another regulator come down hard on cryptos? Will next year's halving event begin to boost BTC values?  For now, the rollercoaster is approaching the crest of the hill – time to hold on!