It is home, home on the range again for all Bitcoiners, as the world's favorite digital asset lumbers along for its 40th day in range mode. The last bout with this "malaise" began in late September and ended thirty days later, when President Xi of China announced his love affair with blockchain technology. That was then, but now is now – a longer period of languishing, which generally ends with an explosion. Volatility is very low. Bollinger Bands are signaling an imminent move on the horizon, but in which direction?
At times like these, analysts, or at least a few of them, search the "horizon" for anything and everything to worry about. This occasion is no different. The Holiday Season is coming to a close. The "Big Boys" will be returning to their respective trading desks in a week, and all hell could break loose, or so these worrisome types think. Research in other financial markets purports that, when professional traders have time to relax and rethink their trading strategies, they return with a fresh new look on their faces and minds filled with thoughts of reversal tactics. But what would a BTC reversal look like?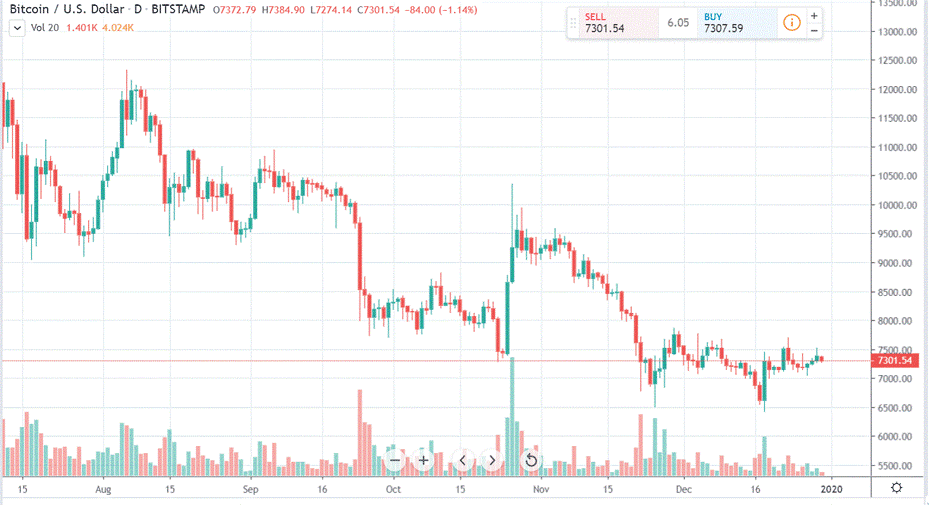 Here is an unadulterated, un-annotated history of Bitcoin's daily pricing behavior since July, right off the Bitstamp server. If we could peak over the horizon, would we see a herd of bulls or bears stampeding in our direction? Optimists and pessimists are trying to remain calm, but everyone can hear the "rumble" over the hill, but no one can discern if they are friendly or are a Mongol hoard looking for mayhem. In other words, the highly anticipated "reversal" that is in the works could be up or down.
The Optimistic Viewpoint
Bitcoin advocates are firm believers in history repeating itself. When they look at this "clean" chart, it is "déjà vu" all over again. It looks eerily similar to the 2018 version of the same. At that time, Bitcoin had suffered through a long and debilitating "Crypto Winter", where 85% of its value (much more so for its altcoin brethren) had been shed until a firm bottom materialized. The "chant" from advocates over the past month is that a new bottom has formed at roughly $6,500, as evidenced by the "Double Bottom" pattern.
These same folks also firmly believe that a rally is in the works, some even say a "rip your face off" type rally. Conservatively, the thinking is that BTC will rise to the region between $8,500 and $9,000. Unless there is a strong fundamental driver at that point, the next move would be a push down from the "hodlers" that had bought in at $10,000 and wanted to minimize their losses. As for halving impacts, these folks still believe it is not baked into current pricing. They perceive the opposite line of reasoning to be a "ruse", designed by the "Big Boys" to scare them out of their positions.
The Pessimistic Viewpoint
The folks in this camp are comprised of skeptics and exhausted bulls that have tired of the long downward descending path that BTC has taken from June onward. The thinking here is that everyone choosing now to go long will be shocked next week when the professional shorting types return with a vengeance. The result will be a "Long squeeze" that will send Bitcoin packing back down to the $6,800 level and lower. As you might expect, Bitcoin skeptics are salivating and spouting much lower numbers, but Bitcoin has had a way of punishing these critics in a pinch.
It is also important to note, however, that Bitcoin currently rests at the 61.8% Fibonacci level, drawn from its technical bottom last December and its high of roughly $13,800 in June. Back in September, BTC was ranging about its 50% Fib parallel. The area between the two "borders" is often called "Decision Territory". It is make or break time. Conventional knowledge also says that one should not fight the tape, and the "tape" is clearly defining a downward trend to beat the band. Whether the "Double Bottom" is strong enough to hold back whatever is "stampeding" over the hill remains to be seen.
Of course, this could all be much ado about nothing. Jim Wyckoff of Kitco notes: "The holiday season is making for quieter dealings, but the bulls have recently stabilized the market amid choppier trading. Recent price action has produced a bullish double-bottom reversal pattern on the daily chart, which suggests a market bottom is in place. However, bulls and bears are presently fighting for near-term technical control, with neither gaining much of an edge—suggesting more choppy and sideways trading in the very near term."
More "choppy and sideways trading" he says? The longer this ranging period lasts, the larger will be the reaction to break out of it, or so say the history books on this very topic. Bitcoin may be perched upon another precipice or standing at its umpteenth crossroads, but as we know, something has got to give. Somebody is going to be squeezed, and if that is the case, wait until it happens, and then squeeze away. It's time to get your plan ready for the chaos to come.
Stay tuned, and Happy New Year!