The world's largest asset manager has announced it intends to become the world's foremost sustainable investor
BlackRock Inc, with assets under management of approximately $7tn looks set to cause a paradigm shift in investment thinking
Head of the group, Larry Fink, has written to corporate CEOs, advising that investment will be carried out using metrics, which focus on stakeholder value rather than stakeholder premium
The subtle shift is more than a change in semantics, its likely to bring about seismic change across all asset classes
It also leaves those trading the markets wondering how they get to be the winners rather than the losers in the unravelling situation
When the largest investor in the world speaks, it's wise to listen. When they announce a significant and long-term change to their investment methodology, it's wise to consider adjusting portfolios. Tuesday saw BlackRock Inc make an announcement to the markets that it describes on its own site as "A fundamental reshaping of finance" (source: BlackRock).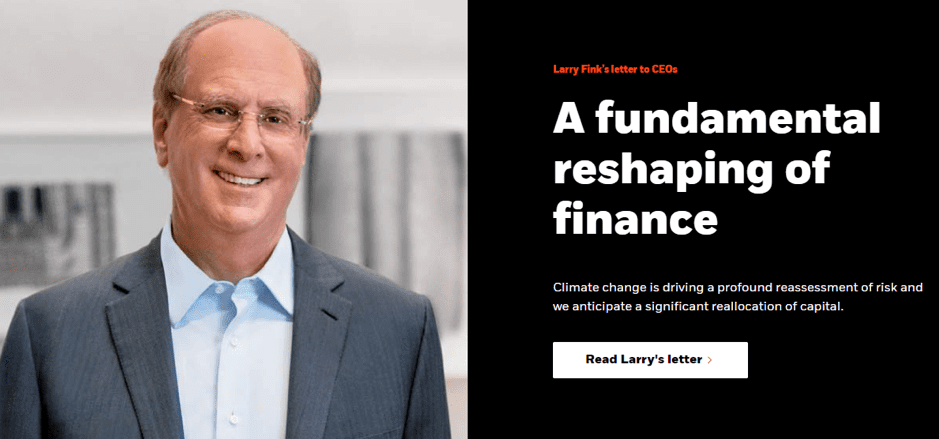 Larry Fink, CEO of BlackRock Inc, oversees the largest asset portfolio in the world. As of September 2019, the firm had assets under management (AUM) of $6.96tn. Half of the amount is listed as being allocated to equities and fixed income, but a large percentage of the remainder of AUM will also be in those same asset classes (and others) via investments in Alt-managers such as hedge funds.
BlackRock asset allocation: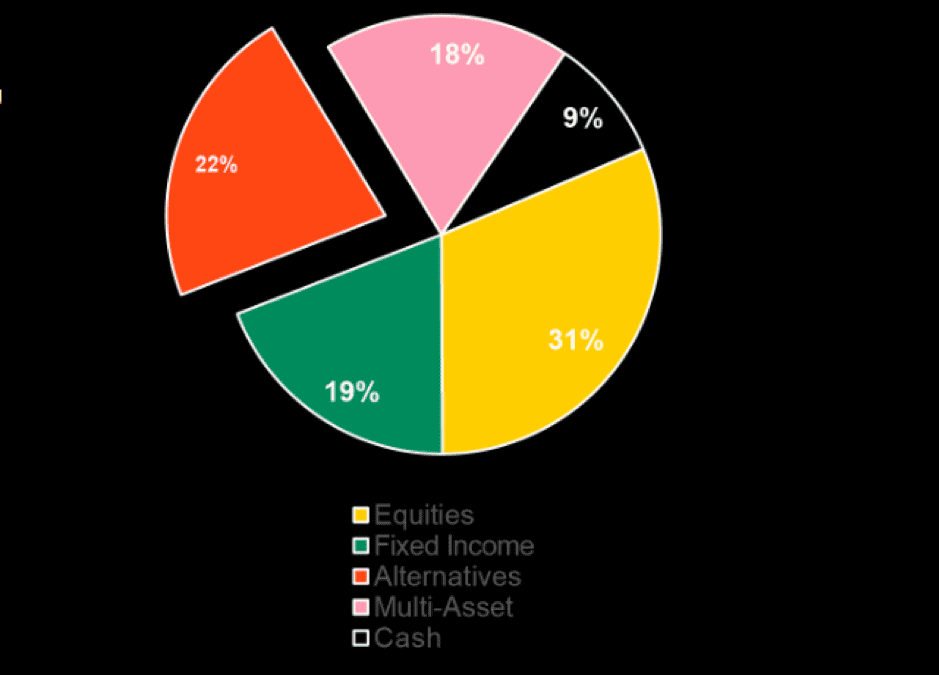 The message shared to all those benefiting from BlackRock investment is that from now on:
"Climate change has become a defining factor in companies' long-term prospects… we are on the edge of a fundamental reshaping of finance."
Source: BlackRock
Green light
The announcement by Larry Fink follows a similarly themed letter to corporate CEO's entitled 'A Sense of Purpose', which was issued in 2018. It argued that successful companies thrive by benefitting all stakeholders in an organisation. It also pointed out the correlation between business success and making a positive contribution to society. The 'purpose' of firms ought to include public leadership. BlackRock was by no means the lead pioneer of such an approach, other asset managers have for some time profited by exploiting the 'green investment' market. BlackRock's declaration of two years ago was noted more because it's worth monitoring the actions of a firm with such size, rather than the message itself being ground-breaking. For many, the firm has been too slow to address the issue.
However, Tuesday's announcement is being heralded as the starting gun for portfolio realignment on a massive scale. The headline would suggest one obvious consequence could be BlackRock leading investors out of firms involved in fossil fuel extraction and processing.
Royal Dutch Shell A (LSE:RDSA LN) vs FTSE100 — five-day price chart: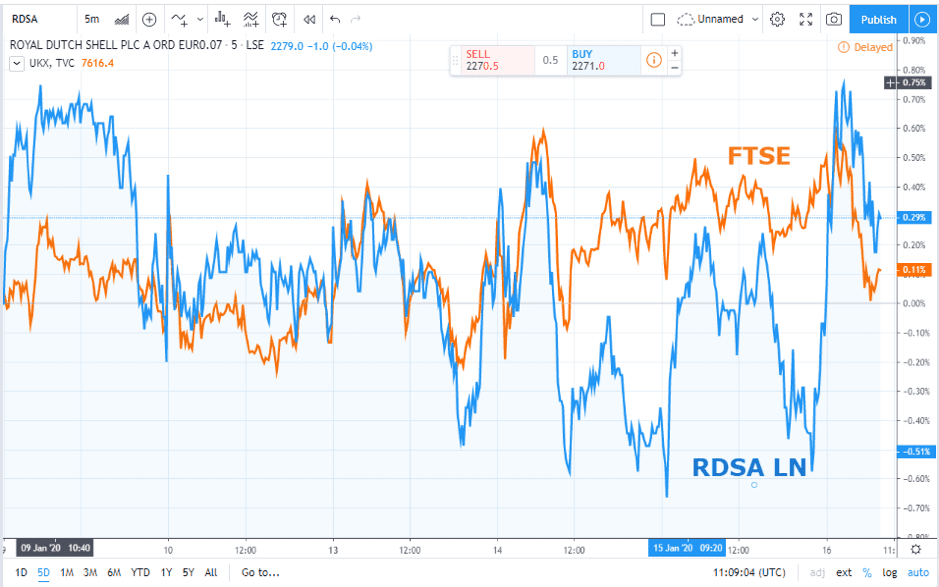 The five-day price chart for UK listed Royal Dutch Shell plc (LSE:RDSA) shows the oil firm trading roughly in line with the broader FTSE 100 index of which is it a member. There is some extra price volatility in the oil & gas producer, but given its exposure to geopolitical risks, this is to be expected.
Logistics 
The reality is that the realignment will occur over a long-term time horizon. There are also issues relating to investment mandates and 'timing' that will come into play.
BlackRock is still legally bound to pursue the best returns for its investors, and this is ultimately measured in cash terms. Scaling out of positions will have to done with care, and via the natural process of portfolio rebalancing, may have already begun. This goes some way to explaining the price of stocks such as Royal Dutch holding firm, for now. There is also the option of BlackRock achieving its sustainability targets without selling out of positions. The firm states that:
"Sustainability will drive the way we manage risk, construct portfolios, design products and engage with companies."
Source: BlackRock
This does leave the door open to investor activism rather than investor exodus. By joining the Climate Action100+ group of investors, BlackRock has aligned with a pressure group with stated aims of targeting the globe's biggest polluters. BlackRock's statement on Tuesday stated the firm would independently apply pressure to the boards of corporates that it is invested in. It states it is "increasingly disposed" to vote against uncooperative boards (source: BlackRock). There is a lot of 'wriggle room' in that statement, which does not go far enough for some activists, but belies the extent that the firm is still obliged to produce performance returns for investors.
Tracking issues
 The investment style of BlackRock is essentially passive in nature, and this creates further reasons why it may remain invested in polluters and lobbying for change from the inside. It runs 70% of its money tracking major stock indices and removing individual firms from that basket creates its own issues. Making trackers mirror the actual index is hard enough and oil & gas firms have, in recent years, constituted between 15–20% of the UK FTSE100 equity index. Nils Pratley, financial editor of the Guardian, explained why some remain unconvinced.
"Let's not imagine that the world's largest asset manager, with almost $7tn under its roof, has suddenly become a pace-setter. In the eyes of many big European fund management houses, most of Fink's declarations on Tuesday will have sounded wholly conventional."
Source: The Guardian
Silver linings
The current course of action could stave off a greater threat to the markets. Corporate governance, social responsibility and sustainability have become touchstones with resonance outside of the investment industry. The rapid rise of Greta Thunberg highlights how quickly public opinion can change. A flagship announcement by the world's biggest investor may ultimately convince broader opinion that financial markets are demonstrating enough self-management to avoid deeper public and political scrutiny.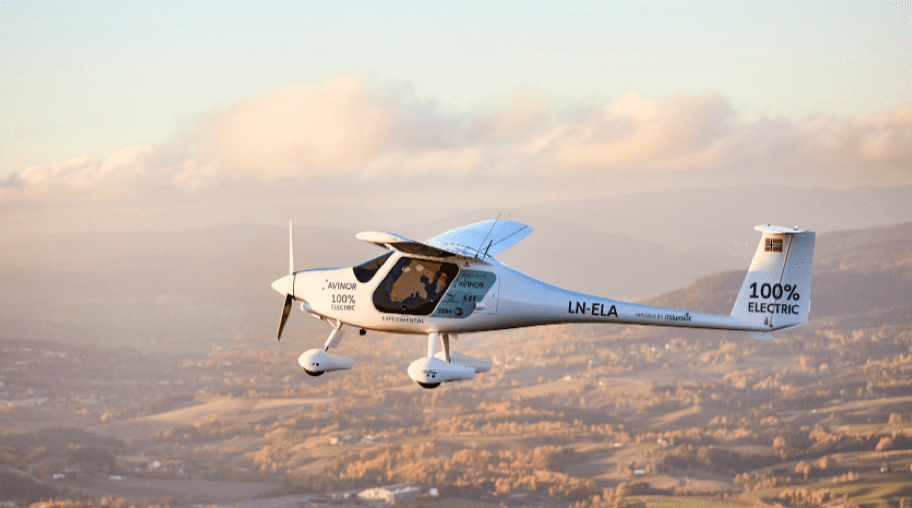 There is also money to be made by those who can identify firms that will benefit from the realignment. Norway has announced that by 2040 all domestic flights will have to be battery powered — a political aim that has inspired aircraft producers to develop new technologies. Firms such as Pipistrel, Eviation Aircraft Ltd and Karem may not yet be publicly listed, but the news from BlackRock will mean that such names become firmer features on the radar of both air traffic controllers and investors.