Key points:
The Boohoo share price edged higher despite the CMA's investigation.
The CMA is investigating Boohoo, ASOS and Asda on their green claims.
The investigation could drag Boohoo's share lower in future.
The Boohoo Group PLC (LON: BOO) share price edged 4.16% higher despite the UK's Competition and Markets Authority (CMA) launching an investigation into the company's products being marketed as eco-friendly to consumers.

The CMA will be looking to establish whether Boohoo's claim that its "Ready for the Future" product line is wholly composed of fashion items that are made in an eco-friendly manner, such as using recycled fabrics and what percentage of eco-friendly materials are used in the item.
Also read: Moving Averages – How To Use Them In Your Trading.
Investors appeared largely unbothered by the CMA's investigation,w which is still in the early stages. Still, there is a reason to worry whether Boohoo will be guilty of misleading consumers.
Sarah Cardell, the CMA's interim CEO, said: "People who want to 'buy green' should be able to do so confident that they aren't being misled. Eco-friendly and sustainable products can play a role in tackling climate change, but only if they are genuine."
Adding:
"We'll be scrutinising green claims from ASOS, Boohoo and George at Asda to see if they stack up. Should we find these companies are using misleading eco claims, we won't hesitate to take enforcement action – through the courts if necessary."
The CMA's investigation will initially be focused on ASOS' 'Responsible edit', clothing line Boohoo's 'Ready for the Future' range, and the 'George for Good' line at Asda. These fashion lines are marketed as being environmentally sustainable, but are they?
Boohoo's share price has risen 20.8% in the past month amid a broad stock market recovery and could be headed higher if the macroeconomic situation improves. However, the CMA investigation could limit the rally in Boohoo shares, especially if the fast-fashion company is found guilty of misleading claims.
Still, it is nice to see that Boohoo shares have pulled away from their recent lows and are trading within a wide range that was in place from early March to mid-June. But, of course, only time will tell if the shares will keep rising.
*This is not investment advice. Always do your due diligence before making investment decisions.
Boohoo share price.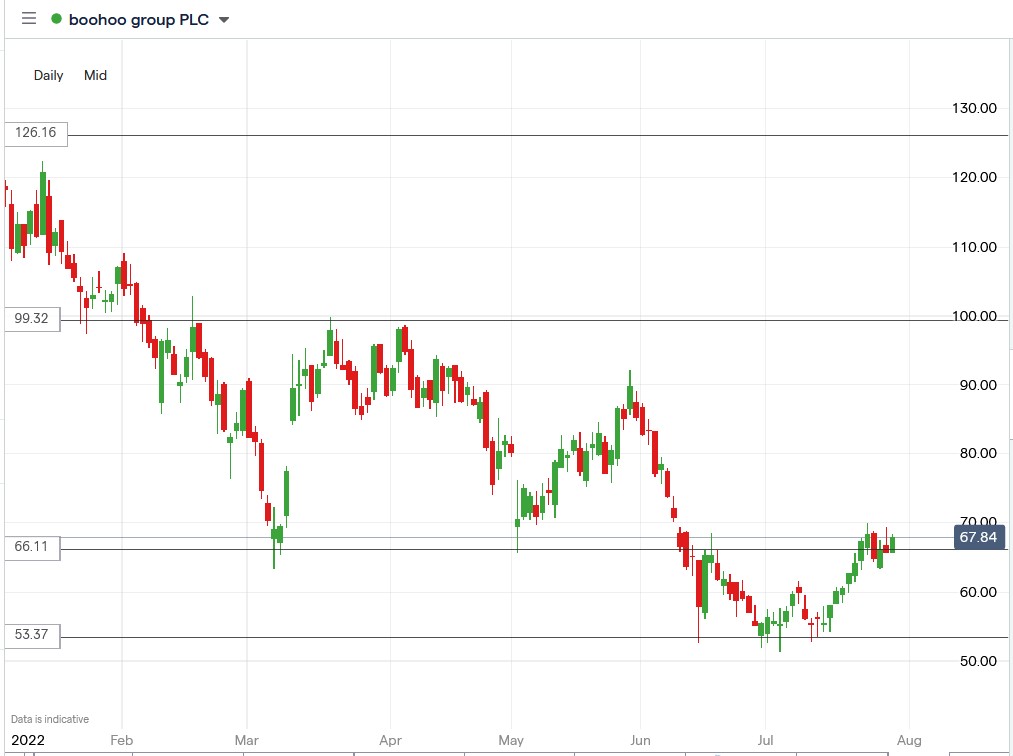 The Boohoo share price edged 4.16% higher to trade at 68.40p, rising from Thursday's closing price of 65.67p.