Shares of BriaCell Therapeutics (NASDAQ: BCTX) have soared on Wednesday after the company provided an update on the overall survival data on its advanced breast cancer patients.
The women were treated with BriaCell's lead candidate Bria-IMT as monotherapy and also in combination with checkpoint inhibitors, including pembrolizumab and Incyte's retifanlimab.
There was a 12 months average overall survival benefit, including 13.4 months in patients with 2+ HLA (human leukocyte antigen) matches and 12.5 months in patients with Grade I/II tumours.

The top responder was 21.4 months survival plus 100% resolution of 'eye-bulging' orbital tumour.
It compares to the 7.2 to 9.8 months survival in historical comparison treatment trials.
The company stated that its immunotherapy treatment appears most effective when the patient's HLA-type matches with Bria-IMT, allowing BriaCell to potentially identify patients most likely to respond.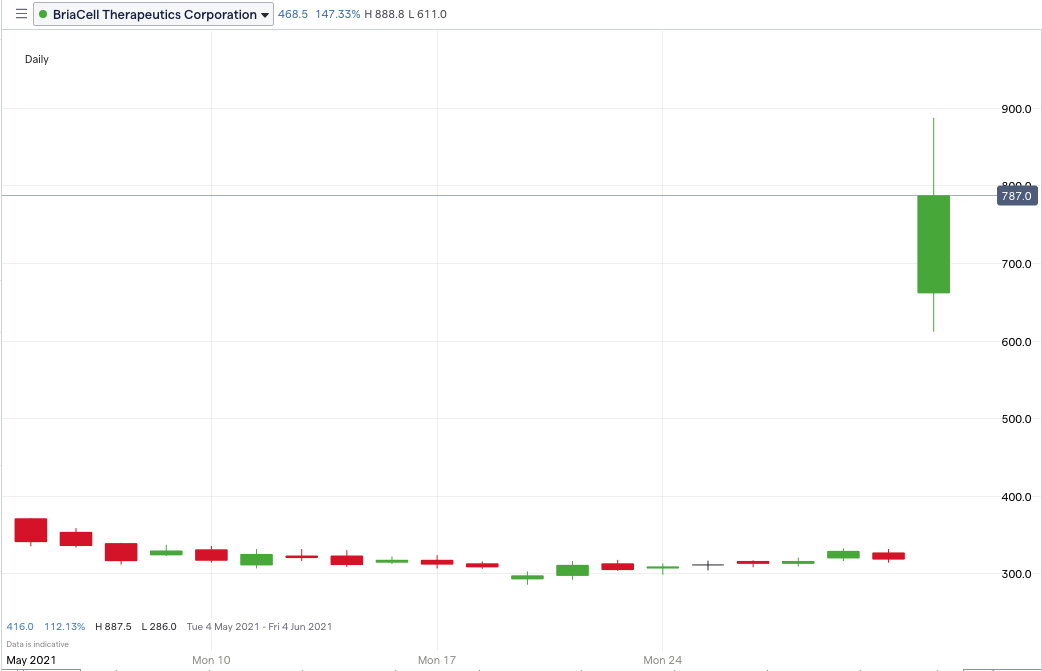 "Women with advanced breast cancer often are fighting a deadly disease that does not respond to currently-available treatments," said Dr. Bill Williams, BriaCell's President and CEO.
"We are pleased to report that our immunotherapy regimen appears to offer clinical benefit for these patients in desperate need of new therapy options."
BriaCell's share price is currently trading at $7.80, up 145%.
Should You Invest in BriaCell Therapeutics Shares?
One of the most frequently asked questions we receive is, "what stocks are best to buy right now?" It's a wide-ranging question, but one that we have answered… Our AskTraders stock analysts regularly review the market and compile a list of which companies you should be adding to your portfolio, including short and longer-term positions. Here are the best stocks to buy right now