Shares of Constellation Pharmaceuticals (NASDAQ: CNST) have jumped on Wednesday after announcing that MorphoSys AG (NASDAQ: MOR) will acquire the company.
MorphoSys will acquire Constellation for $34 per share in cash, representing a total equity value of $1.7 billion.
Clinical biopharmaceutical company Constellation Pharmaceuticals is working on discovering and developing novel therapeutics that address serious unmet medical needs in patients with various forms of cancer.

"We are proud that MorphoSys has recognized the strength of our team, our expertise in epigenetics, and our high-potential oncology development pipeline and discovery programs," said Jigar Raythatha, President and CEO of Constellation.
"Becoming part of MorphoSys creates an industry leader with commercial capabilities, a deep R&D pipeline and complementary small molecule and biologics discovery and translational capabilities, as well as the financial strength to compete to win."
Constellation Pharmaceuticals share price is trading 66.5% above Tuesday's close at $33.72.
MorphoSys' stock price is down 12.1% at $19.40.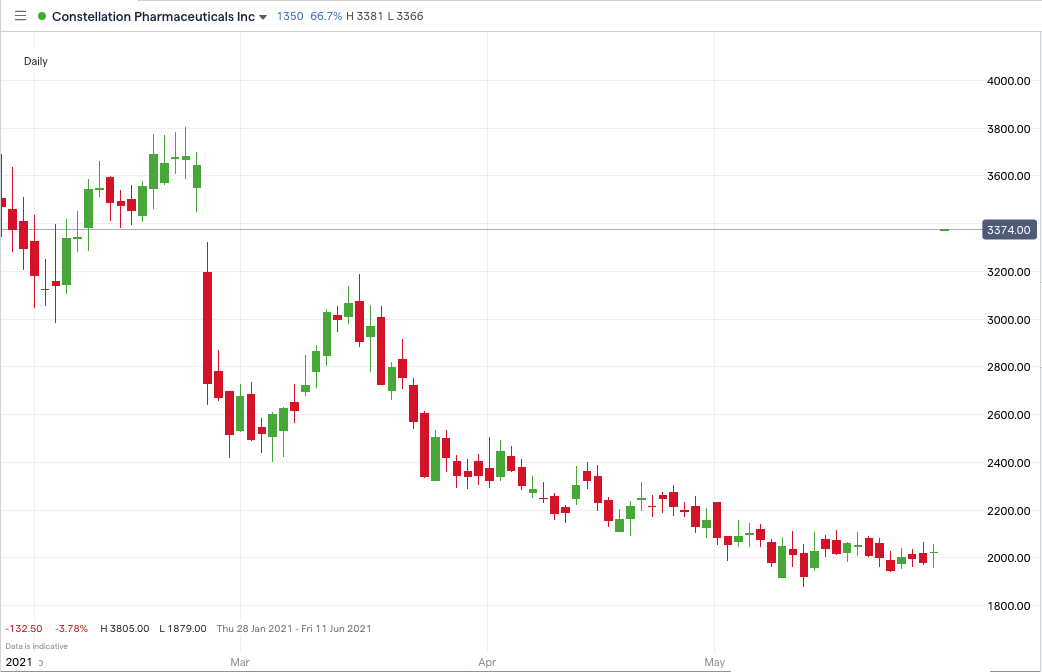 MorphoSys also announced it has entered into a long-term strategic funding partnership with Royalty Pharma that will see Royalty Pharma make a $1.425 billion upfront payment to MorphoSys, supporting its growth strategy. The proceeds will be used to support the financing of the Constellation transaction and the development of the combined pipeline.
Royalty Pharma will also provide MorphoSys with access to $350 million in development funding bonds and make additional milestone payments of up to $150 million.
Royalty Pharma will have the rights to receive 100% of MorphoSys' royalties on net sales of Tremfya, 80% of future royalties and 100% of future milestone payments on otilimab, 60% of future royalties on gantenerumab, and 3% on future net sales of Constellation's clinical-stage assets.
Should You Invest in Constellation Pharmaceuticals Shares?
One of the most frequently asked questions we receive is, "what stocks are best to buy right now?" It's a wide-ranging question, but one that we have answered… Our AskTraders stock analysts regularly review the market and compile a list of which companies you should be adding to your portfolio, including short and longer-term positions. Here are the best stocks to buy right now