Key points:
Bright Minds Biosciences' stock price was down 26.8% premarket.
The company erased part of yesterday's gains after closing up 72.8%.
The firm's stock price has witnessed extreme swings lately.
The Bright Minds Biosciences Inc (NASDAQ: DRUG) stock price plunged by 26.8% after a massive rally yesterday, extending the volatile trading into another week despite the lack of significant announcements from the company.

The Canadian biotech company focused on inventing new treatments focused around neuroscience had not released any news since June 27, 2022, when it appointed Jan Torleif Pedersen, PhD, MSc, as its interim Chief Scientific Officer (CSO), replacing Dr Alan Kozikowski, who stepped down.
Also read: The Best Biotech Stocks Under $5 To  Buy Right Now.
The company is currently looking for a substantive new CSO and is yet to issue an update on the status of its search. Still, this has not stopped buyers and sellers from fighting to control its share price.
Bright Minds stock has witnessed massive swings in its share price, which led the Investment Industry Regulatory Organization of Canada to ask for an explanation for the wild swings in its stock price.
The firm issued a response on Thursday, saying it was unaware of any material changes in its business that could have triggered the massive swings in its share price. Instead, the biotech company said its business remained the same, indicating that external factors drove the price swings.
Bright Minds stock has attracted significant attention from investors, and there is an ongoing battle between the bulls and bears, with each side struggling to emerge the winner. Over the past few days, the company's stock has traded as high as $4.75 and as low as $0.82.
These wild swings have provided multiple profit opportunities to day traders who tend to hold their trades for minutes to hours. However, longer-term investors should avoid the stock since the wild price swings are not conducive for swing and position trades.
Swing and position traders reap maximum profits from stocks that trend for days, weeks and months, while their most significant losses come from highly volatile stocks.
*This is not investment advice. Always do your due diligence before making investment decisions.
Bright Minds Bio (DRUG) stock price.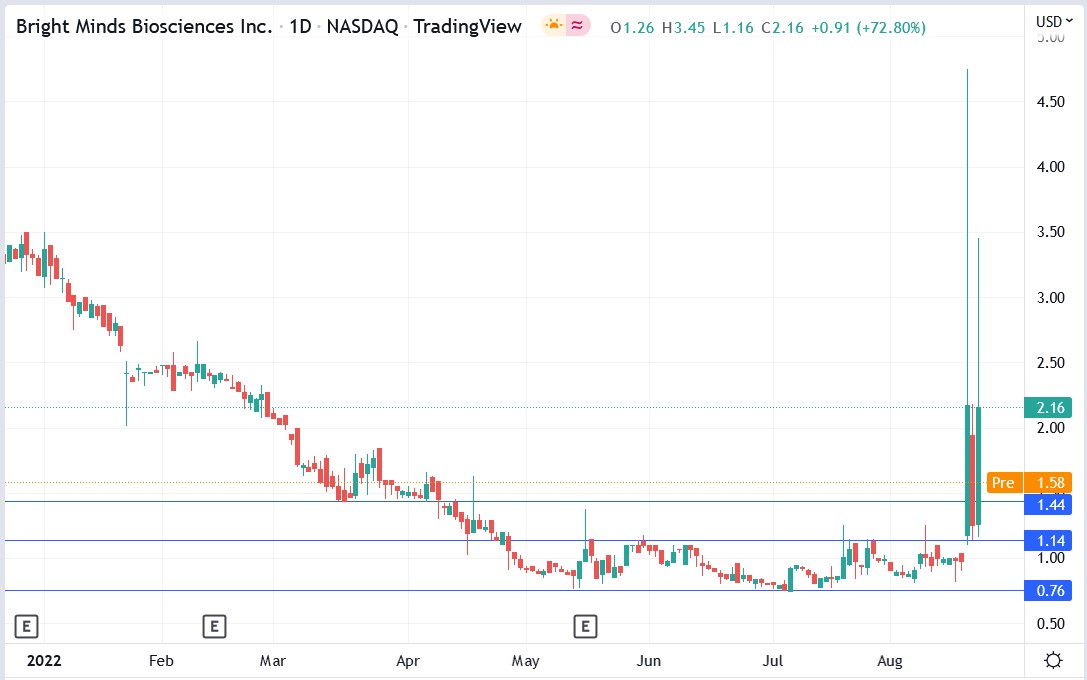 The Bright Minds stock price plunged by 26.85% to trade at $1.63, plunging from Monday's closing price of $2.16.