Key points:
IAG shares plunged 12.7% despite releasing positive Q1 results.
Investor sentiment remained negative despite the upbeat results.
The market's reaction seems to be replicated against all airlines.
International Consolidated Airlines Grp SA (LON: IAG) shares plunged 12.7% after the group, which owns British Airways, released its Q1 report, where it registered significant improvement in many critical segments. Therefore, many were surprised to see IAG shares plunge despite the positive announcements.

A key highlight was that IAG's passenger capacity in Q1 rose to 65% of the figures recorded in Q1 2019 before the COVID-19 pandemic struck. However, investors may have been disappointed with the passenger numbers.
Furthermore, the airline group's revenues surged to €3.435 billion compared to last year's €968 million, marking a significant improvement, but investors were unmoved by the impressive figures.
IAG's loss after tax also shrunk from the €1.074 billion recorded last year to €787 million, a 26.7% improvement. As a result, the group's performance improved significantly compared to last year, yet its shares fell.
As highlighted in my last article on IAG, the group suffered significant cancellations during the Easter period that could affect its performance in Q2 and the rest of the year. Another significant risk facing the airline is that it might have to pay more for its jet fuel since its hedging percentage is much lower than its peers.
Still, IAG issued a positive operations outlook as it expects passenger numbers to be 80% of its 2019 capacity, with the figure rising to 85% in Q3. In addition, the group expects to restore most of its North Atlantic passenger capacity by Q3.
Investors barely reacted to IAG's forecast of a return to profitability by the end of Q2, a significant milestone for the airline since its last profitable quarter was before the coronavirus pandemic struck.
However, the adverse reaction to IAG's upbeat Q1 results is not unique since investors had a similar reaction to Wizz Air's positive results two days ago. Investor sentiment towards the airline sector has soured in the recent past; hence, the negative reactions to positive data.
*This is not investment advice. Always do your due diligence before making investment decisions.
IAG share price.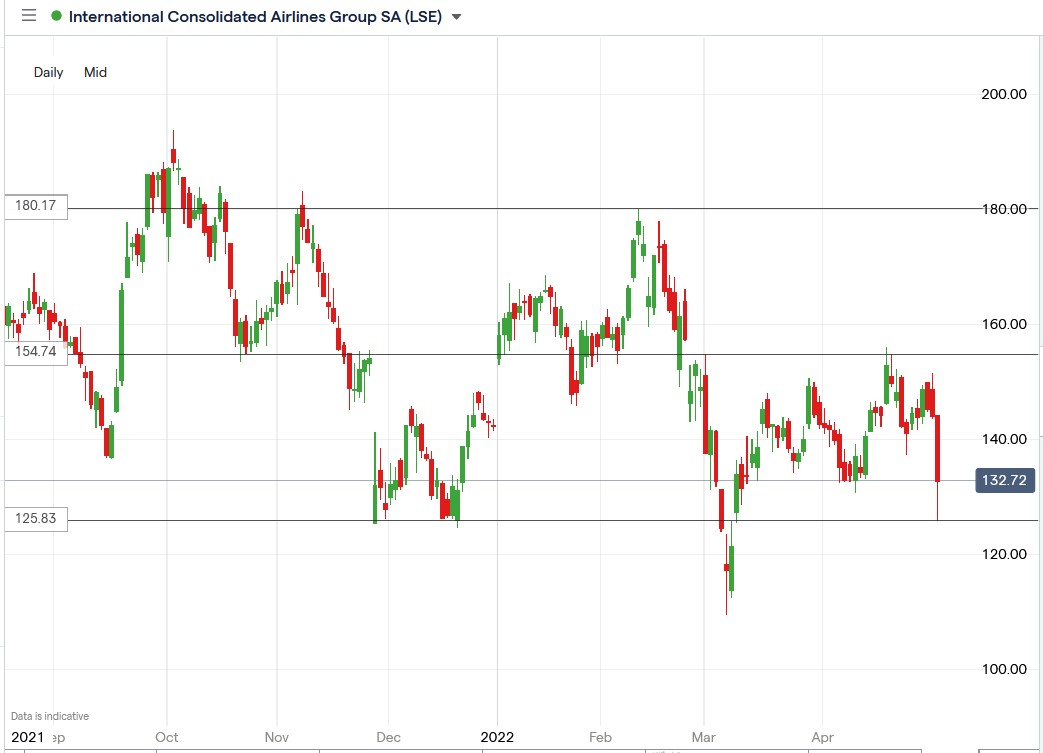 IAG's share price plunged 12.68% to trade at 125.78p, falling from Thursday's closing price of 144.04p.