Key points:
Cardano Chart Analysis: Basing Pattern Intact
Cardano Price Projection and Forecast
UK Crypto Crackdown
Cardano (ADAUSD) continues to produce a bottoming pattern, having this week again defend important supports. This sets up the potential for a an even more robust recovery rally in the intermediate term, for October, and into year-end. We also take a look at proposed new UK legislation that "will make it easier …to seize, freeze and recover cryptoassets."

Cardano Chart Analysis: Basing Pattern Intact
We highlighted the ongoing basing pattern and recovery potential for the Cardano (ADAUSD) cryptocurrency in our early September post, Cardano Price Forecast: ADAUSD Still Basing Pattern, Bull Threat. Subsequent price action has both tested and reinforced the view of a still ongoing bottoming phase, leaving short- and intermediate-term prospects for a more robust upside recovery potential into October and for the balance of Q4 2022.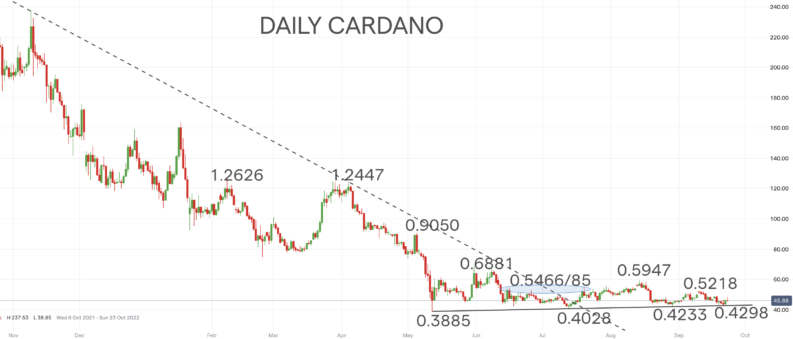 The Most Recession-Proof Cryptocurrencies
Having twice now rebounded from the above the bear market low of 0.3885 on Thursday 12th May, ADAUSD has once more posted a robust defence of support. As well as the two higher lows in dips down to test support, at 0.4028 in July and again at 0.4233 in late August, Cardano has again posted another higher low in the current setback, holding and rebounding this week from 0.4298. Moreover, the market also defended the sold basing trend line that runs off of the May and July troughs.
This can be viewed as an even stronger bottoming signal and reinforces the view of a more sustainable base in the intermediate term. The more robust base then sets up for a more vigorous recovery rally in the short- and intermediate-term.
Cardano Price Projection and Forecast
Minimally, the upside target for latter September and into October will be for a challenge up to the most recent swing peak from this month at 0.5218. Above here would then open risks higher for early Q4 towards the highs at 0.5947 and 0.6881. The overshoot threat for year-end would be notably higher, possibly up towards 0.9050.
However, should the recent low at 0.4298 be surrendered, alongside the bottoming trend line, the outlook would take a distinctly more negative shift. The threat would then be for losses down to challenge lows at 0.4233, 0.4028 and the bear move low at 0.3885. The threat below here would be for a more aggressive bear market extension!
UK Crypto Crackdown
A shift now to some recent news in the UK crypto space, regarding possible new legislation that will allow wider powers to "seize, freeze, and recover" cryptocurrency. The U.K. government has proposed a bill called the Economic Crime and Corporate Transparency bill., which although not directly aimed at cryptocurrencies, will more broadly target illegal financial activity
In the announcement from the government, it states, "The new law will make it easier and quicker for law enforcement agencies such as the National Crime Agency to seize, freeze and recover cryptoassets – the digital currency increasingly used by organised criminals to launder profits from fraud, drugs and cybercrime."