Key points:
Amigo shares rallied 5% after its CEO, Gary Jenison's,  abrupt resignation.
The lender has appointed Danny Malone, the current CFO, as its new CEO.
Danny's vast financial services experience is reassuring to investors.
The Amigo Holdings PLC (LON: AMGO) share price rallied 5% after announcing that its CEO, Gary Jennison, was resigning immediately from his position as CEO and director. He will be replaced by Danny Malone, the firm's current Chief Financial Officer (CFO), who will then be replaced by Kerry Penfold, Amigo's current Head of Finance.

The mover comes as a surprise to many, given the crucial role that Gary has played in Amigo's turnaround over the past two years since he came out of retirement to take on the CEO role at the troubled lender in September 2020.
Also read: The Best Financial Stocks To Buy Right Now.
Over the past two years, Gary has steered Amigo through a challenging turnaround almost complete after the High Court approved Amigo's new business scheme. The guarantor lender is now on the cusp of resuming lending activities, which is why Gary is handing over the reins to his successor, who will guide the lender into the new phase.
Gary will remain employed by Amigo Holdings until 31 December 2022 to ensure a smooth transition to the new management team. Danny Malone has a wealth of experience in the financial services industry as a chartered accountant, having held top management positions in many firms before joining Amigo Loans.
Danny was previously the CEO, Founder and Finance Director of Everyday Loans Limited, the CEO and CFO of CitiFinancial Europe PLC, and the Finance Director of Avco Trust Plc. Lastly, he also served as the CEO of Perch Group.
Danny's main task will be to complete the delivery of the RewardRate product suite and platform; lead the company to a settlement of the FCA's ongoing Enforcement investigations, and continue working closely with the FCA to ensure that Amigo can return to volume lending as soon as possible.
The above work is critical to enabling Amigo to secure the new capital it needs to fund its operations. Amigo also noted that Kerry Penfold, the new CFO, has significant experience as a finance executive. Kerry was previously the Head of Motor Finance at United Trust Bank, Head of Group Financial Control, and Operations Director at Raphaels Bank.
While Gary's departure was surprising, it appears Amigo is in safe hands with Danny Malone as its new CEO.
*This is not investment advice.
Amigo share price.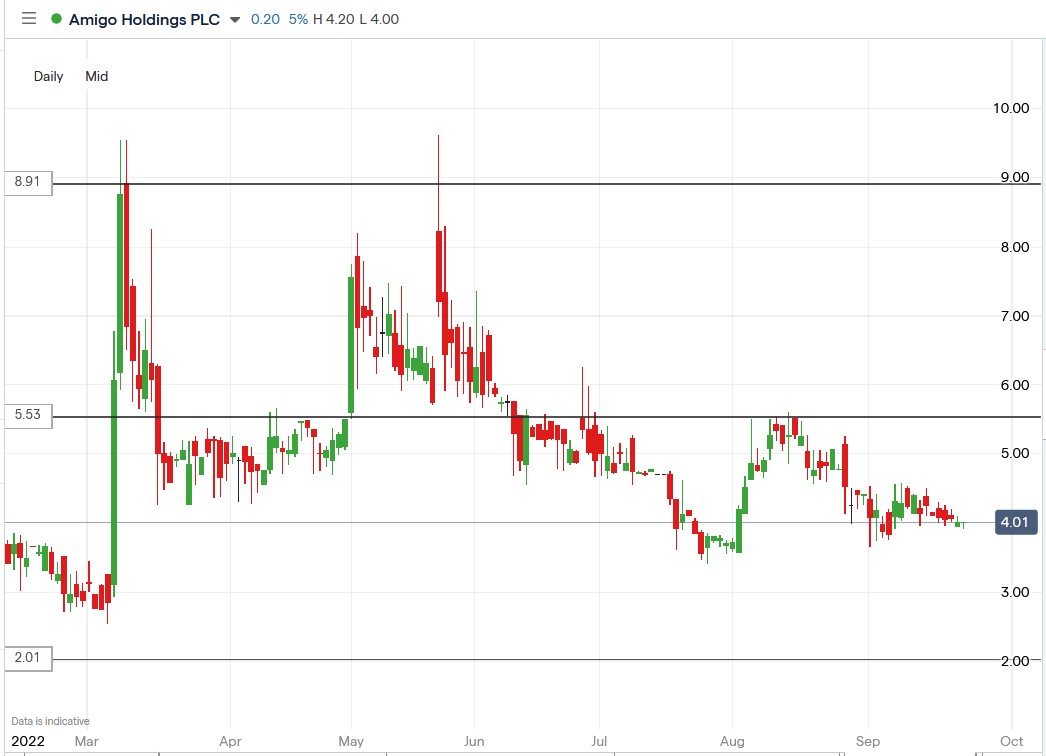 The Amigo share price edged 4.99% higher to trade at 4.205p, rising from Thursday's closing price of 4.005p.