Key points:
Cardano Continues To Form A Base From May
ADAUSD Has Again Produced Short & Intermediate-Term Bull Signals
Cardano Bulli Price Forecasts
The Cardano (ADAUSD) cryptocurrency continues in a wider range, consolidation phase that has been developing since May. But positive support defence in August has reinforced previous short-term technical signals and highlights an intermediate-term bullish bottoming thee. This points to more significant intermediate-term, chart prospects into September. Moreover, the skewed risk is for a more positive Cardano rally for September and Q4 2022.

Cardano Continues To Form A Base From May
We previously analysed the Cardano chart and prospects back in early August in our post Cardano Price Prediction: ADAUSD Base Pattern, Upside Targets. Cardano reached a low of 0.3885 on Thursday 12th May and since then has now posted two higher lows in subsequent dips down to test supports, holding at 0.4028 in July and again at 0.4233 in late August. In addition, the August low held at the now strong trend line support that is drawn off of the May and July lows, another strong technical signal of a willingness to defend support and thereby producing a wide, and strong basing pattern.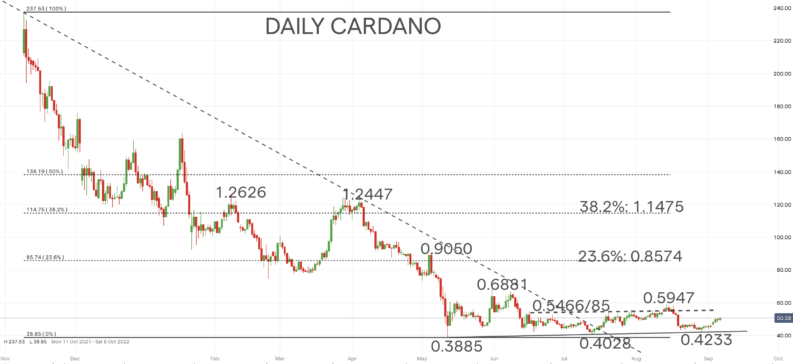 The Most Recession-Proof Cryptocurrencies
ADAUSD Has Again Produced Short & Intermediate-Term Bull Signals
In addition to the more recent bottoming statements, indicating support defence, Cardano has also produced bullish upside signals through resistances. The latter July push above the mid-June swing peak at 0.5466 was a positive with a move to 0.5485. This was followed by a swing back lower and then another rally to overcome the 0.5466/85 peaks up to 0.5947 in mid-August.
The combination of an ability to defend support and overcome resistance is both a statement of a strong basing pattern and bullish reversal pattern and also of a sustainable short and intermediate-term bullish recovery.
Cardano Bullish Price Forecasts
The initial upside target would be for a September rally to the August peak at 0.5947 and through here towards the late May swing high at 0.6881, maybe out into early Q4 2022. The bigger picture threat into year-end would be for a more aggressive advance towards Fibonacci retracement and chart targets in the 0.8574/0.9050 area.