Key points:
The Cardano price has fallen by 46.3% in the past month as cryptos fell.
The layer-1 crypto's fortunes are closely tied to Bitcoin and Ethereum.
ADA prices will recover properly once the fundamental factors change.
The Cardano price has fallen 46.3% over the past month amid a broader selloff in the crypto markets driven by various factors. However, the primary driver behind Cardano's latest decline was the collapse of TerraLuna, which wiped out over $50 billion in value.

However, the broader crypto markets have lost over $1 trillion since peaking in November 2021 due to a more significant downtrend fueled by fundamental factors such as the US Federal Reserve's hawkish monetary policies.
The war in Ukraine, combined with other factors such as record-high oil prices, and high food and commodity prices, had led to the highest inflation levels the world has ever seen, with US and UK inflation hitting 40-year highs.
These factors have contributed to the current selloff witnessed in the cryptocurrency markets and other market segments such as stocks. In addition, these factors have led to concerns about the possibility of a recession in the United States and maybe even a global recession.
Cardano price prediction
Therefore, predicting the future Cardano prices requires us to examine the fundamental drivers behind its decline. Cardano increased its block size by 10% in late April as part of a long-awaited strategy to increase the number and speed of transactions processed by the blockchain.
Many expected the larger block size to translate to higher Cardano prices, but this was not the Case as the LUNA-UST crash drove most cryptos lower. Therefore, Cardano prices are inextricably linked to the prices of other leading layer-1 blockchains such as Bitcoin and Ethereum.
We can expect Cardano prices to rise along with the broader markets as the economic and geopolitical environment improves globally. But, for now, any short-term rallies in Cardano prices could quickly reverse course and head lower.
Investors looking to buy ADAUSD should wait for the crypto to trade above $0.60 before buying with their first target at $0.80. However, a break below $0.38 would invalidate the bullish thesis.
*This is not investment advice. Always do your due diligence before making investment decisions.
Cardano price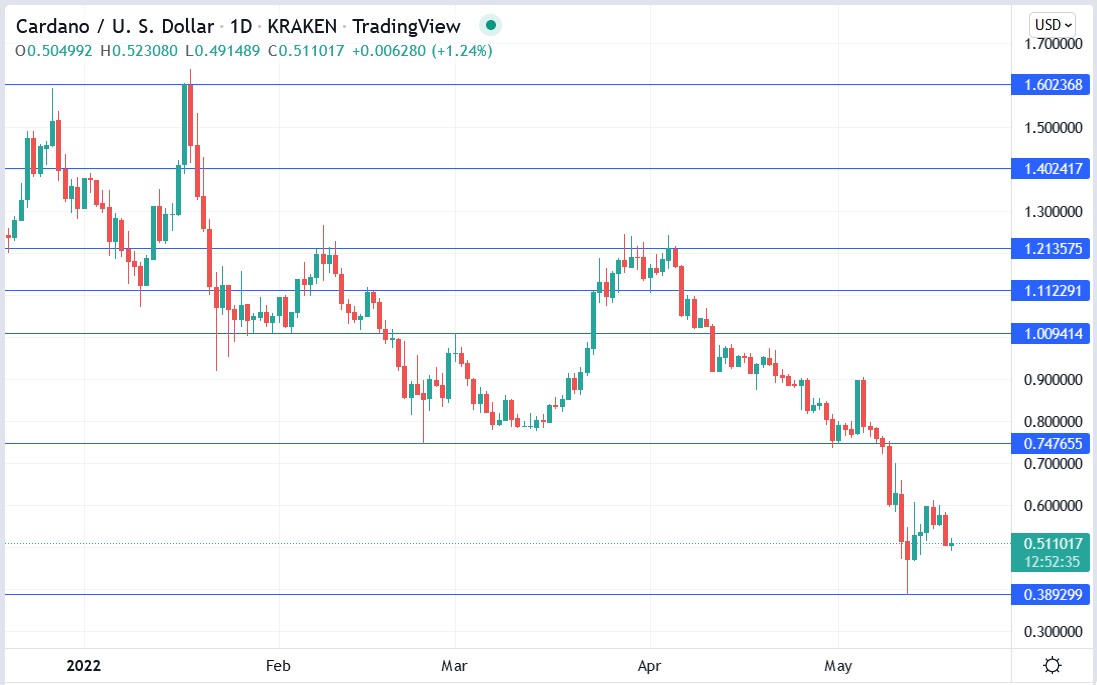 The Cardano price has fallen by 46.35% in one month and is attempting to recover its losses.