Shares of Centamin PLC (LON: CEY) are down 24.4% this year and are trading at the lows last seen in March 2020. Can they reverse course and rally higher?

The gold mining company's shares recently broker below a significant support level that was in place since last year and appear to be headed lower in the future.
Centamin's shares have now been in a downtrend since August 2020, and there are few signs that the trend is about to reverse.
The last major announcement from Centamin was regarding its full-year 2021, where the company expects to produce between 400,000 ounces and 430,000 ounces of gold at its Sukari mine.
However, there are lingering concerns about the mine's long-term prospects, given that it was associated with numerous technical issues in the past that hampered gold production.
Despite the company being well-positioned to profit from rising gold prices, the recent declines tell a different story due to the overall weakness in its stock price.
Centamin is currently exploring other mining opportunities, which are far from production.
Meanwhile, the company's shares are trading at the 93p support level and could be headed to the 80p round level if the trend does not reverse.
As an investor and trader, I would stay away from the stock until we have strong confirmation that a new bullish trend is about to begin.
*This is not investment advice.
Centamin share price.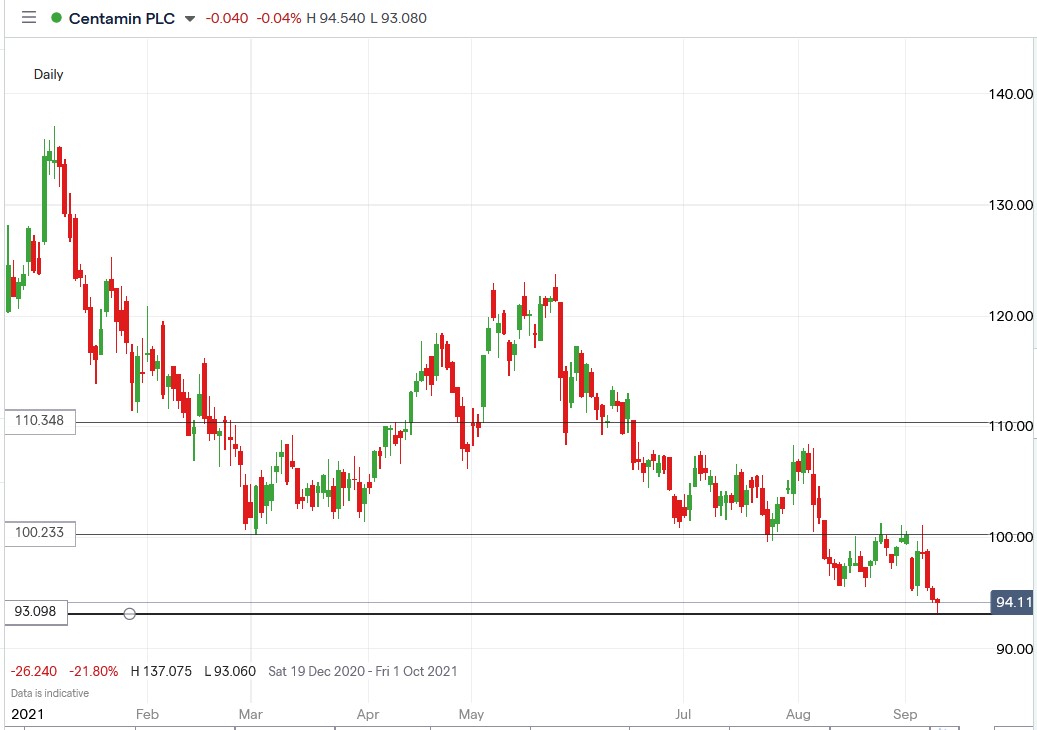 Centamin shares are trading at lows, last seen in March 2020 at the peak of the coronavirus crash. Can they recover?
Should You Invest in Centamin Shares?
One of the most frequently asked questions we receive is, "what stocks are best to buy right now?" It's a wide-ranging question, but one that we have answered… Our AskTraders stock analysts regularly review the market and compile a list of which companies you should be adding to your portfolio, including short and longer-term positions. Here are the best stocks to buy right now