Shares of Egypt-focused gold mining company Centamin PLC (LON: CEY) have rallied higher from the 12-month lows around the 100p level to their current share price. How far can they go?
There are a few factors that could fuel Centamin's share price rally in future. The first one is the price of physical gold. Given that Centamin is a gold miner, I expect its share price to rally as the price of gold rises and vice versa.
While gold prices are not the only driver for gold mining stocks, they are a powerful determiner. Falling gold prices usually lead to the miners generating lower revenues from gold sales, affecting their overall profitability.

Centamin recently awarded the contracts for the engineering, procurement and construction of the 36MW solar energy plant and a 7.5MW battery energy storage system at its Sukari Mine to different specialist firms.
Investors cheered the announcement to allow Centamin to achieve its sustainability goals by reducing the use of diesel fuel at the Sukari mine by 22 million litres annually and lowering its carbon emissions by 60,000 tonnes CO2-e per annum.
In my previous article, we discussed how the gold mining company noa faces competition from other company after Egypt deregulated its mining industry, allowing other firms to seek mining licenses in the country and start exploration activities.
Centamin may benefit from the entry of new players in Egypt's mining industry. They can now lobby for a better regulatory environment without the punitive levies that Centamin has been paying over the years.
Traders looking to establish bullish positions in Centamin are likely to be rewarded over the long term, but I would wait for a deeper pullback before buying. I would look to buy around the 110p level, but there are no guarantees that the price will fall back that low before rallying higher.
*This is not investment advice.
Centamin share price.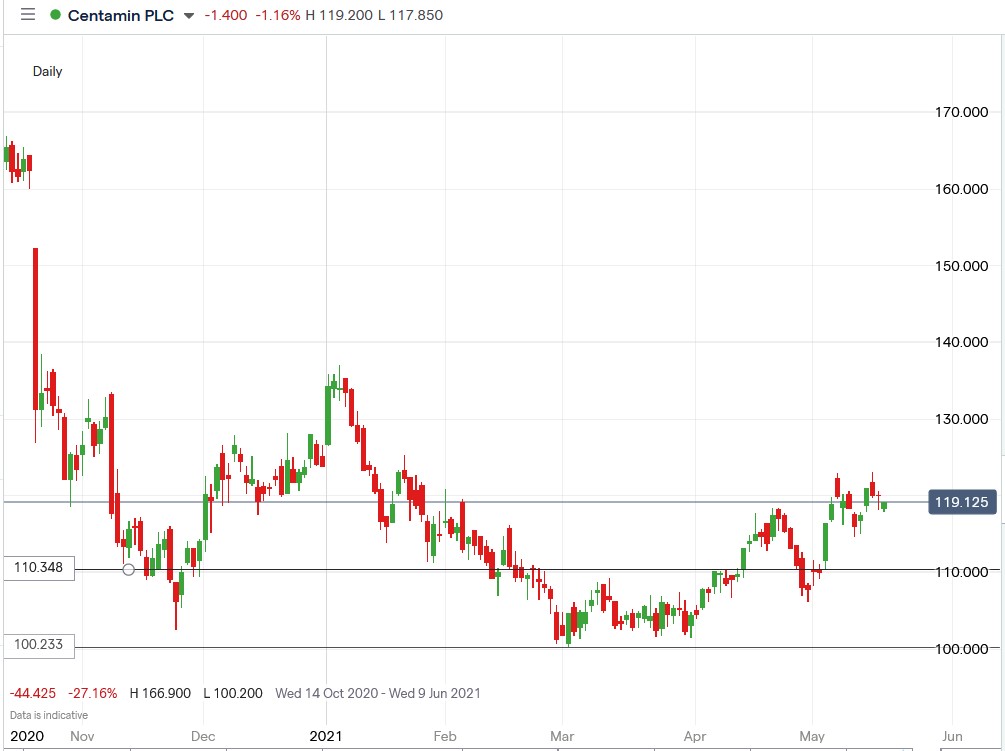 Centamin shares are up 19.13% to trade at 119.13p from their 12-month low of 100p hit in early March.