Key points:
Ceres Power shares soared 25.3% after unveiling a new joint venture.
The hydrogen fuel cells developer is in a JV with Bosch and Weichai.
Ceres is set to earn about £30 million in license fees from the JV.
The Ceres Power Holdings plc (LON: CWR) share price soared 25.3% after announcing the formation of a new three-way joint venture with Bosch and Weichai to take advantage of the opportunity for fuel cells in China.

The three companies will form two joint ventures to develop and manufacture solid oxide fuel cell (SOFC) systems, including the three firms with Weichai being the majority shareholder.
Ceres Power will own a maximum stake of 10% in the joint venture (JV), and together with Bosch, they will license their individual SOFC systems IP to the JV and will receive a share of the royalties from the sales of products that use their technologies.
The company expects to invest approximately £20 million in the JV. The majority of the JV's investment comes from Weichai, which will develop, manufacture, and sell the mobile and stationary SOFC systems in China.
The three companies will form another JV focused on stack manufacturing that will supply fuel cell stacks to the SOFC systems JV and other companies.
The joint venture will be between Weichai and Bosch, with Bosch being the majority shareholder. Bosch will build a second manufacturing facility in China, after its 200MW facility in Germany, expected to start production in 2024.
Ceres will not have a stake in the JV but will provide the SOFC Systems technology via Bosch's current manufacturing license for the Chinese market. In addition, the company will receive royalties on the sales of the fuel stacks from the JV.
Ceres expects to receive £30 million in license fees from the two JVs over the next three years based on the original Weichai-Ceres agreement signed in 2018. The company will receive the first minimum payments and annual royalties after the two JVs start production.
The three companies are preparing detailed agreements of the JVs, which will be created once the definitive agreements are signed.
Phil Caldwell, Ceres Power CEO, said: "This exciting collaboration represents an important step in Ceres' ambitions for the Chinese market and a critical part of delivering global manufacturing capacity for our technology. We have every confidence in our partnership with Weichai and, with the addition of Bosch's expertise in industrialisation and manufacturing, have the potential to establish one of the strongest partnerships in the fuel cell industry."
Today's announcement comes after analysts at HSBC downgraded the company to "hold" following the recent selloff. Ceres Power shares have fallen 35.5% in 2022 and were much lower before today's upbeat news.
*This is not investment advice. Always do your due diligence before making investment decisions.
Ceres Power share price.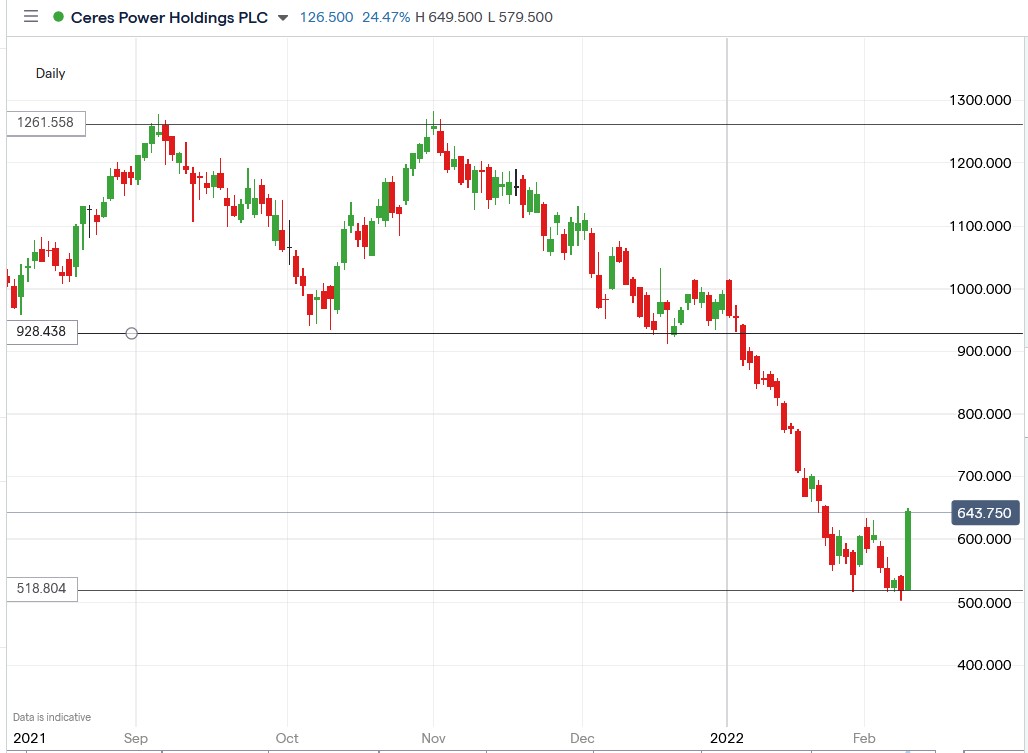 Ceres Power share price surged 25.28% to trade at 650.50p, rising from Tuesday's closing price of 519.25p.