Key points:
Ceres Power's fuel cell technology is unique since it can use multiple fuels.
The fuel cells can use hydrogen ad natural gas to generate electricity.
The firm's technology has broad applicability in the power generation sector.
People familiar with Ceres Power Holdings plc (LON: CWR) know that the company develops cutting-edge fuel cell technologies and licenses them to other companies that make the physical fuel cells.

In the past, I have mentioned that this asset-light business model is crucial to Ceres Power's future success since it does not have the significant operating costs associated with manufacturing the fuel cells using its technologies.
Shifting our focus to its fuel cell technology, we find that Ceres Power's fuel cells can be powered by natural gas and hydrogen energy. This exciting feature allows its fuel cells to use both types of fuels.
Therefore, users can install the fuel cells and start using natural gas until hydrogen energy is easily accessible. Then, they can switch to using hydrogen gas, which has zero carbon emissions, as the only byproduct of using hydrogen is water.
Ceres Power's SteelCell® technology uses readily available materials such as steel and ceramics to manufacture fuel cells, making it cheaper for companies to manufacture fuel cells based on its technology.
However, many have argued that Ceres Power's fuel cells technology is outdated, so the company is investing heavily in developing new technology for new hydrogen cells that could see it attract more customers.
Given that Ceres Power was launched in May 2001, the firm has been around for over 20 years and has a massive repository of actionable data and insights that it can rely on. However, its legacy is a double-edged sword since it might be the one thing that holds it back going forward.
Investors are very aware of how legacy businesses struggled to adapt to changing market conditions and technologies. The stock market is full of companies such as Walmart, which failed to recognise the threat posed by Amazon.com and internet commerce.
The technology around sustainable energy sources is changing fast, and legacy companies have to keep up with new entrants who do not have the burden of entrenched routines that could hinder the adoption of new technologies.
Still, Ceres Power's Solid Oxide Fuel Cell (SOFC) is widely used in the power generation industry, which explains its partnership with South Korean company Doosan to use its fuel cells for power generation.
The company has also partnered with German engineering firm Bosch to develop its fuel cell technology further. In addition, a Chinese company known as Weichai is testing Ceres Power's technology in buses.
There is also the issue of Ceres Power's valuation of £1.43 billion, which is quite expensive. The company's revenues in 2021 were £31.7million, with the company expecting its revenues to rise to £72 million by 2025.
Ceres Power share price.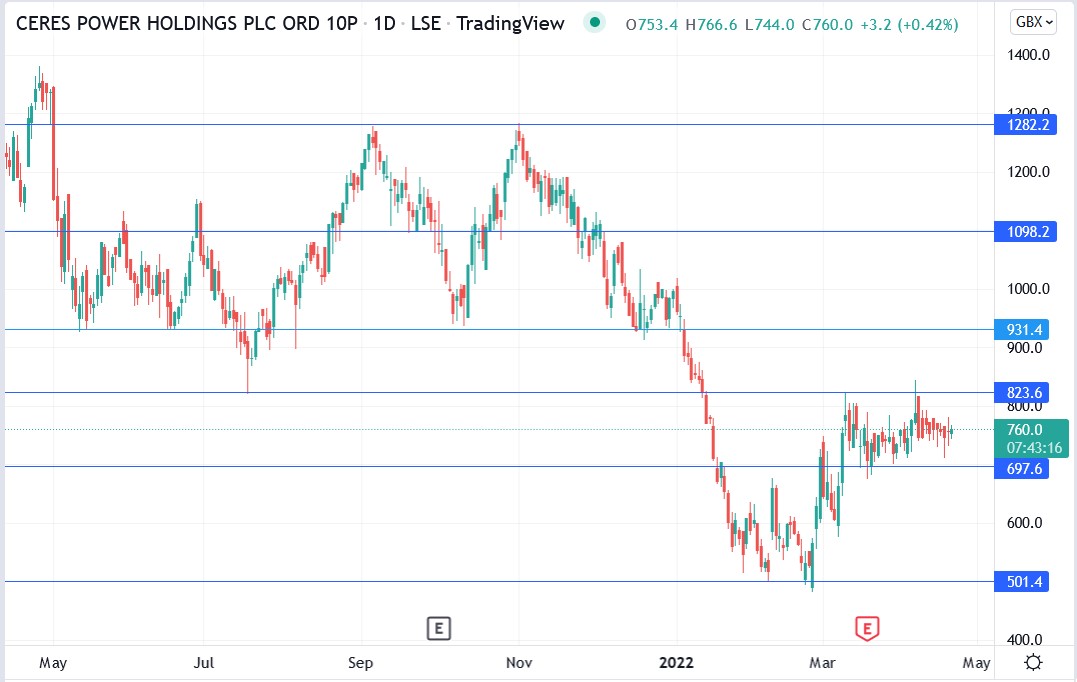 Ceres Power shares are trading sideways in a range that has been in place since early March. A break above the 823p resistance level would indicate further gains, while a break below the 697.6p support level would indicate future losses.