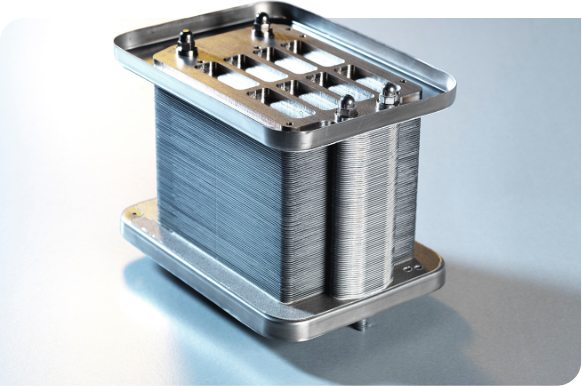 Shares of Ceres Power Holdings plc (LON: CWR) are down 22.8% in 2021 amid a broader selloff in the renewable energy sector. Investors have moved their money into reopening stocks abandoning last year's growth stocks.

Most analysts have pointed out that the company is currently valued at £1.87 billion, which is almost 86x its 2020 revenues, making it quite expensive based on traditional valuation metrics. Swing traders may still find excellent trading opportunities in the company.
As traders, we are not looking to own a company's shares for multiple years and reap the kind of impressive returns that investors who bought Amazon, Google and Facebook shares at their IPOs and did not sell are sitting on today.
Short-term traders look for quick gains over short periods from multiple stocks with unique trade setups, which minimises their risk while maximizing their potential profits. Such traders take calculated risks with significant profit potential.
From a technical standpoint, Ceres Power shares have bounced off the 929p support level twice and appear to have formed a double bottom pattern, a bullish pattern that signals the potential for future gains.
The clean energy company's prospects are promising, given its partnerships with major engineering firms such as Bosch, Chinese group Weichai, and Doosan, a South Korean conglomerate.
Regardless, we are interested in finding out whether there could be a swing trade opportunity in the company. Traders interested in the company could take advantage of the double bottom pattern to open bullish trades.
However, you should keep in mind that Ceres Power is an expensive stock trading above 900p, which requires a much larger account size for you to risk only a small portion of your trading account.
The stop-loss on such a trade would have to be below the 928p level, which means you would be risking over 100p per share if you decide to take the trade. Your first profit target would be around the 1100p level, with the second target being at the 1200p level.
Furthermore, nothing is guaranteed in the markets, and you could lose the entire risk amount if the share price reverses and heads lower. You should never trade with money you can't afford to lose.
You should always do your due diligence before making any investment decisions.
*This is not investment advice. The writer is simply sharing his independent opinion on a stock.
Ceres Power share price.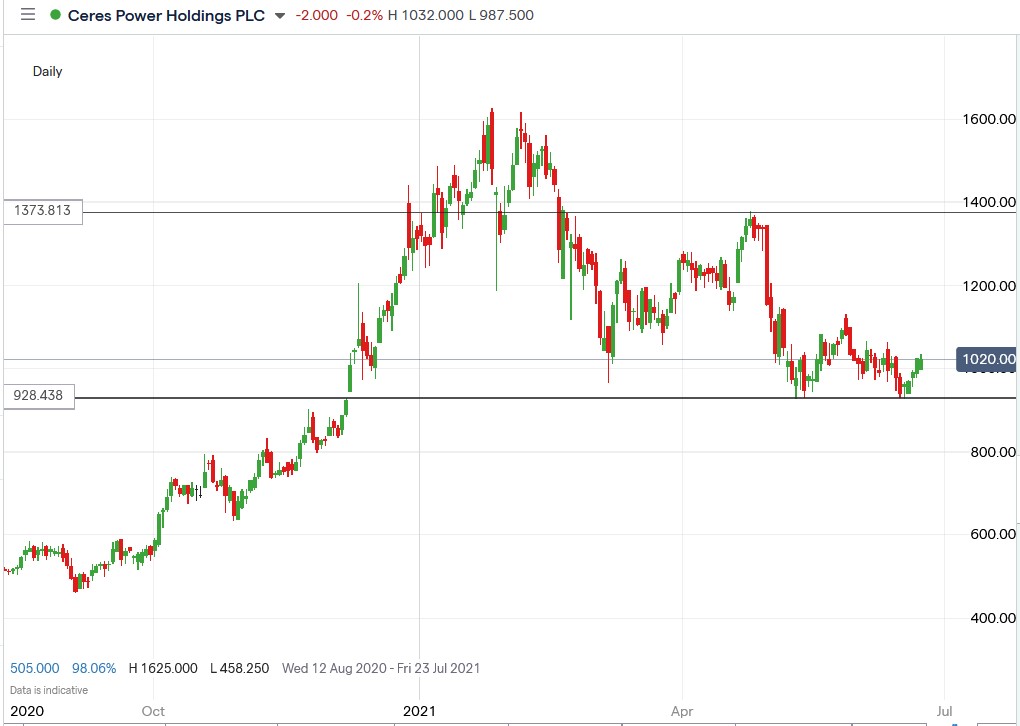 Ceres Power shares are down 22.83% in 2021 and are trading off a support level. Should you buy them?
Should you invest in Ceres Powers shares?
Ceres Power shares are traded on the London stock exchange's AIM market (the alternative investment market), which is the submarket specifically for smaller companies. AIM stocks are attractive to investors as they have tax advantages and smaller companies have the potential to benefit from rapid growth. But are Ceres Power shares the best buy? Our stock market analysts regularly review the market and share their picks for high growth companies